When we re-finished our basement last year the hubby and I made it a priority to reserve a part of the new space for our kiddos to use as a play area. This play area is in 1/3 of the open floor plan of the basement room, with the family TV area on one side,  and the craft area on the other (with a wood stove thrown into the mix, as well).
Since the kids' area is a part of a room used (and seen) by everyone in the family,  it was my goal to make their space functional, comfortable, and uncluttered.  With these goals in mind, I came up with these 5 tips.
5 Tips on Creating a Simple Play Area for Kids
1.Invest in a rug/carpeting that will last- and that is comfy to play on.
When I was asked by Mohawk to try out their made in the USA SmartStrand carpeting, I knew right away I would put the 6′ x 9′ bound carpet in the kiddos' play area. The rug that was there had taken a beating and was coming apart- even though it was only just over a year old. I chose the SmartStrand Deco Design Carpet in the color of Bleached Oak. Why would I pick a light color for a kiddo's play area? A few reasons: 1) the room is dark, with only 2 tiny windows, so I wanted to lighten it up, and 2) just look from this photo how EASY it is to see tiny objects that are painful to step on! SmartStrand carpets are guaranteed stain resistant, so I figured I'd give the light colored carpet a go! Normally, I would think twice about putting a stain resistant carpet in my home, as health concerns have been raised about the chemicals that are sprayed on most carpets to make them stain resistant. The stain resistance of the SmartStrand carpet is engineered  into the fibers of the carpet, and is NOT a sprayed on chemical. Another bonus- SmartStrand carpet fibers are made in part from corn, instead of petroleum based products. This environmentally friendly carpet is safer, in my mind, for my kids to play on.   So far the SmartStrand carpet has not received any pulls from matchbox cars and Barbie heels, and orange Cheeto cheese  hand prints have been successfully removed!
2. Use storage containers to keep toys organized.
I found that assigning a basket or container to each type of toy has made it easier to contain messes. The American made Sterilite Clearview drawers are perfect for storing my son's Lego and K'NEX pieces! They stack nicely on top of each other when he doesn't have them out for building. Baskets are used to store thin paperback books, as well as my daughter's Barbie supplies.
3. Ditch electronic games and have board/card games easily accessible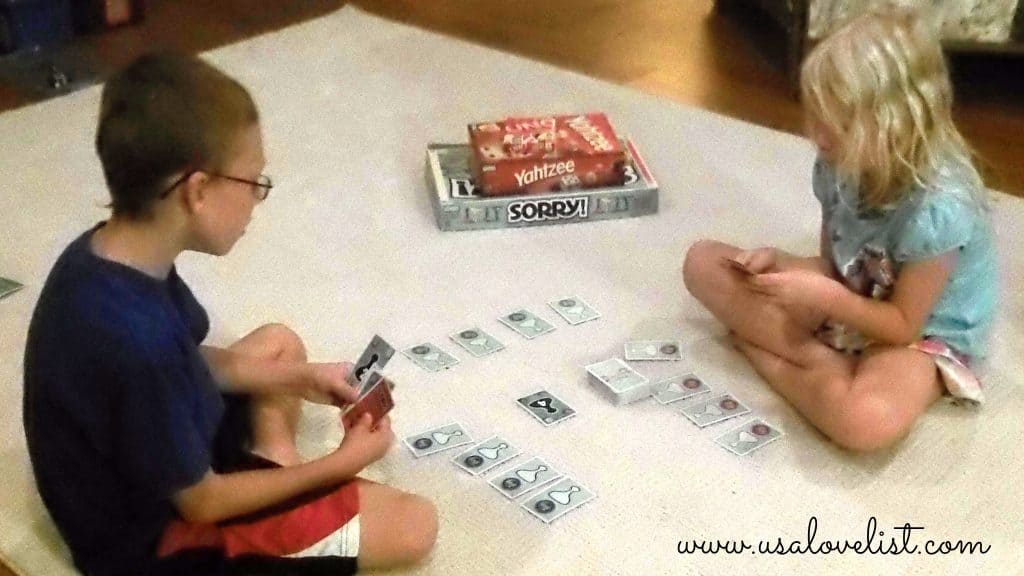 No electronic devices or video games are allowed in this play area! We LOVE board games and card games and try to play them at least once a week.  This is a great way for us  to interact with each other and have fun- and the kiddos can practice their math skills with most games. Board games like SORRY!, and Yahtzee are labeled 'Made in USA' as most of their pieces are American made, and our UNO and SORRY! card games both are 'Made in USA'.
4. Reserve space for the display of creative works. 
As the kiddos have gotten older, their art projects have moved beyond crayon drawings and finger paintings.  They have been creating great works of art at school, and at home. I have worked these masterpieces into the decor of the play area. Every once in a while, an original K'NEX or Lego sculpture will find it's place on the shelf as well.
5. Reuse/Repurpose items when ever possible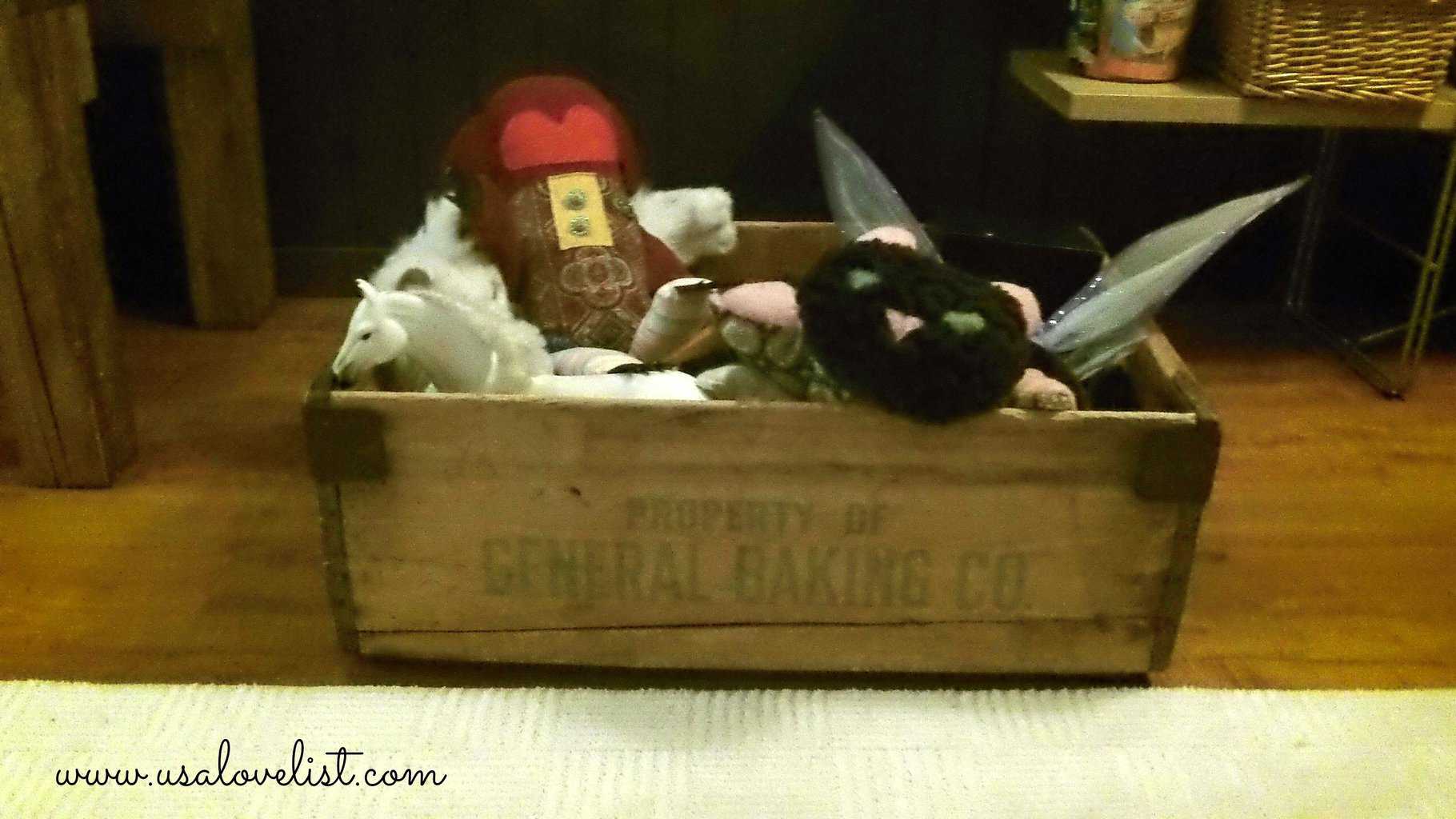 You know the saying, "One man's trash is another man's treasure".  I try to re-purpose items when ever possible to save money, as well as to lower my carbon footprint. This wooden box is left over from the hubby's college days. It was used as a side table in his old apartment, and now finds a new life in our play area as a toy box.
Disclosure: USA Love List received products in this post unconditionally for review purposes. Our opinions are always our own, and we aim to write fair and balanced reviews to promote only the very best of American-made products.