Prell shampoo was founded in America in 1947 and has been made in the USA ever since. It looks the same, smells the same, and even cleans hair the same as it did 71 years ago!
Prell Shampoo: An American Classic
Prell has a long American history. Prell Shampoo has been loved by men and women for its rich lather and clean scent for 71 years, making it the oldest consistently made in USA shampoo brand.
Do you have memories of mom, dad, a grandparent or other loved one when you smell the unique scent of Prell or see the bright green color? I know I do. Prell strikes a nostalgic emotional connection to childhood memories of my home growing up.
Do you have a Prell Shampoo memory? Share with us in the comments!  
Prell Shampoo Today:  Fastest Growing Shampoo Sales At Walmart
Neoteric Cosmetics became the new owners of Prell in 2016 and has since successfully reinvigorated the Prell Shampoo brand through social media.  Visit the Prell Shampoo Facebook page and see for yourself the cult-like following it has! Prell Shampoo is seeing a resurgence in popularity as people are realizing that an old favorite shampoo is still around. Today, Prell shampoo can be found in stores at Walmart, where it is the fastest growing shampoo sales, and at CVS, Dollar General, RiteAide, Kmart, and Kroger.
The Thick, Rich Lather of Prell Shampoo
So how has Prell Shampoo stuck around for 71 years? It's thick, rich lather leaves hair clean and soft. Simple as that. What makes Prell Shampoo unique is that it is loved by both women AND men. In fact, as many men use it as women and it's the men that seem to be more attached to its smell.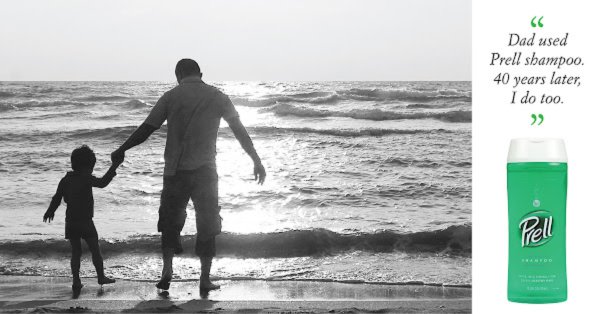 Keep a Look Out for Prell Conditioner Later This Year
If you are remembering Prell Conditioner and you're sad that you can't find it, no worries! The manufacturing of Prell Conditioner was discontinued years ago under the previous company's ownership. With all of the requests it's been receiving,  Neoteric Cosmetics will be bringing it back. Look for Made in USA Prell Conditioner on store shelves by the end of December.
Prell Shampoo is manufactured at the Neoteric Cosmetics headquarters in Denver, Colorado.