The search for hair products to smooth frizzy curly hair gets intense this time of year. This season's weather has hair strands reaching out for moisture, not allowing them to lay smoothly. The solution is to add moisture to your hair so it isn't lacking nourishment. These are a few of my favorite American made styling products for smoothing frizzy curly hair.
Five Made in USA Products for Smoothing Frizzy Curly Hair
Not Your Mothers Kinky Moves
keeps curls separate without getting crunchy. When I applied this to damp curly hair the curls got some definition without weight so they stayed bouncy. It adds a moderate amount of moisture to dry curls.
Desert Essence Coconut Defrizz Heat Protect
can be used on straight and curly hair in different amounts. I used a few mists for my thin, straight hair and on curly, thick hair I sprayed it on until it was nearly saturated. It worked well to tame frizz during the prep step. For curly hair, it is perfect for the comb out before using a cream. Priming with this adds shine.
Not all natural shampoo will get hair clean, but
Teadora Rainforest at Dawn Nourishing
Shampoo
does. The best thing about their shampoo is the natural scent. It is salon-fresh without chemicals. It adds maximum moisture to your hair without leaving the product feeling in your hair. I like this best for medium and thicker hair types. It nourishes and adds some environmental and heat protection. PS: try the conditioner too!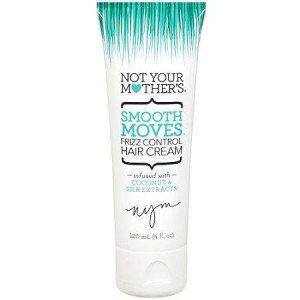 Not Your Mother's Smooth Moves
works best at keeping hair straight. I put about a dime size in my hair before blow drying it straight and feels like it fuses right on the strands. It doesn't add volume and is ideal for sleek styles.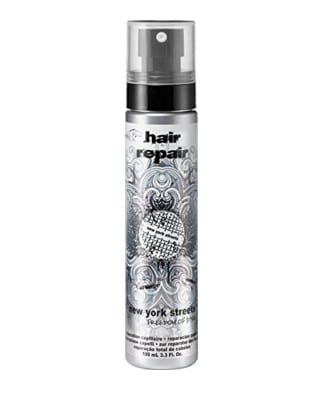 I recommend using
New York Streets Hair Repair
to add a little volume to more fine hair without creating the puff that can sometimes accompany volumizers. I felt I had no product at all in my hair with this. I put it in before blow drying and it flowed smoothly with body.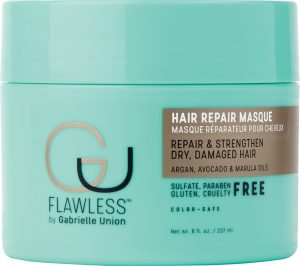 The
Hair Repair Masque from Flawless
by Gabrielle Union is a weekly treatment product that infuses protein and oils to strengthen hair and repair damage. Not only does this leave hair hydrated and silky for the day it prevents further damage.
A good multi-use product is always good to have on hand. The
Moisture Healing Mask
by Nelson j
uses Argan Oil to deliver its combination of benefits. In addition to taming frizz, the cream detangles, provides silkiness, prevents fading of hair color, protects from chlorine water and seals split ends. The coconut scent is perfection for all these solutions to common warm weather hair woes.
eprouvage Leave-In Replenishing Conditioner
is a daily conditioning spray that makes treating your hair convenient. Their spray moisturizes, conditions and detangles. It works by delivering plant cell technology to weakened areas of your hair. I love this after a day of windblown beach hair. It softens it up from all the salt and sun for smooth looking, flyaway free strands.
TIPS TO SMOOTH FRIZZY CURLY HAIR
Fighting frizz is no easy task, it takes technique and product. A few basic hair care tips to help tame the mane:
Wash and rinse in warm, not hot water.
Squeeze the excess water from your hair with a microfiber towel.
Use your styling products designed to hydrate, nourish and protect.
Don't touch your finished hair.
Remember, the right products make or break a hairstyle!!
Follow USA Love List's board Beauty: Made in USA on Pinterest.