Makeup allows you to get mini a brow lift when your eyes need some perking up. As we age, our eyelids lose some of their elasticity and start to droop slightly, lessening the space between our brow and lash line. To visually correct that and open your eyes back up, you can do a few easy things with your makeup to "lift" your brow line and make those eyes pop. I'm going to teach you how and, even better, we're going to do it with American made cosmetics.
Eyebrow Makeup Tips Featuring American Made Products
Don't miss our source list of American made beauty products for makeup brand suggestions.
HOW TO CREATE AN EYE LIFT USING MAKEUP
1. Always keep your arch waxed and tweezed creating a clean line with no sparse hair out of line. Get a trusted professional to shape your brows, they are the frame of your face. There is a right and a wrong way in the eyebrow world.
2. Fill in your brows with a pencil or brow powder to frame your face and keep your brows defined.
3. Use a matte, non-shimmering all neutral color eyeshadow all over your eyelid
4. Shade under your brow bone using highlighter. Start from about the arch of the brow stroking outward to the tail of your eyebrow.
5. Eyeliner should be applied in a thin line slightly getting thicker at the outer corner of your eye. Take care to have the finishing point direct upwards toward the temple to draw the eye upward. This does not need to be a dramatic cat eye, just the direction of the point.
AMERICAN MADE PRODUCTS FOR A YOUTHFUL EYE & LIFTED BROW
This is no surgical fix but with the right technique and your favorite American made beauty products you can see a visible difference for very little effort. Read all of our anti aging tips, here.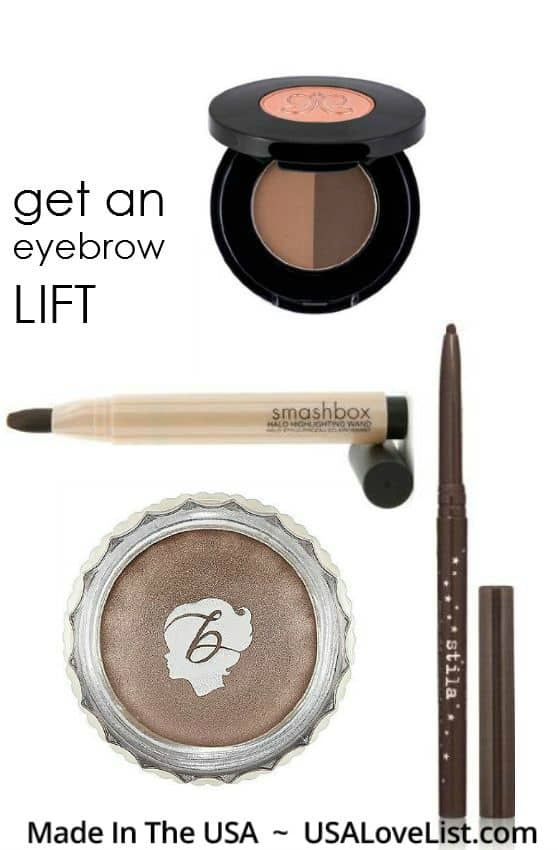 Follow our American Beauty boards on Pinterest:
Follow USA Love List's board Beauty: Made in USA on Pinterest.
Follow USA Love List's board American Made Skin Care on Pinterest.
Follow USA Love List's board Angie's Made in USA Favorites on Pinterest.