Do you need to bring something to the Fourth of July cookout you will be attending soon? Are you on the hunt for patriotic themed dessert ideas? Well look no further!  Make some red, white and blue Fourth of July cupcakes with the help of Batter Babies by Kimber Cakeware.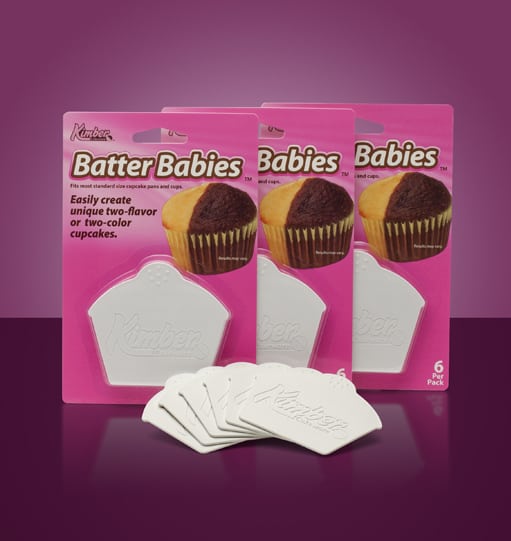 Batter Babies are cupcake batter separators that are made in the USA from food grade plastic.  Batter Babies make it super easy to create multi-colored or multi-flavor cupcakes.
My assistant and I gave Batter Babies a try. We made our red, white and blue cupcakes from scratch, but you could easily use a box of white cake mix.
How to Make Fourth of July Cupcakes
We added all of our recipe's ingredients into the bowl of my American made KitchenAid mixer.
Then, we split the well beaten batter evenly into two bowls. We dyed one bowl of batter red with food coloring, and the other one blue. FYI- the Natural Candy Store sells made in the USA natural food dye which is REALLY hard to find in stores.
Line your cupcake pan with baking cups. Another FYI- I could not find ANY baking cups in stores that are made in the USA! Please let me know if you find some!
Insert one of the Batter Babies into the center of each cupcake liner (see image in picture below).
Spoon the red batter on one side of each of the Batter Babies. Sophie and I found it easy to do all of one color before moving on to the other. Repeat by spooning the blue batter onto the other side.
Slowly remove the Batter Babies. They do not go in the oven!! The line of separation comes out evenly if you use a butter knife to scrape the sides down as you are removing the Batter Baby. Remember to wipe the knife before you scape the other color.
Once you have removed all of the Batter Babies, bake the cupcakes per your recipe's instructions.
When the cupcakes have cooled, frost them with white frosting and decorate them with red and blue sugar or jimmies.
Using Batter Babies by Kimber Cakeware makes it so easy to create patriotic cupcakes. Everyone at the BBQ will ask you how you did it!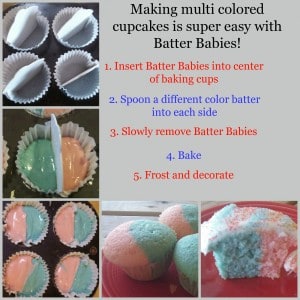 Disclosure: USA Love List received some of these products unconditionally for review purposes. Our opinions are always our own, and we aim to write fair and balanced reviews to promote only the very best of American-made products.