Got Zucchini?! If you have a vegetable garden, or know someone who does, then you are probably inundated with zucchini right about now. If you are looking for a new and tasty zucchini recipe to try, then I have the perfect one for you!
I created this Sausage Stuffed Zucchini Recipe for my husband, who is currently avoiding carbs. The stuffing in this recipe is made with no bread crumbs, and no rice- it's all veggies, cheese, and sausage. Dave's Gourmet Organic Hearty Marinara Pasta Sauce, made with vine ripened California tomatoes, compliments the sausage and sautéed veggies perfectly. This recipe is very filling and even the kiddos liked it. Shhh…they didn't even notice the mushrooms.
Sausage Stuffed Zucchini Recipe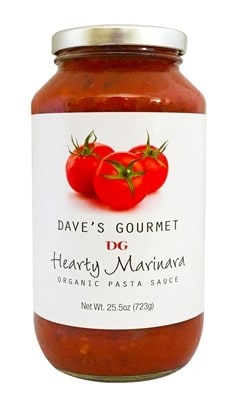 INGREDIENTS
3 medium zucchini
1 pound of sausage (I use Italian sausage)
1/2 cup portobello mushroom, chopped
1/2 cup onion, chopped
1 clove of garlic, diced
shredded mozzarella cheese, about 2 cups, divided
Dave's Gourmet Hearty Organic Marinara Pasta Sauce, about 1 cup
olive oil
white wine
garlic salt (I use Redmond Real Salt Organic Garlic Salt)
salt + pepper
DIRECTIONS
Preheat oven to 400°. Cut all 3 zucchini in half lengthwise. With a spoon, scoop out the 'guts', or seeded pulp, of each zucchini. After all of the zucchini has been hollowed out, chop the seeded pulp into about 1/2 inch or less pieces. Remove sausage from casings and cook in a frying pan over medium heat. Remove cooked sausage from pan. Add olive oil to pan if needed. Add mushrooms, onions, and seeded pulp. Cook until just tender. Add garlic. Add 'a splash' of white wine, deglazing the pan with the veggies still in it. Keep cooking until wine is evaporated/absorbed. Add cooked veggies to the cooked sausage. Add 1/2 cup of Dave's Gourmet Hearty Organic Marinara Pasta Sauce to the sausage + veggies and mix. Place zucchini halves on a baking sheet or pan. I use a Pampered Chef made in USA large bar pan. Scoop sausage mixture into zucchini halves, filling all. Spoon Dave's Gourmet Hearty Marina down the middle (about 5-6 tablespoons) of each zucchini half. Top with remaining mozzarella cheese. Bake for 20 minutes. If zucchini is not tender enough after 20 minutes, lower heat to 350° and cook an additional 5 minutes.
Serve with pasta of choice, topped with the remaining Dave's Gourmet Hearty Organic Marinara Pasta Sauce, of course!
Disclosure: This post is a sponsored post. Sponsored or not, our opinions are always our own, and at USA Love List we always aim to write fair and balanced reviews to promote only the very best of American-made products.