If you love the old red, white and blue, there's a good chance you associate blueberries with the "blue". I'm a blueberry fiend. So when I was blessed with the prize of a (made in USA) KitchenAid mixer, I got to work on making treats with my favorite fruit. My white chocolate blueberry scones turned out perfectly. This recipe is a keeper.
This project was inspired by Traci from BeneathMyHeart who featured these Blueberry Dark Chocolate Scones on her blog recently. YUM! They are billed as healthy but WHO CARES? I love that the baking time is only 15 MINUTES! This is officially one of my favorite recipes using a KitchenAid mixer, especially since I tweaked it to make it my own.
This recipe (linked above) is pretty easy to follow, but I'll share a few tips to make it even easier. Like using what you have. I don't usually have dark chocolate here, and I thought about leaving it out altogether, but then I decided to add the white chocolate chips instead. And frozen blueberries work just fine, thank you very much.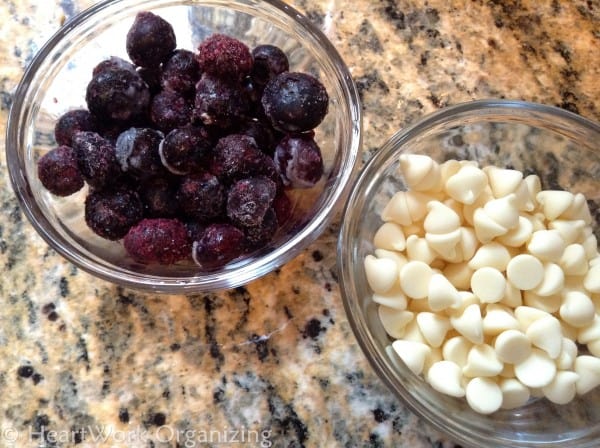 I also didn't have the Neufchatel, so I used regular cream cheese. And let me just say, ladies, that I have been cutting the butter and cream cheese in BY HAND for over 20 years, but with my new KitchenAid mixer, I FINALLY GET IT. This was so much easier.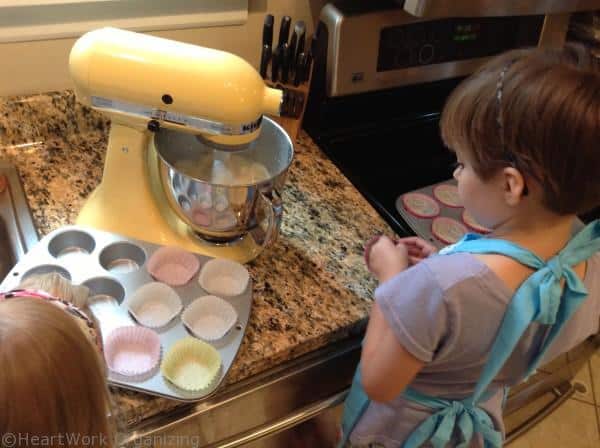 We've been using this mixer for tons of projects. Don't get confused by the muffin cups here.
Of course, I didn't have the sea salt and agave. It works just fine with salt and sugar.
The next part of the recipe you can pretty much skip if you have a stand mixer. Just add the liquids to the flour mix and run it for another 30 seconds. But then -before you take the batter out of the bowl- fold in the blueberries and chips by hand with a spatula, or else you'll slice the little berries into bits. Ow. If you've done this, then you can simply turn out the dough onto your greased and floured baking pan, and form into a circle. You'll want to do all this mixing in the bowl if you can because this batter is super sticky.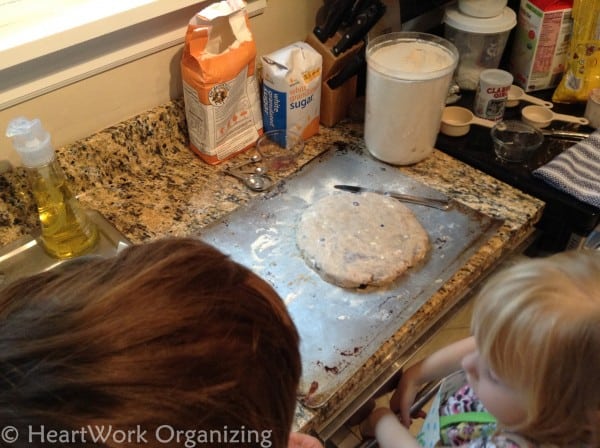 The first batch I cut and then moved to another pan for baking. What a mess.
Nom nom nom. I'm telling you, hand one to someone you love, and they'll swear you paid $5.50 for it at Starbucks!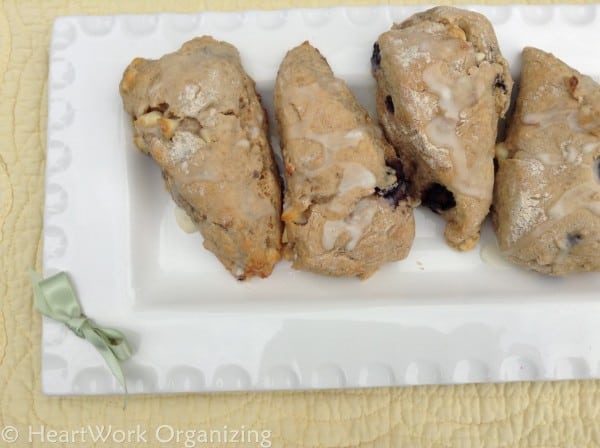 This is just the kind of recipe that moms (who bake) can use on a relaxing at-home day. With a few of these in the fridge, it's got to make mornings easier, right?
Enjoy your week!
There are more KitchenAid recipes that we love!
Guest Post from Darla DeMorrow. Darla is a speaker, author of The Pregnant Entrepreneur, and owner of HeartWork Organizing, a professional organizing and decorating company based in Pennsylvania. Her company mission is to find people find peace through organizing, beautiful spaces, and antioxidants. Request your free "31 Simple Tips to Organize Space, Time and Information."
We are welcoming guest post submissions on the topic of The Top 10 Things Made in My Home State. Contact us for submission guidelines.