This is the guide to all things beauty related that make great stocking stuffers for teenage girls.  We all see the aisles of cheap, packaged up and made just for Christmas bath and body junk in our stores.  Skip that stuff because we have found bath and beauty items that are packaged for fun, made in the USA, and they are the highest quality.  No need to sacrifice those things this season.
10 Made in USA Stocking Stuffers for Teen Girls
Lip Smackers is made in the USA and they have tons of fun packs.  The Coca- Cola set is always popular with the teens and tweens.
Tint Hair Chalk, by Fine Featherheads is an easy and no commitment way to really play with your hair.  The tint rubs in to your hair, most girls like to color the tips or do a few strands, and you set it with hairspray or heat.  It then washes out completely with shampoo in just one wash.  Such a fun product and a sure hit as this is trendy right now.
The Beauty Blender is for your older girls who are wearing makeup.  This is the coveted beauty tool.  Many of our girls are watching You Tube videos for tips and tricks as they learn makeup and this is what all their favorite gurus are using.  It is a high quality, excellent product.
American Apparel Nail Polish (7 pack).  Nail polish is easy and fun and with a package set they are bound to love some if not all of the colors.  Not everyone has an American Apparel store around the corner so this will be fun for someone to receive.  Nail polish is common but this is from an uncommon source making it a bit more unique.
Red Apple Lipstick has gloss too.  Gloss is fun way for young ladies to start experimenting with  makeup.  Red Apple is non-toxic and gluten free.  This has been one of my favorite finds of the year.  No color in this one, Clear Peppermint.
Love + Toast is an adorable line with beautifully designed packages.  Girls of all ages will love this.  It's not just cute, the products are great too.  It's not the cheap junk all packaged to delight the girls and then not do a thing for the skin.  The products smell great and moisturize well.  No fake filler here and truly some of the prettiest containers on the market.  Try the hand cream, they'll love the tin tube!
Rosie Made, the curated shop of made in USA goods by women friendly businesses, has a great foaming bath truffle set.  This box is cool to look at and creates fizz and foam in a moisturizing bath.
Blow Pro Dry Shampoo.  This is a product almost everyone I know wants in their beauty cabinet.  It is the mother of all bad hair day savers.  In the teen world, this is a big deal.

One of my all time favorite and super inexpensive cleansers for teens is the St. Ives Green Tea Cleanser.  It keeps their skin very well balanced and clear.
Something that sparkles always makes a nice addition when we are gifting for a teenage girl.  Cowgirl dirt is a small cosmetic business that is entirely made in USA products.  Try their Stardust Body Glitter.  Fact:  their glitter is made without plastic or metals and is entirely natural!  Even the little princesses could use this stuff.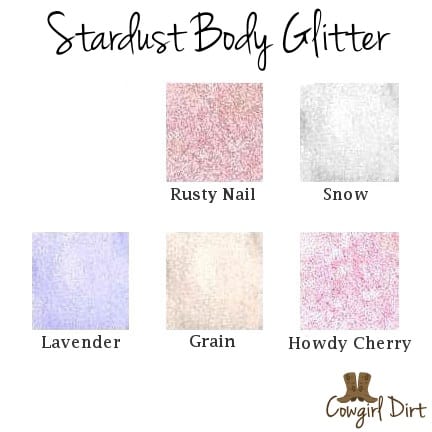 Stocking stuffers are always so fun to pull out on Christmas morning.  We all know how much teenage girls love their stuff and a stocking full of pretty surprises is sure to be well received.
We're making it easy to buy American-made gifts this year. Follow and share our 2014 Holiday Gift Guides and check our previous years' archives from 2013, 2012 and 2011 for even more ideas.
Have you visited our Made in USA Shopping District? It is the place to start your shopping when you want to find the best of American-made.