I just learned last week that ethyl alcohol, the main ingredient in store-bought hand sanitizer, is a petroleum by-product which is also flammable. I use hand sanitizer almost everyday, and I had no idea! I'm going to tell you a surprising secret to make a non-petroleum based high-alcohol hand sanitizer as well as instructions for an all natural tea tree oil based sanitizer. Both can be made by selecting American Made goods.
How to Make Natural Hand Sanitizer: Two Recipes
Non-Petroleum Alcohol-Based Hand Sanitizer.
Yikes! The CDC reports that in order to kill the Corona virus, you need at least 60% alcohol so you can make your own with rubbing alcohol and water for a spray bottle or some sort of gel such as aloe vera for a squeeze bottle. If you don't want to use petroleum based rubbing alcohol, you could seek out a high-proof (120 or more) vodka. Beware! The typical vodka you probably have in your liquor cabinet won't cut it because it is only 40% alcohol. Save that for drinking. You'll need the high-proof vodka for a non-petroleum alcohol-based hand sanitizer.
To determine the percentage of alcohol, just divide the proof in half. So a 120 proof vodka is 60% alcohol. A 180 proof vodka is 90% alcohol. You can then use it straight or do a little math to add water or gel and perhaps some essential oil drops for fragrance while maintaining that 60% minimum alcohol level needed to kill the Corona virus. If you do decide to go that route, read the labels and find an American-made brand. You'll be surprised by how many options there are.
Don't miss: Made in USA Hand Sanitizers: The Source List and Seven Petroleum Free Baby Products.
Natural Hand Sanitizer Without Alcohol
If you are seeking a natural, non-alcohol based hand sanitizer recipe, you can try this one based on tea tree oil. Here is a simple recipe from Aura Cacia. Washing your hands with soap and warm water is the best way to sanitize them, but if you are on the go, hand sanitizer is the next best choice. Here are instructions for how to make natural and alcohol-free hand sanitizer using American made ingredients.
You only need three ingredients to make your own natural hand sanitizer with Aura Cacia's products. Aura Cacia supports over 500 jobs in Iowa.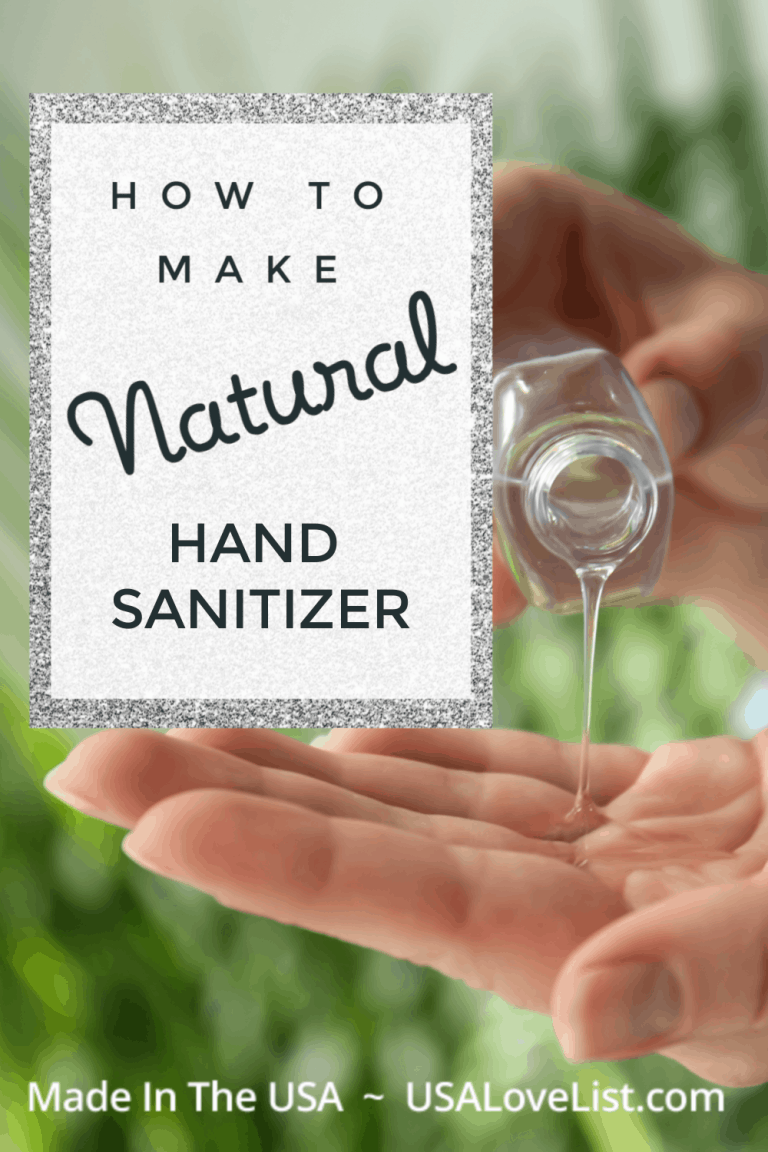 LOVE THIS LIST?
Honestly, we know you will love these lists too!
Made in USA Options for a Detox Cleanse You can Trust
Hydration, Vitamins, Wellness- Made in USA Sources To Look & Feel the Best
Made in USA CBD Products We Love
Whole30 Challenge Tips & 95 Made in USA Foods For Your Whole30 Grocery List
Keto Shopping List: A Source List of American Made Products
Drinking Black, Green, & White Tea Benefits Your Health. Here's How.
Made in USA Activewear: An Ultimate Source Guide
Six Ways to Cleanse and Detox for a New You