How often do you hear the words  "science" in toy commercials nowadays?  Not often, especially if the commercial is aimed at kids. When most kiddos hear the words  "science" next to the word "toy", in a sentence, they immediately lose interest in said toy. In their minds, how can anything that sounds like learning, be fun!
The American made science toys manufactured by TEDCO Toys can change that misconception.These toys show that science can be fun. TEDCO  (Teetor Engineering Development Company) was founded by the late Ralph Teetor, a highly regarded inventor. Mr. Teetor is most known for inventing the "cruise control" option on your car.  He started TEDCO as an outlet for his inventing.  Today, TEDCO Toys is owned by his daughter, her family, and even some TEDCO employees.  The company focuses on creating and manufacturing educational and scientific toys. Not all TEDCO Toys are manufactured in the USA, but the ones mentioned in this review are. 
TEDCO Toys sent my kiddos a few of their American made science toys to try out. Here are our favorites.
AND
The Owl Puke Dissecting Kit
Yup, that's right, owl puke.  Nothing gets a kid more interested in science than something gross. The grosser the better, and puke tops that gross list.  Since owls regurgitate the bones, teeth, hair, and feathers of their meals, owl puke is a great place to find full small animal and bug skeletons.  And parental units,  have no fear! The real owl puke in this kit has been heat sterilized, so no need to worry about total disinfection after dissection.  Each TEDCO Owl Puke kit contains two pellets, a magnifying glass, a wooden tool to dissect with, and a guide with a description of the bones that could be found.
Logan, age 7, was beyond excited about this item as he has been fascinated with mice lately and couldn't wait to see if there was a rodent skeleton in his pellet. Sophie, age 5, was a bit grossed out yet still curious.
At first, Sophie did not even want to touch the pellets. I found some "tools" around the house to aid in the dissection- some tweezers and plastic chopsticks.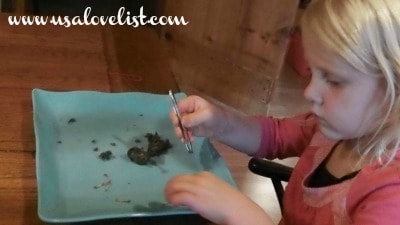 In no time, her curiosity took over, and she was picking out bones and checking them out with the magnifying glass.
Logan dug right in…
and started comparing the bones he found to the bone images on the chart that is provided in the kit.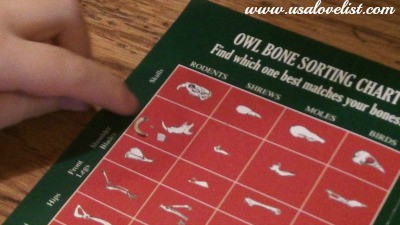 The Verdict: Logan and Sophie both loved the Owl Puke dissecting kit. Logan spent more time thoroughly going through and picking out every bone- and there were a lot! He compared each bone he found to the chart provided to see what they belonged to and he was happy to see that it looked like a rodent.  Sophie picked out the big bones and compared a few. It was kind of hard for her to control the tools to pick out the small bones, as at her age her fine motor skills are still developing. I liked this item because it was great to see Sophie try something she at first didn't want to, and to see Logan really involved in trying to figure out what skeleton he found.
The Owl Puke dissecting kit would make a great gift for boys and girls in second grade or above, and especially for those who are curious about animals and nature.
The Blocks & Marbles Super Set
Sunday morning my kiddos were driving each other NUTS from the second they got out of bed. Whether it was the time change or what, it sure made for a challenging start to our day! Of course, I still had a TEDCO Toy product for them to try out and I was beginning to think that this review was going to end in disaster.
I opened the Blocks & Marbles Super Set and poured the pieces onto the floor. The kiddos both gave me "why are you making me play with him/her" looks.
Logan gravitated towards the blocks.
Sophie pulled out all the marbles.
And they played separately, not even giving each other the time of day, but hey, at least they weren't fighting! Then, Sophie started to take notice of what Logan was building. He had managed to grab one marble before she collected them all and she was eying it in his hand as he was dropping it through a hole in the block structure he constructed. I was bracing myself for the yelling and grabbing that was about to begin.
But it never happened! She was so curious about what he was doing that she brought all the marbles over and helped him test it out. He was so into making a big marble tunnel and trail, that he welcomed her help. This was definitely a "WOW" mom moment!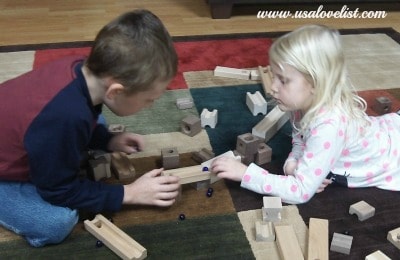 There they sat, quietly discussing building strategies, and testing out ideas for almost an hour.  Nothing like good old fashioned blocks and marbles to get them to play nicely together!
The Verdict: Logan and Sophie still keep going back to the Blocks & Marbles Play Set and trying out new ideas. They have begun to incorporate other blocks and things around the house into their designs to see how tall they can make their structures. Obviously, any toy that can get my kiddos to play together NICELY is at the top of my list!
The Blocks & Marbles Play Set would make an excellent gift for boys and girls who may think they are too old for blocks, but can still be caught playing with their little siblings toy blocks. This set would also make a great gift for a child who is curious about construction and engineering jobs, like Logan, who currently wants to be a construction worker when he grows up.
Disclosure: USA Love List received some products in this post unconditionally for review purposes. Our opinions are always our own, and we aim to write fair and balanced reviews to promote only the very best of American-made.
We're making it easy to buy American-made gifts this year. Follow and share our 2013 Holiday Gift Guides and check our previous years' archives from 2012 and 2011 for even more ideas.
Have you visited our Made in USA Shopping District? It is the place to start your shopping when you want to find the best of American-made.