Every. Single. Year. I get caught up in the holiday shopping frenzy. Every. Single. Year. This year, I've got a plan to simplify gift giving, plan ahead, and buy American. I have to step back and ask myself, "Is it worth it to by a lot of cheap gifts, or should I invest in a few high quality and meaningful gifts?"
In previous years, I found myself collecting flyers, searching online for the best deals…. thinking of all the things that my kiddos MUST HAVE. I get caught up in the thrill of low prices, and the excitement of stretching my Christmas money so that my kids can HAVE MORE GIFTS under the tree. But the longer my shopping list gets, the more I realize that my kids don't need, or even want, most of the things I have on it. And I know that like Christmases past, most of the gifts they do get will be played with for one, maybe two days, and then stuffed in a closet. Not this year. Here's my plan.
Want – Need – Wear – Read
A few years ago I heard a saying that brings me back to my center, before the holiday shopping gets out of control. Instead of buying everything that I think that my kids MUST HAVE (which usually includes cheap, or useless items), I make it a goal to buy them four items each.
Something they want, something they need, something to wear, something to read.
Following this saying not only simplifies my holiday shopping experience, but it also causes me to put more thought into what each child gets, and makes it easier for me to find American made gifts in each category. I am not saying that it always saves me money, as I usually spend the same amount as I did before, but I do invest in higher quality items.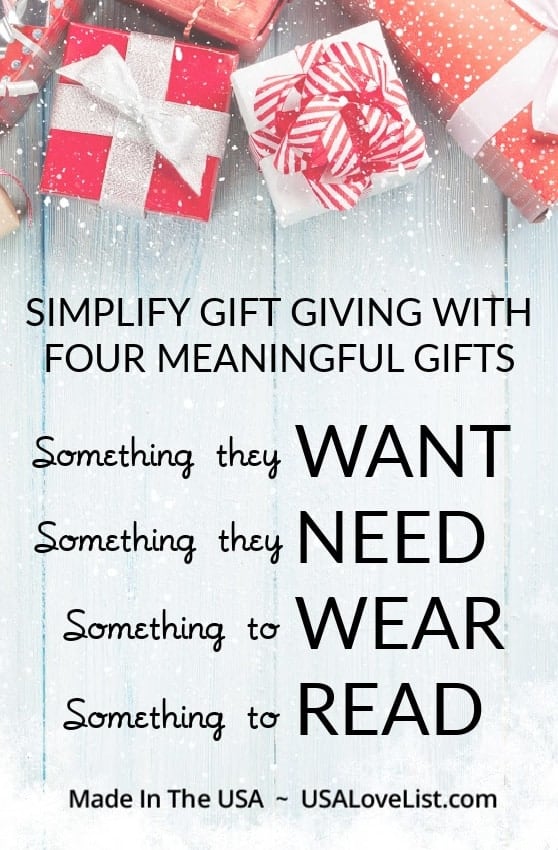 Here are some suggestions as to what types of gifts can fit into each category, and where to find them American made.
Something They WANT
Finding an item that your kiddos really WANT that is American made can be impossible, especially for the older kids. The top items on most lists are video games, phones, tablets- all of which are NOT made in the USA. If my kids are specific and have their hearts set on an item that I can't find American made- a Barbie doll, a specific Lego set- they will probably get the item they want. However, if they are generic on their lists: Barbie STUFF, Princess STUFF, Lego STUFF, then made in the USA it is!
American made suggestions for items kids of all ages WANT
Made in USA Toys, Games, Doll Furniture and More: Lehman's
Lehman's offers a large selection selection of children's old-fashioned toys, gifts, books, games and puzzles. Not all, but most of the toys they offer are made right here in the U.S., ensuring quality and preserving jobs, and some of these are Amish toys made with the careful craftsmanship the Amish are known for. Popular made in USA items at Lehman's include Eli & Mattie doll clothing, doll bedding, and doll furniture that is handmade by Amish craftsmen.
If you can't decide or aren't sure what a child would like best, we offer an easy solution. Simply give a Lehman's gift card. Choose one of any denomination and we will ship it to the lucky recipient.
For Kids That Are Obsessed With Slime: Crazy Aaron's Thinking Putty
It bounces, it stretches, it pops, and it sculpts…Crazy Aaron's Thinking Putty is THE original and best creative play "slime". For over 20 years Crazy Aarons has been making thinking putty and innovative creative play sets.
Crazy Aaron's Thinking Putty is made in Pennsylvania from top quality materials, including non-toxic silicone, so it never dries out. It is available in a variety of colors (and scents too), including limited edition and seasonal offerings that change every year. Thinking Putty is made with the help of exceptional individuals challenged with intellectual, physical, and other disabilities. Take 15% off with discount code USALOVE, with no expiration.
MORE MADE IN USA TOY OPTIONS
GIFT IDEAS FOR TEENS AND TWEENS
Something they NEED
There are so many gift ideas that can go into this category! This is where the accessories that go with the "want' gift can be bought American made. Does your child play a sport or have a passion for art or music? Equipment, supplies and even lessons fit here!
SWAG FOR THEIR ROOM
TECH ACCESSORIES
STORAGE
ART/SCHOOL SUPPLIES
SPORTING GOODS
OTHER GIFT IDEAS
Something to WEAR
This is the gift category that is never hard for me to find items for as my kiddos always seem to hit growth spurts right at this time of year! However, there are other options besides clothing like jewelry, beauty and personal care products.
CLOTHING
Made in USA Organic Clothing for Kids: Two Crows for Joy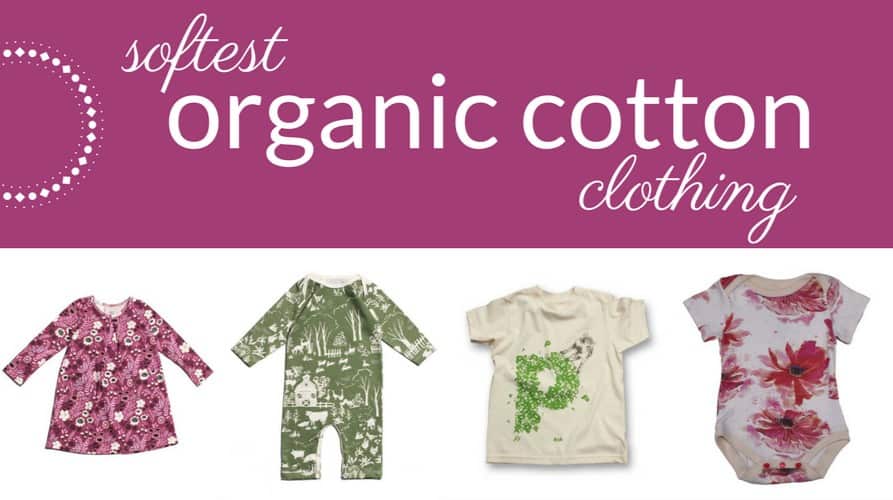 Two Crows for Joy is an online retailer of American made organic baby clothing and clothing for boys and girls, sizes 2t- 8. Two Crows for Joy manufactures their own line of children's clothing under the brand name Adooka Organics. Other made in USA clothing brands that Two Crows for Joy offers include Winter Water Factory, Tuff Kookooshka, and Alber Road.
For more made in USA clothing for kids options, check out:
Jewelry
BEAUTY PRODUCTS/PERSONAL CARE
Something to READ
This category can be hard to buy for online, as not all book sites share where a book is printed. We've been told that most books involving color printing are not made in the USA. But I know I never need an excuse to visit my local bookstore! Here are some great ideas for the "something to read" category:
BOOKS
A MAGAZINE SUBSCRIPTION
Have you visited our Made in USA Shopping District? Bookmark it and start your shopping there when you want to find the best of American-made with your favorite retailers.
Do you have American Made ideas for Want, Need, Wear, Read gifts? Feel free to add them in the comments below.
Love this list? We know you will love these lists too!