If you're worried about coffee staining  your teeth, but still need a fast fix of caffeine in the morning, you're absolutely going to want to read on…
BUT FIRST COFFEE…OR SHALL WE SHALL TOOTHPASTE?
Maybe you missed our feature last year about Power Toothpaste, the only caffeinated toothpaste on the market, that is also made in the USA? If you need, we're happy to be the ones to share this POWERful new(ish) product with you.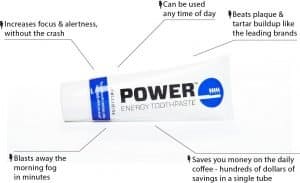 THE BENEFITS OF USING POWER TOOTHPASTE
GET A RUSH WHILE YOU BRUSH: Power Toothpaste kicks you into gear faster than drinking your cup of Joe because the caffeine is being directly absorbing through the mouth. You'll get an instant boost within minutes after brushing.
IT'S MORE AFFORDABLE THAN COFFEE & TOOTHPASTE: 90 cups of coffee can cost up to $260. A single tube of Power Toothpaste contains 90 brushes, each of them comparable to a cup of coffee, for the price of $15 with free shipping. Power Toothpaste is $245 cheaper, allowing users to stay energized while also saving money. It's a win-win!
CONVENIENT: Get minty fresh, mentholated breath, AND the caffeine boost you need to kickstart your mornings. In today's busy world, some people require a quicker and more convenient way to get their morning fix. Power Toothpaste is a revolutionary, made in USA, solution to this problem.
HEALTHY: Power Toothpaste contains the same healthy ingredients as the leading brands to eliminate plaque, reduce stains, and freshen your breath.
THE GIVEAWAY
Two lucky winners will win a FIVE TUBES OF POWER TOOTHPASTE, a retail value of $49.99. Enter now!
There are a variety of ways to enter this giveaway including opportunities for multiple daily entries. Good luck!
Click the arrow buttons below for further instructions on each entry. This giveaway will close at midnight on Thursday March 30, 2017. The winner will be randomly selected, verified for correct entry participation, and notified by email.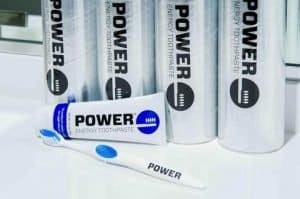 If you've already entered one contest on USA Love List, entering another will be even easier. Visit our Giveaways Page to find out about other active offers to join.
Disclosure: This is a sponsored post which USA Love List is proud to share with you because, sponsored or not, we only share stuff we love.