The wildly popular Urban Decay Naked Palette is the little black dress of makeup.  It is versatile, can be mixed and matched, and has timeless appeal with its neutral hues. (PS, of course, it is also made in the USA.) I always recommend this palette to beginners because you can do so many things with it while you build your makeup wardrobe.  This is why we love top performing American made cosmetics.
Pinterest users can find tons of looks created with the Naked palette.   This palette is dynamic in that you can easily use it for everyday looks or applying extensive tutorials.  The ideas we are sharing today explore easy ways to use your American made Urban Decay eyeshadow.
9 Easy Ways To Use Your Urban Decay Naked Palette
Eyebrow Highlighter.  Use 'VIRGIN' along the brow bone.  Apply a thin line along the brow bone, layering it to give contrast and make your brows pop with precision. Don't miss my eyebrow makeup tips.
The Cat Eye.  Create a cat eye with an dampened eyeliner brush dipped in 'CREEP'.  Wetting the brush keeps the fall out of eye shadow limited to none.  It also allows you to draw a sharp line, creating an easy cat eye.  Apply over eyelid primer.
Eye Liner.  Use any of the darker colors as an eyeliner.  Dampen your liner brush and line in any way you would with a traditional eye liner.  'DARKHORSE', 'CREEP', 'HUSTLE' and 'GUNMETAL' are my go to's.
The Smoky Eye.  Urban Decay has the most blend-able eye shadow in the makeup market.  You can create several different toned smokey eyes with this palette. Don't miss my tips on how to create a daytime smoky eye.
Highlighter.   'SIN' has just the right amount of sheen without the sparkle which creates the perfect facial highlight.  The champagne tone is flattering 0n all skin tones.  Use it just like any other highlighter, everywhere the light would naturally hit.  (bridge of nose, forehead, cheek bones, chin)  No need to be heavy handed (unless you want to) as Urban Decay shadows are well pigmented.
Diffuse and distract from dark circles.  Even if you have no dark circles, the corners of your eyes can get dark and shadowy.  Adding some 'VIRGIN' to the inner corner keeps this area from dragging your face down.
Eyebrow Filler.  So usually you want to fill your brows in with a matte product, or should I say, traditionally, that is how they come.  Now you can actually buy glossy or shimmer finish.  But if you have the naked palette you can create your own too.  Use a brow makeup brush and fill in your brows with hair like strokes to create a well groomed, finished brow.  Try 'DARKHORSE'.
Daytime eyeshadow (natural).  A swipe of neutral color brings life to the eye even when you are just trying to keep it simple.  Using 'SIDECAR' on your eyelid will neutralize it and give it a soft finish.
The Cut Crease.  Do the above daytime all over and then add dimension and open up the eye by adding a deeper color to the crease of your eyelid.  Try using 'TOASTED'.  Apply it to the crease starting at the outer corner and working toward the mid point of the eye, decreasing in width.  Blend it out.
If you want to invest in some American Made cosmetics, this is the perfect place to start. There are 12 colors in this palette and they are all ideal for everyday wear.  The pigment never disappoints, and the blending is superior. No one does it like they do.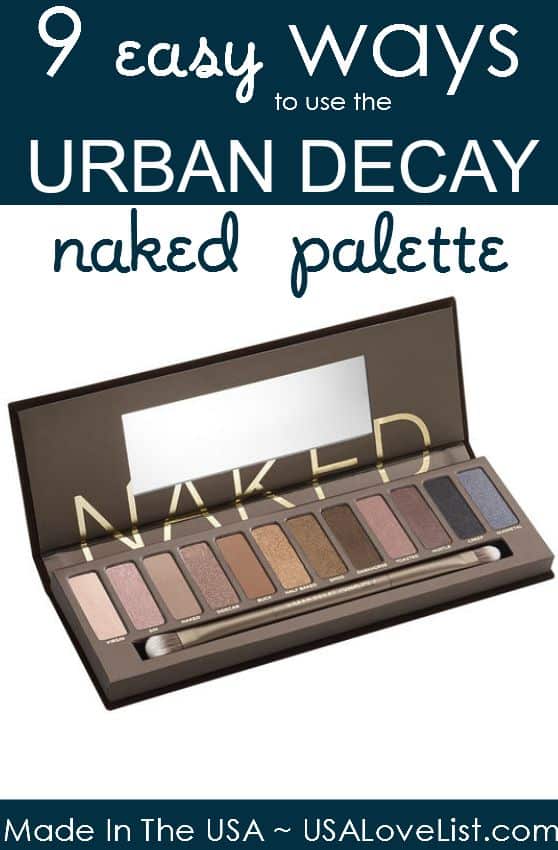 Disclosure: USA Love List received this product unconditionally for review purposes. Our opinions are always our own, and we aim to write fair and balanced reviews to promote only the very best of American-made products