If I'm going to spend a little more on a luxury gift, you'd better believe it will be made in the USA. Finding amazing American made affordable luxury gifts for women just got easier. Luxury that's well made, is always worth the investment in American made.
Affordable Luxury Gifts for Women
Kámen Road: Luxurious Leather Accessories
Add some style to her work day with a luxurious leather bag from Kámen Road. Kámen Road Leather Laptop Tote Bag is made in Oregon from full grain leather and lined with suede in a contrasting color. It has a zip pocket to hold all of the work essentials- phone, pen, business cards and more. Looking for something larger? The Kámen Road Leather Laptop Bag (pictured in the cover photo above) is the perfect size to hold everything when commuting from home to office and makes a great carry all for work trips.
Inspired by Japanese ceramics, the laptop bag is one of Kámen Road's bestsellers. After five years of gathering customer feedback, Kámen Road is excited to be in the process of redesign, focusing on a removable laptop sleeve element, changing the inside pockets, and creating both a full-grain leather and a canvas and leather option. The best part of this design is its every day and travel-the-world versatility.
Kathleen Murphy, the founder of Kámen Road, sources only natural materials because of how long natural textiles and leather last and age with unique beauty and character unlike plastic-based synthetics. Kámen Road has both a current inventory collection and a made-to-order collection produced by skilled artisans in small quantities. As part of its Slow Fashion commitment, Kámen Road chooses quality over quantity as its production method.
Take 10% off your Kamen Road order now with discount USALOVE. No expiration date.
Have you visited our Made in USA Shopping District? It is the place to start your shopping when you want to find the best of American-made.
For more American made luxury gift ideas, don't miss the following USA Love List articles

Pin this list to save it for later!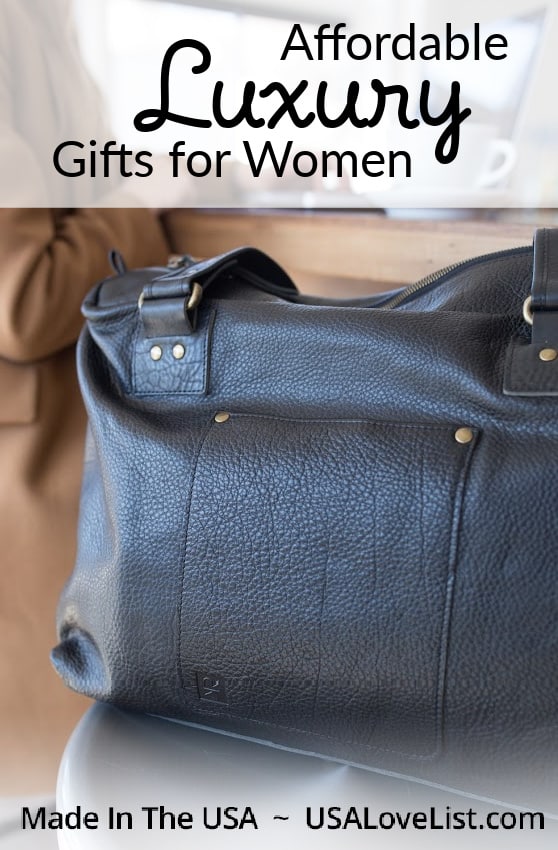 Cover photo and pinable photo: Kamen Road Laptop Bag in brown leather and black leather.