My, have we had fun with this series. I've been collecting my favorite American made gifts under $30 for quite a while. This is the fourth one we've published, so by my count, that's 120 affordable Made in USA gifts. Don't miss Tracey's, Angie's, and Jill's lists.
I'm a native of Michigan as well as a summer resident. I love that Michigan Mittens gives me a piece of home and nostalgia when I'm outside the Mitten State. They make over 30 products the showcase the best of Michigan. Whether you're looking for a baby gift, something for a hostess, or a gift for the grandparents, y0u'll find something great for any fan of the State.
I love the company's NEW Tea Towel – Mitten Cookie Cutter Gift Set. Each tea towel comes with a kraft bakery box for your baked cookies, recipe card and USA made Mitten cookie cutter, making it a great gift. 15% off entire purchase with code USALOVE through January 31, 2019.
Leave it to Michiganders to take warmth to a whole new level. One of my favorite products is these double layer "SUPERIOR" Michigan Mittens. They're wool lined and covered with acrylic so there's no itchiness when you wear them. They'll certainly keep your hands toasty. 15% off entire purchase with code USALOVE through January 31, 2019.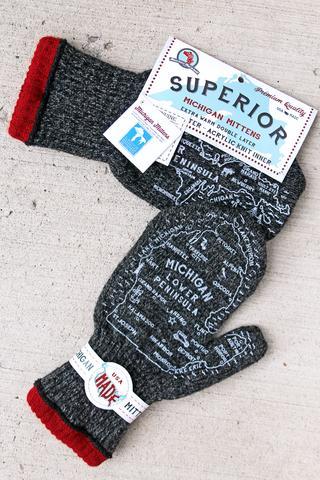 There are a number of sources for Made in USA socks. Freaker USA is making sock buying easy and fun with these one-size fits most, unisex American made novelty socks. Select from lots of fun, funny, and funky designs for the entire family. All socks and Freakers (bottle covers) are made in Troy, North Carolina and the company headquarters is in Wilmington, North Carolina. 30% off Freakers with code USALOVE through February 13, 2020.
30 American Made Gifts Under $30: Sarah's Picks
You've read this entire list and you are still looking for MORE affordable American made gifts? Seriously?! Just kidding. We know that choosing gifts is very personal, plus there are so many really wonderful products made in the USA. I could have gone on and on… but do check out Tracey's, Angie's, and Jill's lists.
PS, do you love that beautiful wrapping in the post's main image? That's American made, recyclable, compostable, reversible wrapping paper made by Wrappily. They are a USA Love List sponsor. Once I saw their images and got my hands on the samples they sent, I knew I'd be ordering more. I can't wait to see the pile of presents under our tree this year. I also can't wait to see the wrapping paper in my compost bin instead of in bags on the curb. Check them out.
Disclosure: This is a sponsored post which USA Love List is proud to share with you because, sponsored or not, we only share stuff we love