My, have we had fun with this series. I've been collecting my favorite American made gifts under $30 for quite a while. This is the fourth one we've published, so by my count, that's 120 affordable Made in USA gifts. Don't miss Tracey's, Angie's, and Jill's lists.
30 American Made Gifts Under $30
Zkano Socks, $15 and up
Who doesn't need socks?! There are a number of sources for Made in USA socks. I love the story of this Alabama company with long family roots. Zkano socks are made from American grown and spun organic cotton. They are soft, comfortable AND environmentally friendly. Select from lots of fun, colorful and funky designs for men, women, and kids. All Zkano socks are made in Fort Payne, Alabama. Save 15% off now with code USALOVE. No expiration date.

Apple Valley Natural Soap, Various
Apple Valley Natural Soap is an artisan soap company which makes over 60 varieties of handcrafted, cold-processed soap along with a wide variety of other beauty products. Their soaps include; shampoo, body, facial, salt, Castile and coconut. All are designed with natural and organic ingredients to help nourish, heal and rejuvenate a wide range of skin and hair types. This company is unique because they allow you to pamper your friends with customizable gift boxes. With Apple Valley Natural Soaps gift boxes you can choose products based on their preferences and personalities. Save 15% off your Apple Valley Natural Soap purchase with discount code USALOVE. No expiration. One use per customer.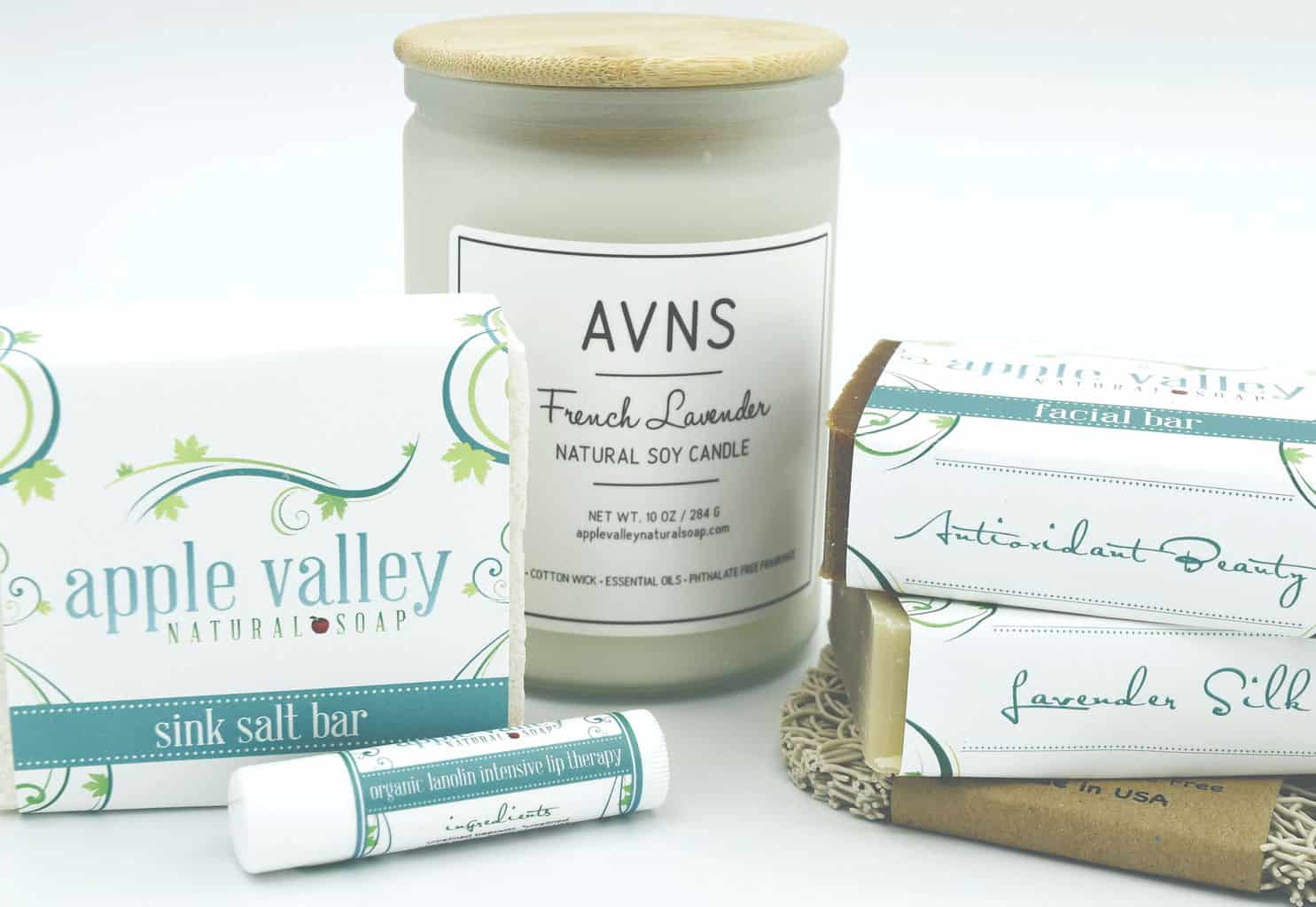 Sweet Jules Gifts Box of Caramels, Medium Box, $19.50
Wouldn't you be delighted to receive a box like this? Treat your friend to the indulgent gift of award winning, handcrafted caramels. Sweet Jules caramels are soft and practically melt in your mouth. The Salted Caramel Collection includes two flavors of Sweet Jules popular French Sea Salt Caramels. The Jules of Paris is a dark swiss chocolate caramel blended with buttery vanilla topped with sea salt. The Fluer de Sel classic French sea salt caramel is the best seller.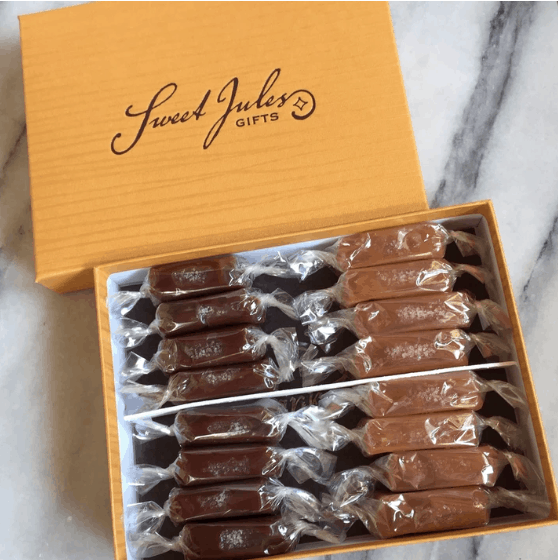 Cow Tales, $12 plus some half pint sized Mason jars
On Halloween I spotted this image on the Cow Tales Instagram page with the suggestion of stirring the soft cream and caramel sticks into coffee. Oh. Em. Gee!! Imagine my dismay when the neighborhood kids snatched with glee every one of the three cases of Maryland made Cow Tales I'd bought for the occasion. I've had this stunt on my mind ever since. For friends, teacher gifts, etc., I'm planning to buy a bunch of Cow Tales minis and pack them in half pint mason jars with a festive ribbon and a note about the coffee idea.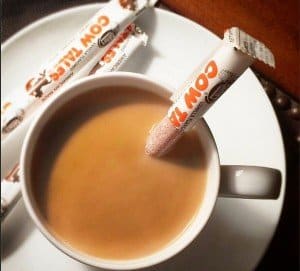 Burt's Bees Gift Set, $9.99 and up
Our beauty editor Angie turned me on to these gift sets as ideal American made gifts to keep on hand. They are affordable, indulgent, a gift for tweens to grandmas, and available at a variety of price points. They always have special edition packaging for holidays and they are easy to find in a pinch at Target or your local pharmacy store.
Essie Gel Couture Set, $17.99
There are several American Made nail polish brands. Essie is my personal favorite and I get especially excited about their seasonal collections. This seasonal set is a luxury your friend might not splurge for herself, but makes a really affordable American made gift for you.
Wild Ophelia Chocolate Bars, $5 and up
We met the women from Wild Ophelia a couple of years ago and, out of all the American produced chocolate out there, this brand has just stuck with me. The flavors, the colors, the name, the celebration of American farms and artisans… stack a few of these bars up and tie it with a ribbon. Done. Perfect gift for anyone.
NeuRoast flavored mushroom coffee, $19.99
Running out of gift ideas? Here is something new – Mushroom Coffee. Delicious custom-blended Italian dark roast coffee with Lion's Mane, Cordyceps, Chaga, Reishi, Turkey Tail, and Shiitake mushrooms. Nothing to hide, just 100% earth-grown ingredients and performance mushrooms. Keto, Vegan, Paleo and Whol30 compliant creamer and coffee. Take 15% off your NeuRoast purchase with discount code USALOVE. No expiration. One use per customer.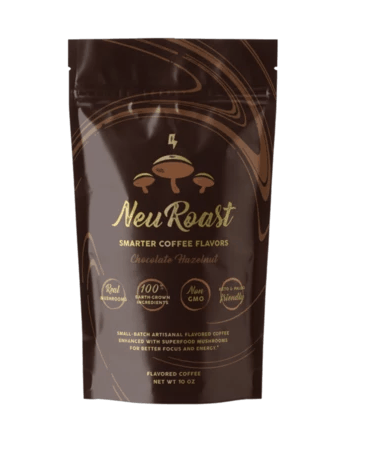 LLBean Small Tote, $24.95
I've been known to fill one of these small totes with a batch of homemade cookies or a bottle of wine, cheese and crackers… anything really. I love to give this as a gift because I know that the ones we have around our house get used non-stop, in a million different ways, and will last forever. Rugged and made in Maine.

Cinda b Flat Iron/Curling Iron Cover, $20 and up
I have this flat iron case. I love being able to put my flat iron away when it is still hot. I feel so smooth when I just have to grab the neat case, cords contained, while I'm packing for travel. This is a nice gift for someone who has everything, because they probably don't have a flat iron case and if they do, it is probably not this nice. With an accessory like this, you can't go wrong picking one of Cinda b's fun patterns.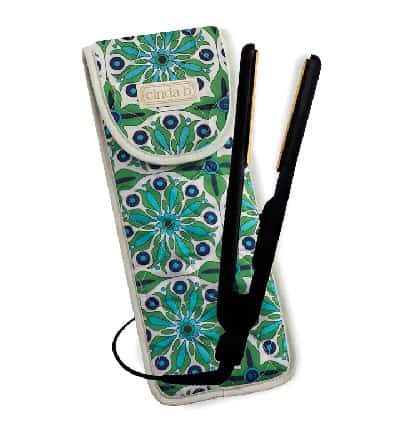 Flowfold Wallets, $30 and less
My son received one of these Maine made wallets as a birthday gift a year ago and I have one of Flowfold's tote bags. We are avid sailors so I love the looks of these products made from reclaimed sailcloth. They make me think of city chic and summer all at once. This one is very lightweight and basic – just the way guys like it.
Facekins™ washable and reusable fabric facial pads, $12.75 and up
Facekins are an eco-friendly luxury. Facekins handmade facial rounds/squares are soft and lint-free making them perfect for removing makeup, especially around the eyes. These facial pads are a must-have for the environmentally conscious person on your gift list. Product box made from 100% recycled paper. Take 10% off Facekins and free shipping with discount code USALOVE through February 27, 2020.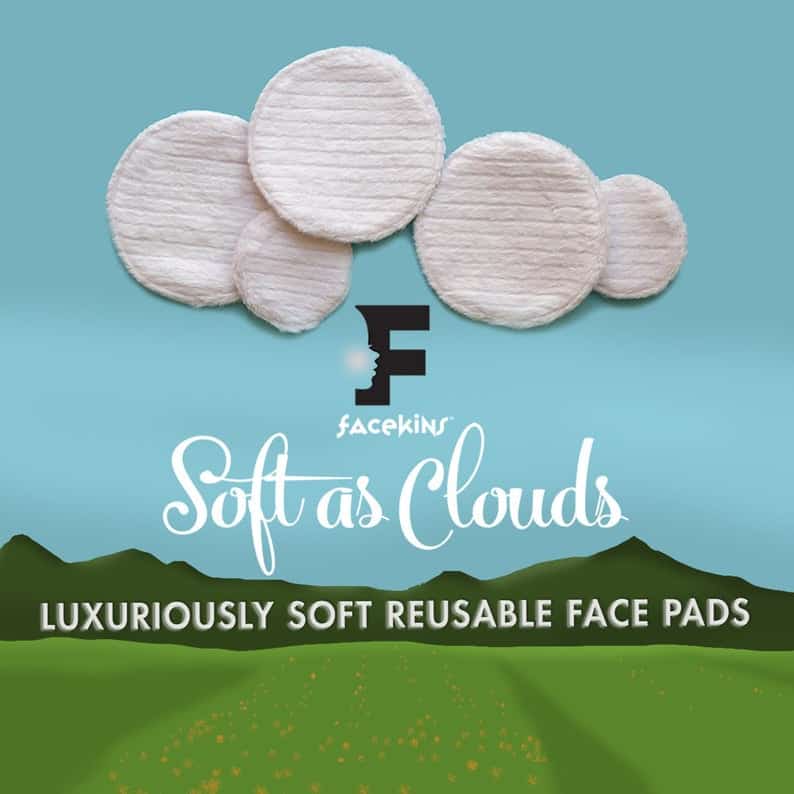 Mason Jar Cookie Company Chai Cappuccino Chip Cookie Mix, $14.00
One year, someone gave me a mix in a jar. I appreciated it when I got it, and I enjoyed it again when we pulled it out on a snowy day in January, and then I loved it again when we got to eat the treats it yielded. The next year, I decided to make a batch of them for gifts. Let me tell you, they are not as simple as they seem. Packing everything in with the layers is tricky, then there's the decoration and instructions tag. I'm pretty happy to buy and gift these this year.

Popsations Gourmet Popcorn, $26 and up
I got a chance to try some of Popsations' flavors last summer and they immediately inspired me to start my holiday list. This company makes delectable dessert popcorn flavors that are packaged in festive red and white gift packaging. This is an ideal gift for… oh… anyone! It would be top of my list for an office gift exchange when you need something affordable, American made, and gender neutral.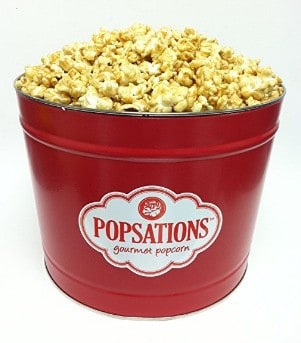 DecalGirl Skins, $10 and up
This is a tech accessory that I love. DecalGirl sent me a sample a few years ago and since then, I've bought them for myself, my family, and as gifts. Delaware-based DecalGirl makes graphic skins in a seemingly infinite range of designs, for every gadget you own. These are not cases. They are vinyl skins that adhere to your laptop, tablet, phone, gaming consoles, and even drones and look good while protecting from scratches. One year, we gave our kids our old laptops for Christmas, but we cleared them off, cleaned them up, and applied new DecalGirl skins in designs they would love. I don't think the kids had any idea that they weren't new. And they still think they have the coolest laptops in town.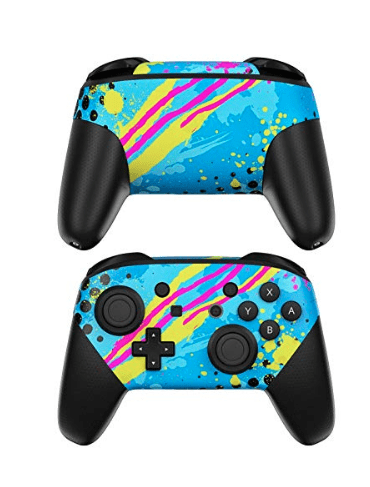 Channel Craft Boomerang, $10
When I need a reasonably priced kid gift for a school or scout troop gift exchange, I have turned time and again to the classic toys made in Pennsylvania by Channel Craft. I picked up this boomerang for a middle school pollyanna at my local REI store. You can also find them in national park and museum gift stores when your kids are begging for a souvenir (my kids aren't the only ones who do that, right?). I can't believe what nice, affordable gifts for kids these are.
Amuse Pooch Dog Treats, $17.50
Amuse Pooch Dog Treats are made in a commercial kitchen in New York City. These single ingredient treats are made from natural, ethically raised chicken or beef. Military members save 10% at AnytownUSA. This discount is available to active duty service members, veterans, retirees, spouses, and immediate family members.

Skookum Bungee Leash, $25
Here is another item that I received as a sample, didn't know I even wanted it, tried it, loved it, can't live without it, have recommended it to countless people who have stopped me to ask about it. Now I'm suggesting it to you as a reasonably-priced American made gift for dogs and dog lovers. This leash has a bungee built into it which has two results: 1) when your dog is walking next to you, the leash is short so it doesn't drop down and get tangled in his legs. 2) when he lunges forward to check out that pretty poodle across the street, he feels the stretch, hopefully slowing him down before he reaches the literal end of his leash, making it more comfortable on your arms. This leash is constructed of tough stuff, still looking brand new after a year or more of wear.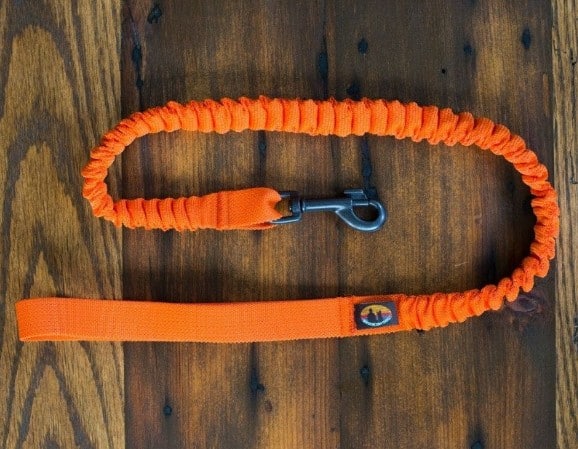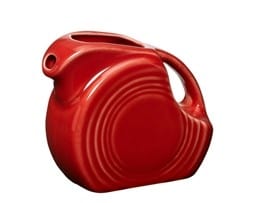 Tom Bihn Travel Tray, $25
I have a story to tell about this product. The first time I saw it on Tom Bihn's website, I laughed at it. I wondered who needed a travel tray to hold their phone and pen on the road. It seemed totally unnecessary. Then they sent me one as a sample. (Yes, I'm lucky enough to get a lot of samples, but I really only recommend "stuff we love" so it is helpful to get first-hand experience with products I've never seen in stores.) In any event, I am here to tell you that I now use this item every day of the year at home and never travel without it. It sits like shown in the picture, on my desk, corralling all of my cables, headphones, and other little tech parts. When I travel, I unplug, tuck the ends in the bag, flip the sides up and pull the drawstring so everything is safely contained in the pouch. I arrive at my destination, flip the tray open, and I am ready to work. No winding, no fighting the mess of wires. They are allowed to be messy – inside this travel tray. I love this product and I'm sure the one I have will last me forever.
Mason Jar Shaker
This one is simple. I love Mason Jars. I love cocktails. When I saw this set that makes a shaker out of a jar, I was in love with the elemental elegance of it. I'll be giving this one as a gift soon. Assembled in Brooklyn by W&P Design.
Stonewall Kitchen Gift Set, Various
I'm big on consumable gifts. I like to give baskets or sets that are a little bit of an indulgence, maybe a little fancier than what someone would buy for themselves. Stonewall Kitchen's jams, sauces, salsas, pancake mixes and more have served me well many times, especially for shipping to loved ones out of town.
Get Your Own Damn Sauce Variety Pack, $20
This is the perfect gift for the foodie on your list. Get Your Own Damn Sauces are for people who love adding flavor to …. well, everything! This variety pack includes a jar of each sauce; Apricot Cherry Blaze, Raspberry Lynamite, Chipotle Smothering Sauce, and Blueberry Jalapeno Madness. I love the intense flavor of all of these sauces. They can be used for dipping, and for BBQ-ing. They add a kick to your burger, and even to your ice cream. My favorite is the Blueberry Jalapeno Madness. It's super tasty with cream cheese on a bagel.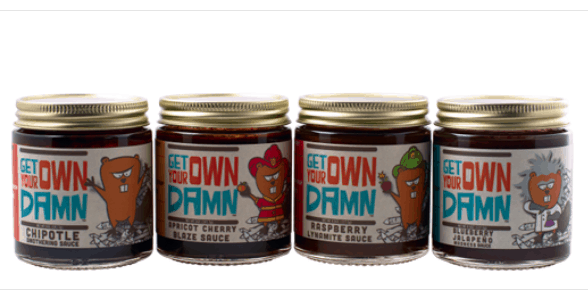 You've read this entire list and you are still looking for MORE affordable American made gifts? Seriously?! Just kidding. We know that choosing gifts is very personal, plus there are so many really wonderful products made in the USA. I could have gone on and on… but do check out Tracey's, Angie's, and Jill's lists.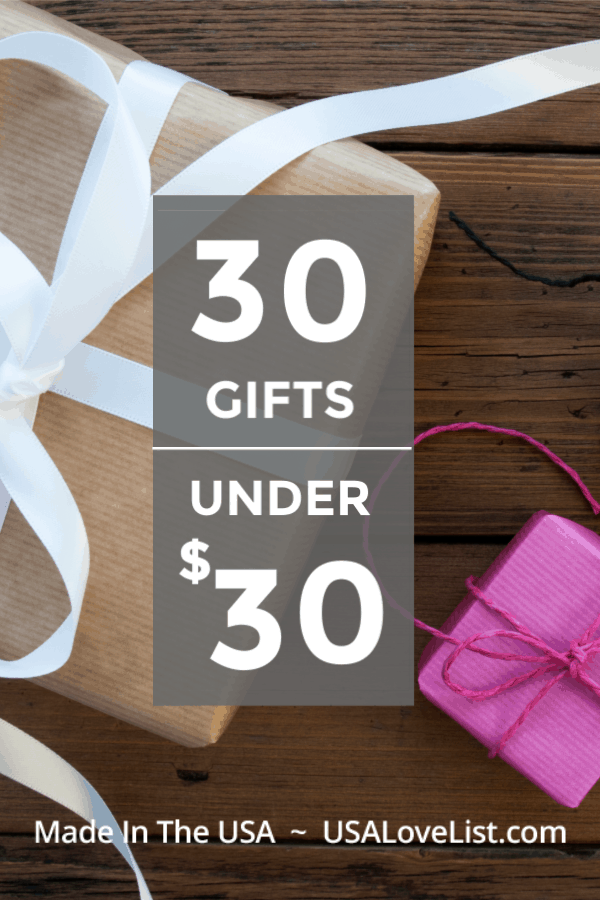 Disclosure: This is a sponsored post which USA Love List is proud to share with you because, sponsored or not, we only share stuff we love