Fashion Forward is a collection inspired by the woman who is too busy to follow trends, so she creates her own. She is innovative and always appears effortlessly put together. She keeps her look cool and classic, but with an eye for the unexpected and unique, she adds in statement pieces with purpose. Check out the entire American made Fashion Forward selection curated by Citizen Native.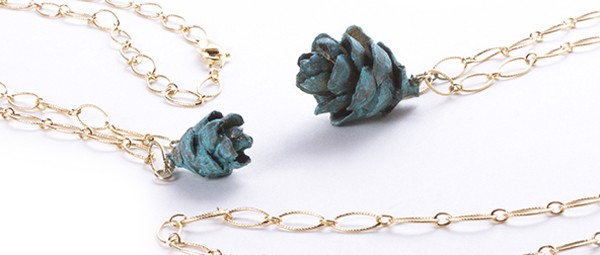 Borrowed clothes, dance offs in the living room, and shared secrets; the bond that sisters share is like no other. Savor the memories and have a story to tell when you wear this unique pendant inspired by fallen pine cones on the forest floor. With this pair of necklaces, there is one for each of you! Each handmade cone is cast in brass and frosted with a blue patina. They dangle effortlessly from a 14K gold-filled chain.  Handcrafted by Nancy Nelson, an American designer in Maryland.
You know the bag you always grab when headed out the door and you want to be ready for whatever the day may bring? Well this is that bag. Anna Joyce makes each tote by hand from start to finish, in her Portland, Oregon studio. Our pick has sweet watermelon stars printed onto the natural canvas with sturdy leather straps and fine brass rivets for the perfect amount of detail.  Check them out at Citizen Native for more details and to see other prints.
Here's a flash of color for your wrists! These bangle sets are an exclusive to Citizen Native and sourced from raw wood remains, stained, then spray-painted and sealed. They are handmade, painted, and finished by sister duo Jackie and Lauren in Orange, California. The rest of the color collaborations can be found here!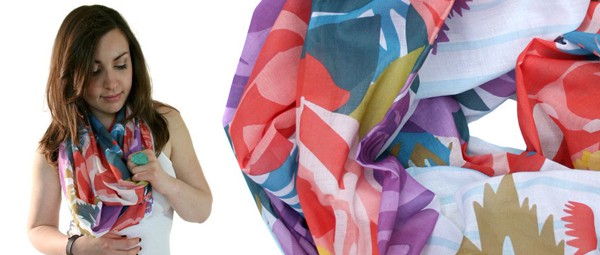 Oversized floral prints add an updated and flirty splash of color to any outfit. The Leonis Scarf is designed and sewn by Ash & Anchor in Philadelphia, Pennsylvania. The whole collection is printed with eco-friendly, water-based inks on lightweight cotton voile. They are super soft, light enough for the summer, and reversible. The best part; it's an infinity scarf, and with 70 inches in length you can wear it either loose or wrap it twice. For more prints, check out the original and unique collection here.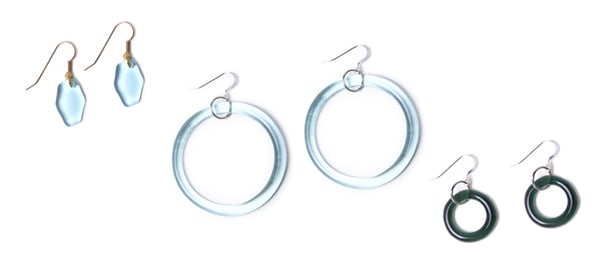 Smooth texture in luminous colors make these earrings fit right into our cool and classic style.  We love that they are made out of glass bottles and each color has its origin stated in the description. These recycled glass earrings are designed and made in Atlanta, Georgia by Smart Glass and can be found here. Very eco-chic!
Disclosure: This is a sponsored post which USA Love List is proud to share with you because, sponsored or not, we only share stuff we love.