We found lots of American Made Paleo Gifts we love. If you're looking for lifestyle gifts for the Paleo eaters in your life, we have a long list of paleo gifts that anyone is sure to love. From Lodge cast iron skillets to Wild Zora jerky, you'll love these gifts, even if you're not a Paleo eater.
Wild Zora meat & veggie bars are incredibly flavorful, moist, and tasty. We love this clean jerky and it makes for a perfect Paleo gift, especially as a stocking stuffer. Zora herself makes paleo and Whole30 approved jerky in Colorado. It's grain-, gluten-, soy-, nut-, and dairy-free. It's made with grass-fed beef that is free of antibiotics or hormones.
Wild Zora has two new pork flavors. The apple pork is made with natural pork (raised without added hormones or antibiotics), and organic fruits and vegetables including, kale, apple, apricots, dates, parsley, sage, rosemary & thyme, sea salt and cinnamon. Ingredients vary based on the flavor of the jerky. Save 15% off your Wild Zora order with code USALOVE. One time use per customer with no expiration date.
Paleo Gifts – Must Have Cooking Tools and Gadgets
Lodge is the oldest continuous manufacturer of cookware in America. Founded in 1896, Lodge has proven that cast iron cookware is timeless. Lodge cast iron skillets, grill pans, and dutch ovens make gifts and will last forever. They are not made with any toxic chemicals like those foreign made non-stick options. I love the Lodge 14″ Cast Iron Wok which is perfect for cooking stir fry with clean, paleo ingredients.
For anyone who loves their caffeine jolt, Aerobie Aeropress, made in California, is a must have. I'm really picky about my coffee and the Aeropress makes a great cup of coffee or espresso, depending on how strong you like your coffee. You won't be disappointed with your cup o' joe if you use Aeropress. It's also perfect for traveling too, because it's so compact. Don't forget about the coffee lover on your gift list– they will love the Aeropress.
Looking for quality American made knives? Warther Cutlery is proud to the home of 100% American made knives. Every material that is used to create a Warther knife is United States sourced, from the steel in the blade, made in New York, to the wood in the handle, from Vermont. Each knife undergoes 32 handcrafted steps from start to finish. No automated machinery is used to polish and grind each knife to a convex grind, which ensures a razor like edge with little honing.  The blades of all Warther knives undergo a 'spotting' process in which individual circles are hand ground into the steel blade. Mooney finished his knives this way to hide scratches from the blades, so they wouldn't show wear. Today, Warther Cutlery has this unique look trademarked.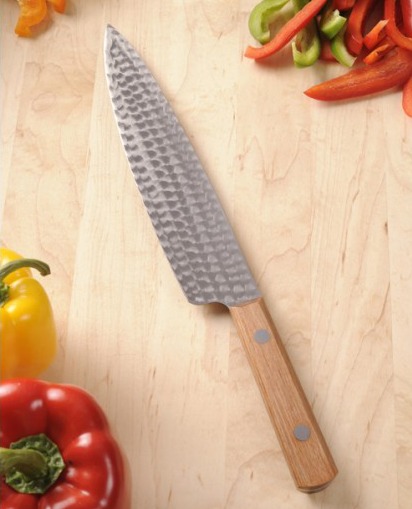 If you're looking for non-toxic American made flatware that is produced with eco-friendly processes, look no further than Liberty Tabletop is the only flatware that is still manufactured in the United States, upstate New York to be exact. Liberty Tabletop stainless steel flatware is made from domestically sourced steel that is 8 to 10 percent nickel and 16 to 18 percent chromium. Unlike stainless steel in foreign flatware manufacturing, Liberty Tabletop guarantees that the metal mix in their stainless steel does NOT contain lead, mercury, or any other toxic metals that we don't want in our mouths. If you are soon to be married and aren't sure what type of flatware to add to your registry, Liberty Tabletop has a buyers guide on their website that can walk you through the process.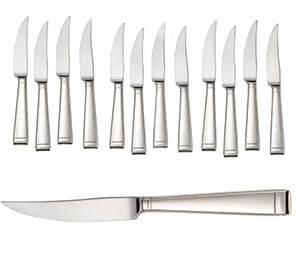 Blendtec blenders are all engineered and assembled in the company's family owned and operated facility in Orem, Utah. They do all injection molding in their facility and make the circuit boards that go into each blender. They also use a USA company for the blender's American made motors.
Paleo Gifts – Must Haves Pantry Goods
Ahara Rasa offers the most unique varieties of ghee on the market including Brown Butter, Chai Spice, Lemon & Garlic, Niter Kibbeh (Ethiopian Spiced Ghee), Tumeric & Black Pepper, and Vanilla Dream. Made in Portland, Oregon from organic, local, pastured, cultured cow's butter. We love the Tumeric & Black Pepper for sautéing or roasting vegetables; the Lemon & Garlic for chicken and seafood; and the Vanilla Dream for our bulletproof coffee. Ahara Rasa Niter Kibbeh (Ethiopian Spiced Ghee) won the Best New Product Sofi Award in 2018 in its category. The Sofi Awards are like the Oscars of the food industry.
Ahara Rasa ghee is made in Portland, Oregon from organic, local, pastured, cultured cow's butter and it is certified Kosher.
Good fats are key to the Paleo lifestyle. I like using olive oil for dressing and other food preparations that do not require heat. The Italians and Greeks aren't the only ones with amazing olive oil. California boosts great climate for olive growing and California Olive Ranch uses California grown olives to makes its own olive oil. Nutty, buttery, and fragrant, California Olive Ranch Extra Virgin Olive Oil cold presses their award winning 100% California grown olives within hours of picking for a fresher taste.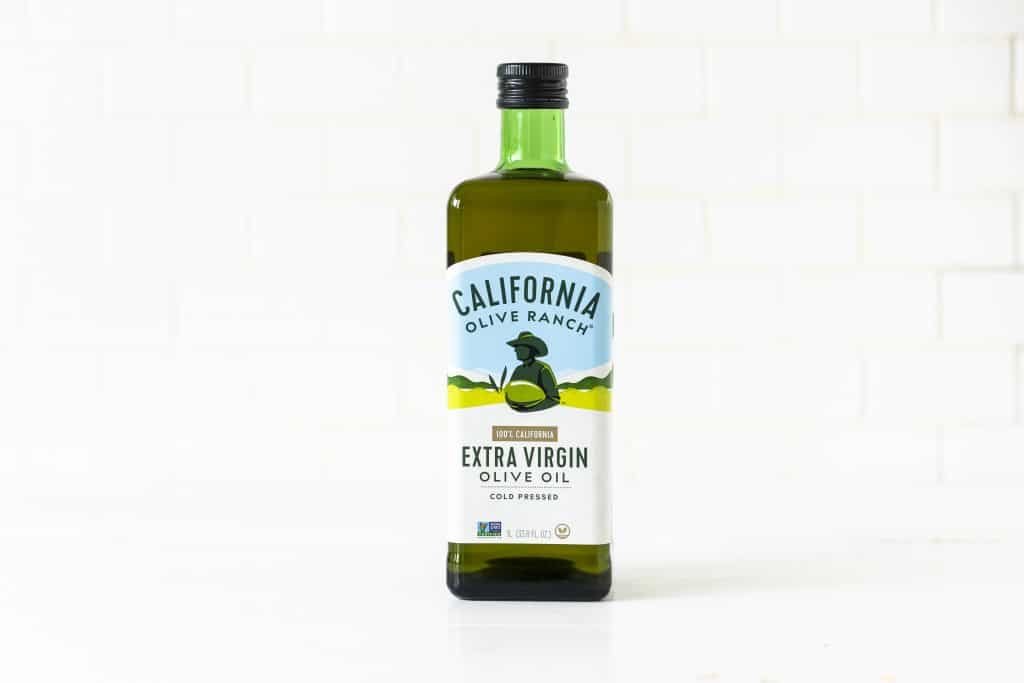 Nutiva, the world's best-selling brand of organic coconut, now makes liquid coconut oil. Nutiva Liquid Coconut Oil is both organic and non-GMO. Unlike non-organic liquid coconut oil brands, there are no chemicals or filler oils used during this process, resulting in a clean, light coconut-flavored oil with no harsh aftertaste. Use this premium liquid coconut oil for cooking and baking up to 350°F.
Ocean's Balance Organic Seaweed Flakes and Seaweed Sprinkles come from the pristine waters of the Gulf of Maine, arguably some of the cleanest on Earth. A healthy and delicious addition to soups, salads, and sauces. These nutrient-packed seaweed products are perfect for Vegetarian, Vegan, Paleo, and Keto diets. The all-natural Spicy Seaweed Sprinkles, made of organic seaweed, sesame seeds, sugar, salt, and fiery cayenne pepper are my favorite!
Osso Good Broth makes its Paleo friendly and Whole30 approved chicken broth from pasture raised chicken and organic, GMO-free ingredients. It is gluten-free and contains no salt or artificial flavorings. It contains clean ingredients including, filtered water, organic chicken, organic carrots, organic tomato, organic onion, organic celery, organic garlic, organic apple cider vinegar, organic mushrooms, organic parsley, organic thyme, organic peppercorn, and organic bay leaves. I really love this brand and they also make frozen compliant soups. See those details below. $10 off Osso Good with discount code USALOVE.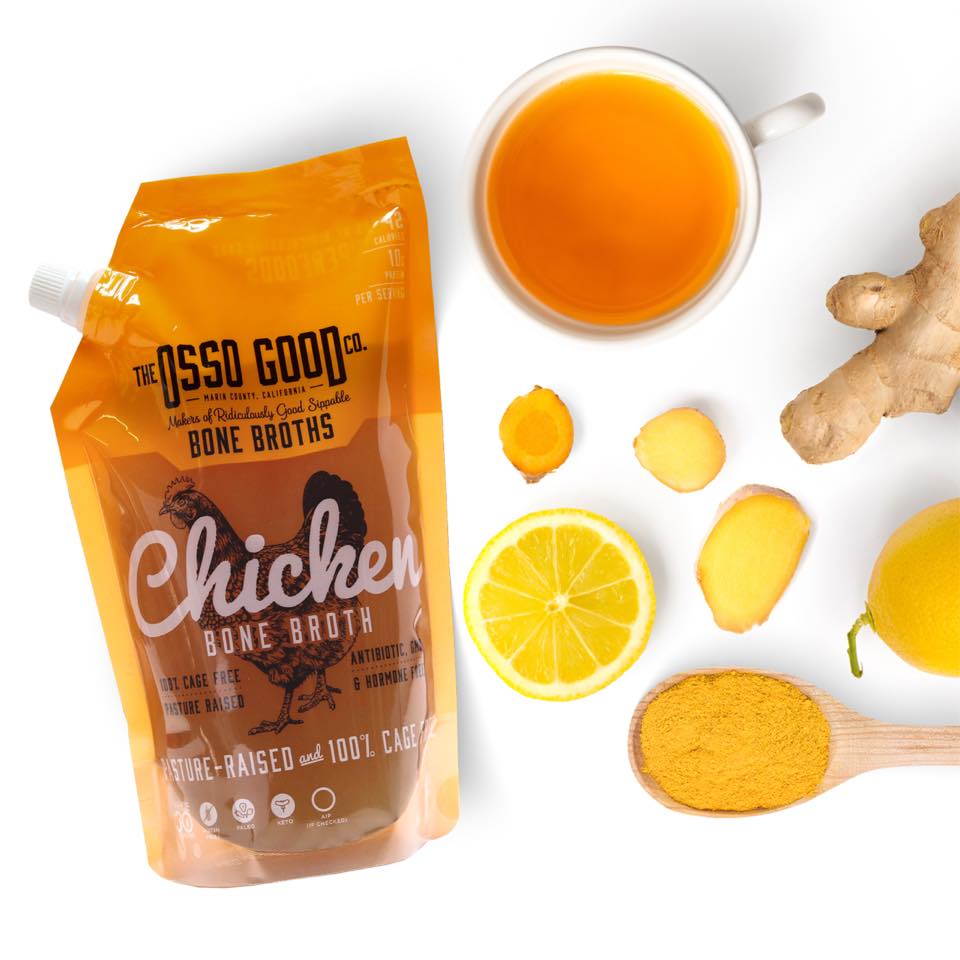 Frontier Co-Op Spices are my absolute favorite spices because they are so fresh and true to flavor. These beautiful bottles make for a great gift and are a joy to use.  Frontier Co-Op and Simply Organic support over 500 jobs in Iowa.
Real Salt is my favorite salt ever. It it the purest salt you'll ever find. It's ancient, unrefined sea salt that's been harvested in Utah since 1958. It's available in fine, coarse and kosher varieties. Real Salt also makes seasoning salts.
If you're looking for Paleo dressings, or the best dressing for that matter, look no further than Tessemae's Whole30 Sauce Boss. Their dressings and ketchup are drinkable – they're that good.  It's the perfect all-natural, handcrafted, sugar-, dairy, and gluten-free dressings and sauces. The base of all of their dressing, except the oil free ones, is olive oil, so the flavors really stand out. I like to use the dressing on salads or as a meat or seafood marinade. I love the fact that Tessemae's only uses natural ingredients to make their dressings. They offer classics like Creamy Ranch and Lemon Garlic. Find them at your local Whole Foods, or online.
Honey is a natural sweetner, so paleo eaters welcome this unrefined and unadulterated sweetener. I cannot think of a better honey than Savannah Bee Company Sourwood Honey Gold Reserve. It is the best of the best. This honey is so unique in flavor, with notes ranging from bold maple notes to soft caramel flavors and intense gingerbread spices. I love to pair this honey with a mild cheese to complete, and not overpower, the honey.
If you love coconut butter, you'll become a huge fan of Nikki's Coconut Butter, just like I did. Get all the benefits of coconut butter, with even more flavor. My favorite is the Honey Pecan Pie, which is a mix of Organic Coconut, Roasted Pecans, Organic Extra Virgin Coconut Oil, Organic Honey, Organic Vanilla, Cinnamon, Sea Salt. The texture is similar to coconut oil, so I love adding it to my morning bulletproof coffee for a healthy homemade caffeine fix.
Paleo Gifts – Must Have Snacks and Treats
Wild Zora meat & veggie bars are incredibly flavorful, moist, and tasty. We love this clean jerky and it makes for a perfect Paleo gift, especially as a stocking stuffer. Zora herself makes paleo and Whole30 approved jerky in Colorado. It's grain-, gluten-, soy-, nut-, and dairy-free. It's made with grass-fed beef that is free of antibiotic or hormones.
All first time orders get 15% off with code USALOVE. Don't miss this offer! 
Hail Merry is one of my favorite brands for clean, tasty, Paleo friendly desserts. You'll want to try everything they offer. I was wide eyed when I first tried Hail Merry macaroons and dessert cups. All of the macaroon flavors, like lemon, cookie dough, chocolate, and caramel sea salt are so vibrant, it's hard to pick a favorite. Next time you spot these at your local grocery store, grab a bag (or three) to try! These are GMO-free, and vegan too.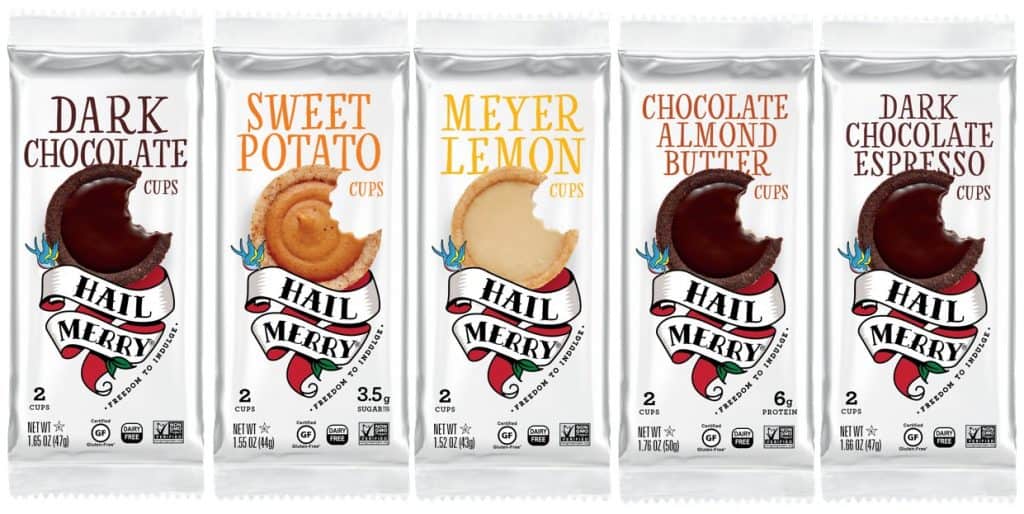 I love flavored nuts as a snack, and I particularly love Isadore Nut Co Zesty Lemon Rosemary Nuts because they are made with real ingredients, without any sugar, egg, or soy ingredients. They're the only nut option I've founded that doesn't add sugar. The flavored nuts are made of pecans, organic walnuts and cashews, Minnesota maple syrup, organic lemon zest, organic rosemary, cumin seed, and sesame seed, and Fleur de Sel. The spices add extra flavor to the quality nuts without overpowering the nuts texture and taste. All of Isadore Nut flavors are made by hand in Minnesota.
Simple Mills' grain- and gluten-free crackers, Paleo, vegan are my new favorite crackers. They are the best clean alternative to other cracks on the market, and are bursting with flavor and the perfect crunch. The Rosemary & Sea Salt flavor happens to be one of my favorite flavors. They offer the perfect crunch for pairing with your favorite spreads. They're made with simple ingredients, including nut and seed flour blend (almonds, sunflower seeds, and flax), tapioca, cassava, organic sunflower oil, organic rosemary, organic onion, organic garlic, sea salt, organic pepper, and rosemary extract (for freshness).
Paleo Gifts – Lifestyle Must-Haves
If you think there aren't any American made sneakers out there, think again. We've found SOM Footwear, shoes designed for an active lifestyle. The shoe's minimalist design gives you the freedom and stability of barefoot walking with all the protection and support you need.
The Zephyr model is now available. Named for a gentle breeze from the west, this two-toned blue beauty is made for relaxing. Lightweight cotton canvas keep these soft shoes breathable with the same SOM comfort. All of SOM's sneakers have the barefoot features you expect including roomy toe box, zero-drop sole, and lightweight flexibility. SOM Footwear is made in Colorado of the highest quality weather-resistant materials.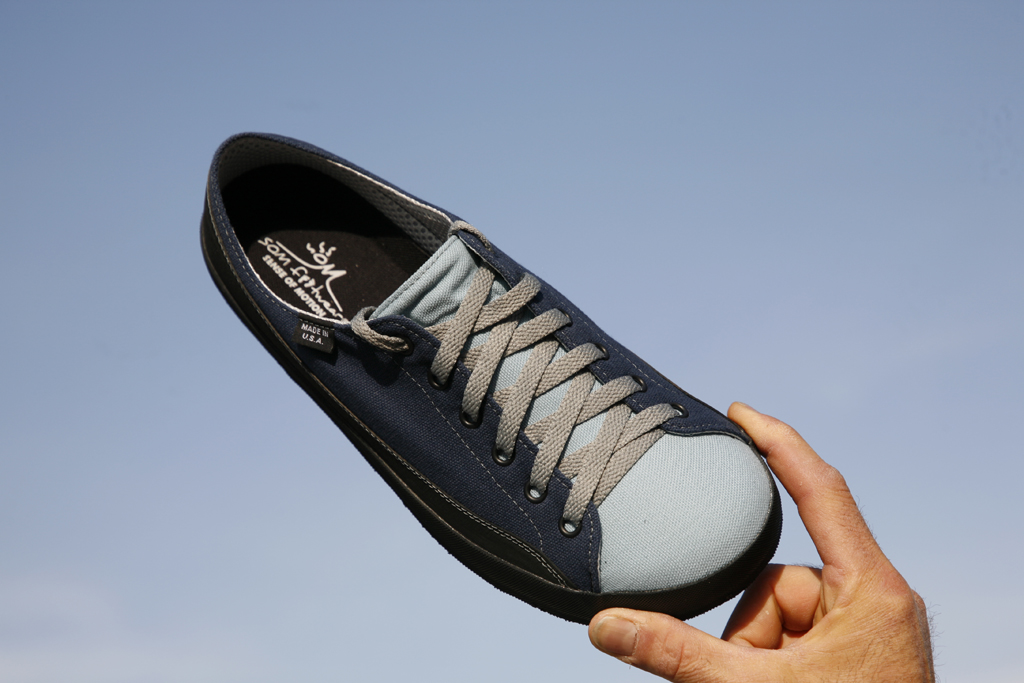 Love Bottle is a women-owned B Corp based business outside Chicago, Illinois. Each 16.9 oz bottle is completely non-toxic and made with about 40% recycled glass and lead-free inks. It is designed with a leakproof ceramic swing-top lid, that fits most cup holders and is dishwasher safe and scratch resistant. I love my Love Bottle for these reasons – the glass doesn't hold smells, so you can use it to carry smoothies on-the-go; it doesn't leak; and it offers a user-friendly and functional design for everyday use.
Hugger Mugger Zafus Meditation Pillow is filled with organic buckwheat hulls that form to your contours and covered with sturdy, long-lasting upholstery-grade fabrics. If you live in a small space, it could double as a sitting pillow too.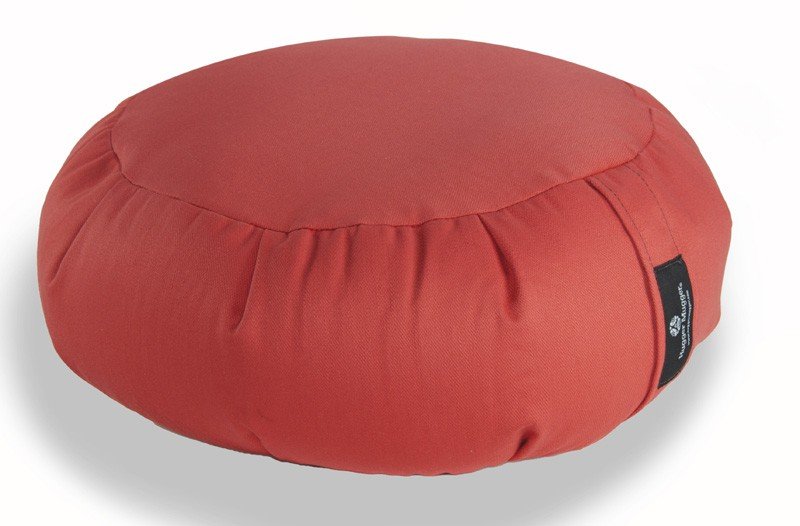 Disclosure: This is a sponsored post which USA Love List is proud to share with you because, sponsored or not, we only share stuff we love.