Belts are a necessary accessory and can add to your personal style. If you are shopping for fashion or function, you want something to last, be of high quality, and represent your look. We have sifted out the imports to bring you a list of the best belts made in USA that are worth it.
This list includes leather belts, cotton belts, vegan belts and more for men, women and kids.
Best Belts, All American Made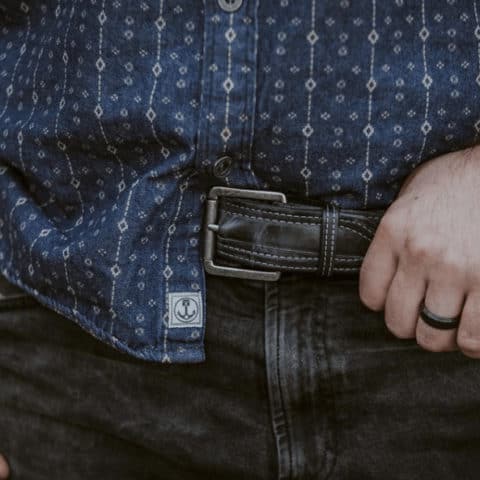 Photo Credit: www.alchemygoods.com
Alchemy Goods is your eco, upcycled source for a very affordable belt.  Belts are made in Seattle from a reclaimed inner tubes. Alchemy Goods belts are a great vegan belt choice.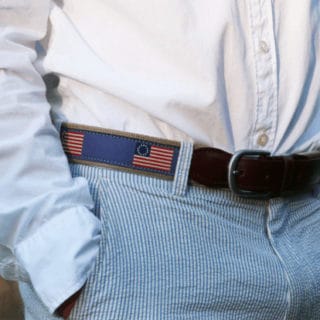 Photo Credit: www.beltedcow.com
Belted Cow ribbon belts, embroidered belts, cotton canvas D-ring belts (vegan option), and leather belts are handmade in Maine. They are available in sizes and styles for men and women. Shop the Belted Cow Amazon store.
Photo Credit: bulletbluesca.com
Bullet Blues genuine leather belts are unisex and available with or with out the removable buckle. I love these belts because I can switch up my buckles without having to have belts taking up closet or drawer space.
Photo Credit: www.collaredgreens.com
Collard Greens belt line includes cotton woven belts and leather belts, all American made. Collard Greens is headquartered in South Carolina.
Colonial Leather Co. makes hand-stitched leather belts finely crafted by skilled American workers.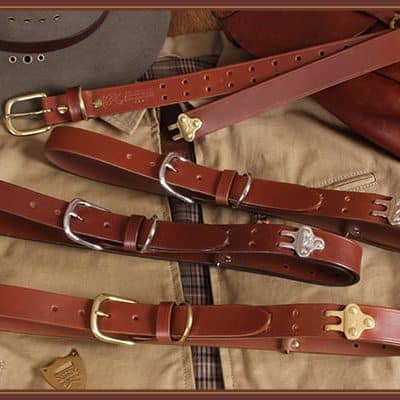 Photo Credit: www.colonellittleton.com
The belts by Colonel Littleton himself are designed with a nod to the military and sportsman's tradition. Every belt is made in Lynnville, TN of bridle leather.  The styles come in black or brown.  A Colonel Littleton belt makes a great gift not only for the one size fits all but also the unique attention to detail.
Photo Credit: grip6.com
Grip6 nylon belts are made in Salt Lake City from parts sourced in the USA. These belts are fun, affordable, and are built to last. The buckles are interchangeable (and come in a variety of styles) and the nylon belt comes multiple colors and widths. Grip6 belts are available in sizes for men, women, and kids. Shop the Grip6 Amazon store.
Photo Credit: thenoblebuffalo.com
Noble Buffalo full grained leather belts are made to order in St. Louis, Missouri. Each belt is hand stitched and the hardware is of the highest quality.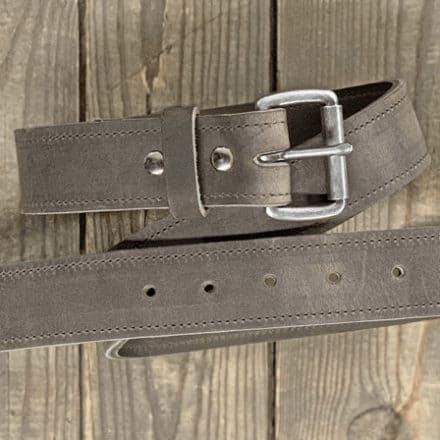 Photo Credit: www.nstarleather.com
North Star Leather belts are custom made to order. You choose the leather, width, buckle, and buckle attachment hardware. You can even change the hole spacing. This is the perfect belt company for someone who is very particular about their belts!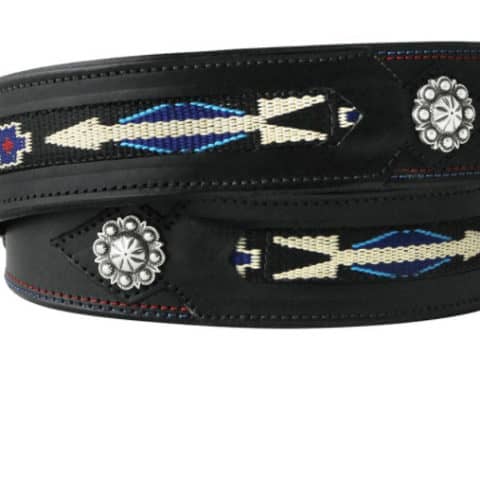 Photo Credit: tomtaylorbuckles.com
Tom Taylor has an extensive collection of handmade luxury leather and exotic skin belts. These belts are definitely statement pieces! Tom Taylor offers unique buckles too. Not all buckles are made in the USA, but they are clearly marked where they are made in the description. Most items are made in New Mexico where Tom Taylor is headquartered.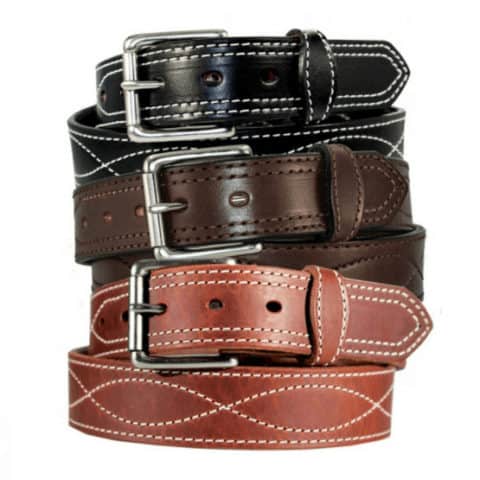 Photo Credit: www.yourtack.com
Your Tack premium leather belts have been made in the USA since 1867. They are made from high quality vegetable tanned leathers. Styles include western belts, work belts, embossed belts, and yes, even Santa belts! Youth sizes are available too.
Have you visited our Made in USA Shopping District? It is the place to start your shopping when you want to find the best of American-made.