Whether you are hunting for a wallet to give as a gift, or you are looking to invest in a high quality wallet for yourself, our list of made in USA wallets is the place to start. We have included wallets of all price points in styles for men and women.
Our source list of made in USA wallets includes minimalist wallets, credit card holders, clutches, billfolds, trifolds and more so there is something for everyone's style.
An American made wallet makes the perfect gift for any occasion!
All of the wallets in this list are American made. Most of them are handmade by skilled leather artisans. There are even some made by metal smiths. When purchasing a made in USA wallet you are supporting American craftsmanship.
Made in USA Wallets: A Source List
Have we missed your favorite American made wallet brand? Let us know in the comments below! This list is updated frequently, so check back often.
Ace Leather Goods leather wallets are handmade in Washington. Styles include clutches, credit card wallets, bifolds, and more.
Artifact leather snap, credit card, and bifold wallets are made in Nebraska.
Awl Snap Leather Goods Co. leather wallets for women include clutches, wristlets, zip wallets, and more made in Virginia.
Billykirk leather wallets are made in the USA from only the finest materials. Billykirk wallets are available in bifold and card case (pictured) styles. The bifold is handmade by Amish craftsmen in Pennsylvania.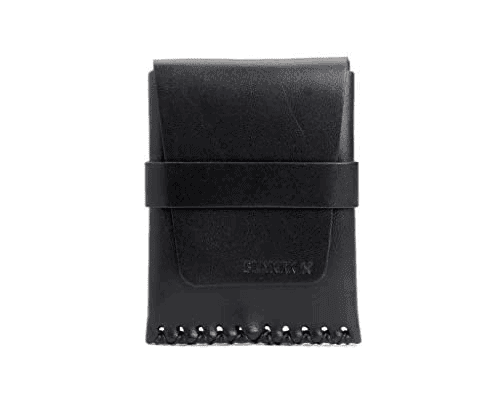 Blackkat Leather bifold wallets are made in Connecticut.
Blair Ritchey luxury leather zip wallets, clutches, envelope wallets for women are all American made.
Box 31 Leather is a firefighter owned leather business that makes custom products for the firefighting industry. They also offer several designs of wallets, including card holders made from recycled baseball gloves.
Buffalo Billfold Company wallets, billfolds, checkbook covers, coin cases and card cases are handmade in USA using full grain leather.
Byndr Leather Goods leather wallets for men and women are handcrafted in Texas. Styles include billfold, card wallets, clutch style and more.
CASUPO leather wallets are made from upcycled leather.
Cinda B. colorful fabric wallets for women are available in bifold and id pouch. Cinda B products are washable.
Col. Littleton classic grain leather wallets are handmade in Tennessee. They even offer alligator and buffalo skin wallets.
Disc. slim leather wallets are made in San Francisco, California.
F&L Classic wallets are made in USA from high quality one piece leather. F&L Classic Biker Wallets with Chain are made with RFID technology to protect credit and debit cards from electronic theft.
Filson wallets are made in the USA from materials sourced in the USA and around the world. Note: Not all Filson products are American made.
Flowfold minimalist wallets are designed to be slim and lightweight. The original Flowfold wallets are made from repurposed sail cloth (from racing boat sails). The newer line is made from durable and flexible outdoor fabric. Bifold, trifold, and cardholder styles are available. These vegan wallets are made in Maine.
Fox Creek Leather biker wallets are handmade in the USA from calf grain leather.
Green Guru is another company that manufactures vegan wallets in the USA. All Green Guru wallets are made from upcycled bicycle tires in Colorado.
Hard Luck Designs wallets are handmade in USA from European leather. Custom designed patterns are available.
Holtz Leather Co. leather wallets for men and women are handmade in Alabama.
Lodgment Till leather wallets are handcrafted in Connecticut. These wallets are unique with gorgeous New England inspired images engraved on them. Wallet styles include; minimalist, vertical bifolds, classic bifolds, clutch wallets, and more. Lodgment Till is a Veteran owned business.
Main Street Forge leather walls are made in the USA by skilled leather craftsmen located across the country. The bifold style is available in 6 colors and the card style is available in 7 colors.
Metal X Mfg metal and kydex minimalist cardholder wallets are made in USA.
Over Under leather tri-fold and bi-fold wallets, card holders, and check book holders are all American made.
PIngree Detroit leather wallets are handmade in Detroit, Michigan.
Rainbow of California has been manufacturing wallets in the USA since 1977, and was the maker of the first hook and loop nylon wallet. The hook and loop nylon wallets are water resistant and washable.
Recycled Firefighter wallets are sewn from firehose in the midwest. Styles include front pocket wallets, bifolds,
Rogue Industries leather wallets are designed to fit in the front pocket. These unique wallets are handmade in Maine from high quality moose, bison, or cow leather. Card wallets, money clips and traditional wallets are also available.
R. Riveter leather wallets are available in styles for both men and women. All wallets are made my military spouses in the USA.
Savoy Leather custom made leather wallets are available in Bi Fold, Biker Style, Minimalist, Checkbook, and Tri Fold designs.
SlimFold® minimalist wallets are made in California. These vegan wallets are available in multiple designs and are made with either an Eco friendly soft shell material (pictured) or a harder Tyvek® material. Both are possibly the thinnest wallets found.
Sword & Plough leather wallets are handmade by veterans. Sword & Plough is a veteran owned, run & supplied business.
Trayvax metal and leather wallets are designed to be thin, durable, and useful. There are many styles to chose from and they all are unique- some even have a built in bottle opener, Leather options available.
Whiteknuckler Brand wallets are made from custom tanned Pennsylvania leather.
WOBO Wallet is a leather money clip style wallet that is made in Harrisburg, North Carolina. All stitching is hand sewn.
Love this list? We know you will love these lists too!