I love California!  There are so many brands headquartered here that make the best of the best.  But upon further research, I sometimes found that my favorite California branded products were not made here after all, and you'd never know unless you checked the label or did some research.  These are a few of my favorite things verified to have come out of this great state. I hope you enjoy the ten things I love made in California.
Don't miss our source guide for shoes made in California!
Ten Things We Love Made in California
AUTHENTICITY50 LUXURY BEDDING
Authenticity50 manufactures luxury bedding 100% in the USA. When husband and wife team Jimmy and Stephanie MacDonald could not find any high-quality luxury bedding items that were American made, they took action. They searched the USA for textile manufacturing facilities and started their own line of luxury sheets, pillowcases, and duvet covers. Since 2015, Authenticity50 has been providing luxury bedding to consumers factory-direct. The Authenticity 50 headquarters are located in California, and all of Authenticity50's luxury bedding items are made from high-quality Supima cotton, which is grown in California.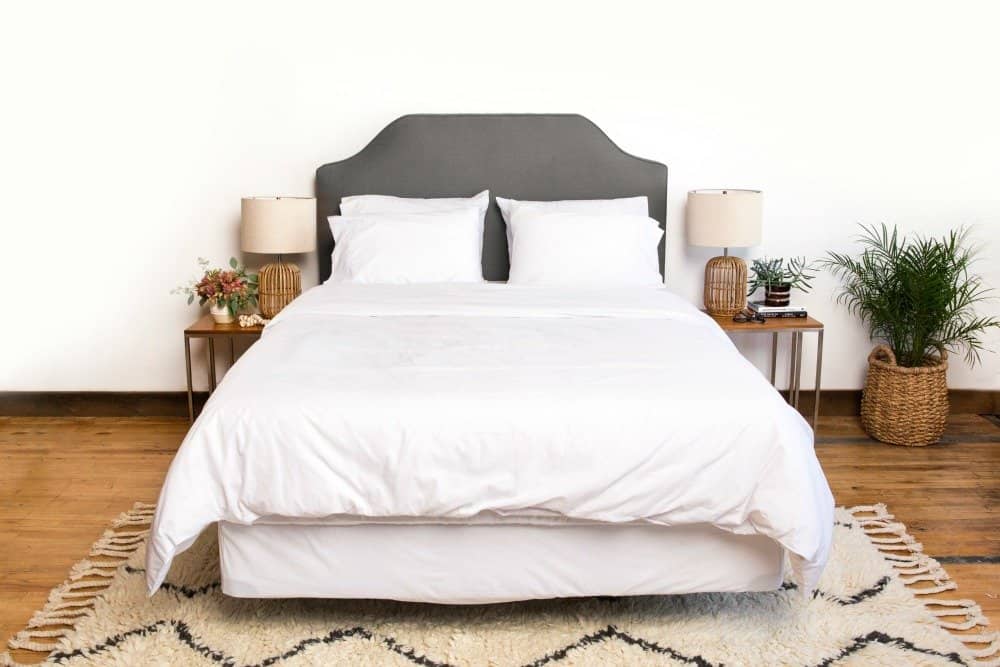 SECOND BASE
Second Base women's clothing company was founded in 2008.   Keeping the manufacturing in the USA quickly became a priority.  Since launching in May 2009, they have expanded to dozens of styles and colors, and are carried in over 500 shops nationwide. Second Base pieces wear well and fit well, and are made in the USA.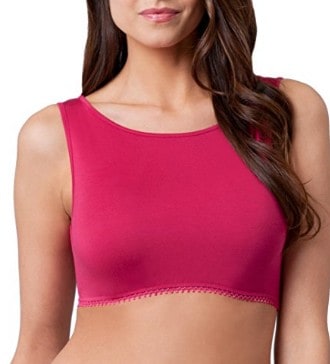 COOLA SUNCARE
I discovered COOLA on a weekend trip to Santa Barbara and became instantly obsessed.  It's an organic, mineral-based sunscreen with a delicate scent.  I can't say enough good things, from the packaging to the content.  Don't forget your skin is your body's largest organ, so it's important to know what ingredients you're soaking up.  Made in San Diego, their SPF 30 Cucumber Matte Finish goes on my skin every day.
Don't miss our list of 10 Non-Toxic Sunscreens We Love for more American made sunscreen options

TAPATIO HOT SAUCE
My long love affair with Cholula came to an end when I moved to California and met Tapatio!  Put this kicky hot sauce on whatever you want, but especially eggs.  I recently discovered that it comes in packets.  Now I can bring my favorite hot sauce with me wherever I go.

HEATH CERAMICS
Heath has been manufacturing their gorgeous pieces in Sausalito since 1948.  I love their sleek vases to help spruce up a bookcase, and a bowl or serving set makes the perfect housewarming gift.  Someday I would love to do a bathroom designed around their gorgeous tiles.  Heath represents vitality in the dying trade of American ceramic making.
Don't miss our source list for made in the USA tableware.
SBICCA
Sbicca has been producing footwear in the USA since 1920 and moved its thriving business to California following World War II. The company still makes some of its footwear in the USA. I love their wedge sandals because they are comfortable, stylish, and well priced. Sbicca sandals are featured in our guide to American-made sandals and flip flops. 
GROUNDWORK COFFEE
Strong and delicious!  One of the first certified organic coffee roasters in Southern California, Groundwork makes our favorite blend at the office, their robust Black Gold, and its no wonder they made the list of the top things I love made in California. You can stroll into one of their cafes in LA to get sandwiches, juice, pastries, and coffee by the pound. If you don't find yourself nearby anytime soon, don't despair.  They ship anywhere in the US and Canada.
Don't miss our list of 10 American Made Gifts for Coffee and Tea Lovers
NIEBAUM-COPPOLA VINEYARDS
You can't talk about California products without mentioning the wine!  One of my most memorable wine tastings and tours was at the Rubicon winery and Niebaum estate.  Owned by the prolific Francis Ford Coppola, this vineyard has so much history and beauty.  My particular favorite wine is the Edizione Pennino, a red Zinfandel named for Coppola's maternal grandfather's music company.  Each cork is stamped with one of his song titles. This bottle epitomizes the rich storytelling that happens at this winery.
NOIR FURNITURE
Fans of True Blood might recognize Noir furniture and lighting in Vampire Bill's mansion.  These pieces can range from dark and gothic looking to light and beachy, all made right here in California.  I peruse their catalog for inspiration when I'm decorating a bedroom, an office, or looking for a unique piece you won't find at the mall.

TAYLOR GUITARS
My mother got a Taylor in 1994 when they were still in "cult status."  In 2000, I was given one of my own, and I love its sound and shape. Not all Taylor guitars are made in the USA, so when you search, be sure to type in "USA" in the search bar. Currently, only the 317e is made in the USA. Founder Bob Taylor wrote a great book about his adventures in guitars and entrepreneurship.  If you want to see how they make these beautiful instruments, you can take a factory tour at their facilities outside of San Diego. 
Jennie Horn is the designer and inventor of the Second Base demi cami, a layering piece for women.  She lives in Venice Beach with her husband and two cats.
Pin it, Tweet it, Pass it on to show your #USAlove.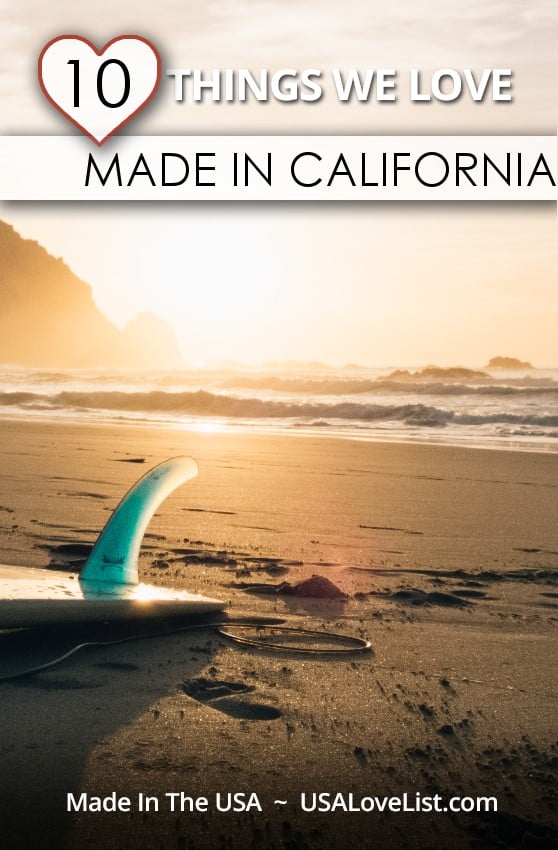 If we missed something you love in our list of "10 Things We Love – Made in California" be sure to tell us about it in the comments!
We are welcoming guest post submissions on the topic of The Top 10 Things Made in My Home State. Contact us for submission guidelines.