Sometimes, we all feel the need for more protein. Or we need a handy, low carb, no sugar added snack. Or we just love meaty meat. We know. We've got you. It was a lot of chewing, but we've made a list of the most unique American made best jerky options. Jerky is one of the most American snacks ever! Enjoy.
If you love jerky as much as we do, don't miss our other jerky lists: Our Favorite Biltong Beef Jerky Brands Made in USA, and 11 Whole 30 and Paleo Jerky Options We Love.
Best Jerky Made in the USA: Unique Jerky Brands We Love
Whole30 Approved and Paleo Jerky Options
You might be surprised to know that sugar, MSG, and other additives are found in most meat snacks and sticks. Bursting with flavor, soft in texture, with the perfect "snap, Chomps meat snacks are a must on the Whole30. They are made from 100% Grass-Fed non-GMO beef, jalapeño peppers, water, salt, citric acid, celery juice, black pepper, red pepper, garlic powder, coriander and stuffed in a collagen casing. I'm normally not a fan of jalapeño, but these have the perfect amount of kick without being overly spicy. In fact, they are my favorite flavor.
All readers get 15% off with code USALOVE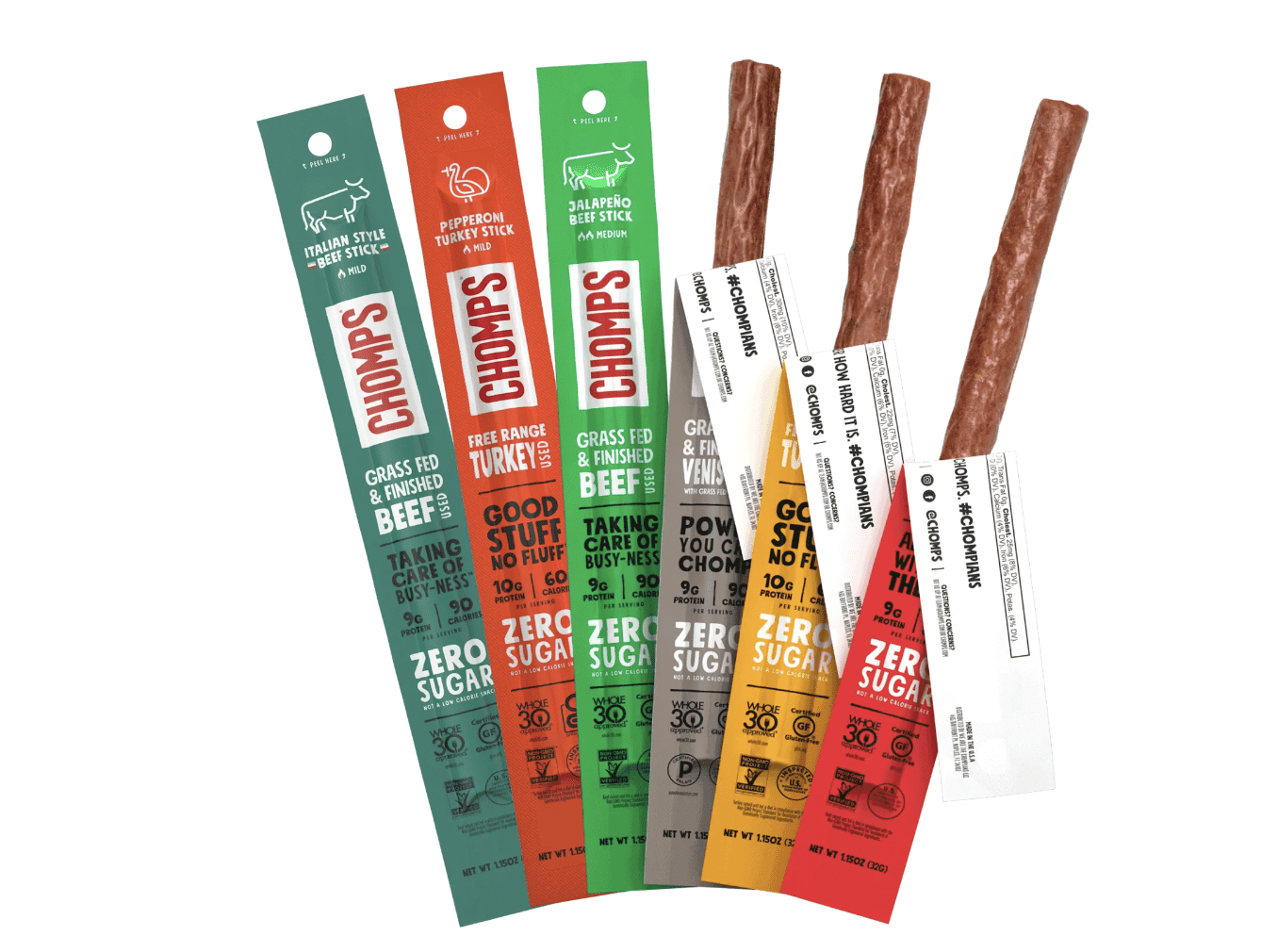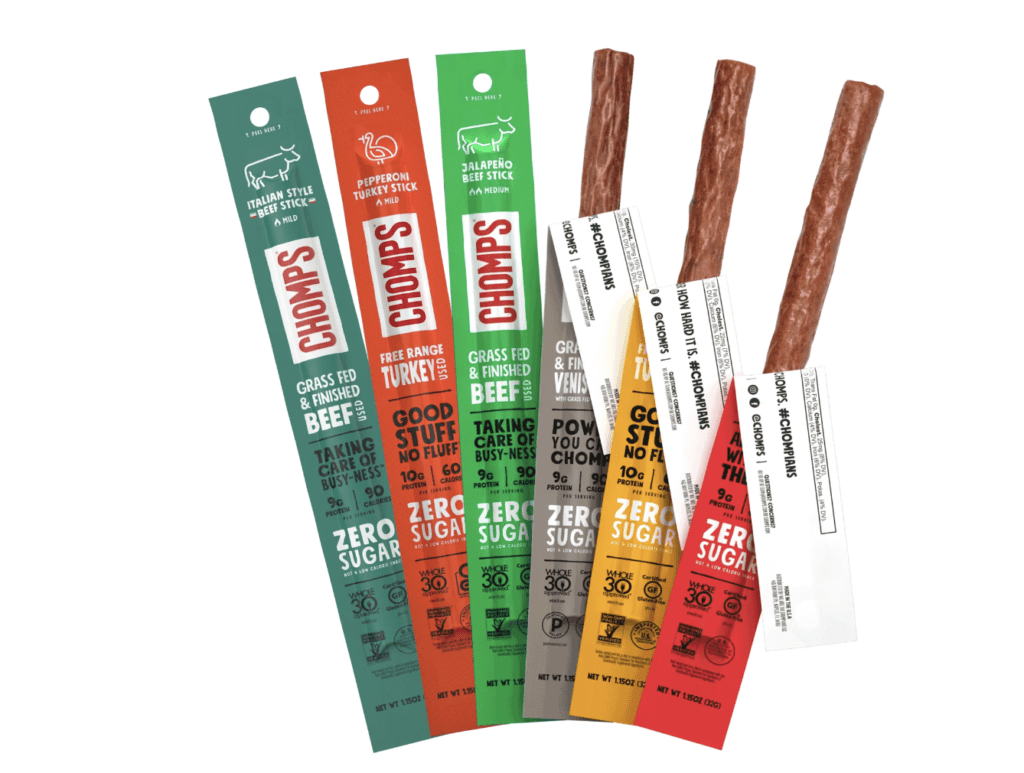 Circle B Ranch brings you super flavorful and the most moist and tender jerky sticks I've eaten, which I appreciate. With ingredients only including Pork (from free-roaming Heritage Berkshire/Kurabota hogs), Dried Pineapple, Salt, Spices, Onion and Garlic Powder, Celery Powder, and Lactic Acid Started Culture, these sticks are perfect for the Whole30. They have 5g of protein, 90 calories, 170 mg sodium and no carbs or sugar making them a great source of healthy fats perfect for the Keto diet. There are no add any hormones or use antibiotics and they are 100% American made, from Missouri. NOTE: The Nitrite Free Bacon Snack Stick and Nitrite Free Jalapeño Bacon Snack Stick contain added sugar, not compliant with the Whole30.
Circle B Ranch, located in Seymour, Missouri, was started in 2009 by Marina and John Backes. The couple relocated from Branchburg, New Jersey to the lush rolling hills of the Ozark countryside in southwest Missouri. They were looking for the perfect weather for raising Heritage Berkshire/Kurabota hogs. This clean and natural environment allows the hogs to graze freely on the lush pastures and roam the woods foraging for nuts and acorns, while also allowing them to be free from any additional hormones and antibiotics from their fed. Marina and John raise the hogs using sustainable and humane production methods that adhere to the Certified Humane Raised and Handled and Animal Welfare Approved standards of operation.
Wild Zora Meat & Veggie Bars are the perfect on-the-go Whole30, AIP compliant, paleo snacks. These meat and veggie bars are grain-, gluten-, soy-, nut-, and dairy-free and made with grass-fed beef that is free of antibiotics or hormones. The Chili Beef is one of my favorites and made with grass-fed beef, organic fruits and vegetables (red bell pepper, apricots, dates, kale, garlic, and onion), spices, cayenne pepper, sea salt and celery powder. Wild Zora bars are made in Colorado. 15% off with code USALOVE. One time use per customer with no expiration date.
Paleo Jerky Options
Try the unadulterated pure Primal Smoke Beef Jerky from Appalachian Jerky. The flavor is unique in that it contains no soy sauce, preservatives, or sugar, like most jerky options. Its just top round beef, chilis, vinegar, salt, garlic, onion pepper, red pepper, and real hickory smoke. All the jerky is made in Vermont using USA-sourced beef and vacuum sealed to extend the shelf life without artificial preservatives. Two friends, Ron Myrick and Doug Labb started Appalachian Jerky outside Brighton, Massachusetts. Show these boys some love.
Go back to the basics with 100% Grass-Fed Beef Sticks from The New Primal. It's made with beef raised without hormones and anti-biotics, and is made with gluten-free tamari, honey, pineapple and lemon juice, garlic powder, liquid smoke, onion, pepper, and ginger.
All Other Jerky Options
Country Archer Beef Jerky and Meat Sticks have great flavor and texture. They are made from antibiotics and hormone free beef or turkey They are gluten-, nitrate-, and sugar-free. They have many gift set options.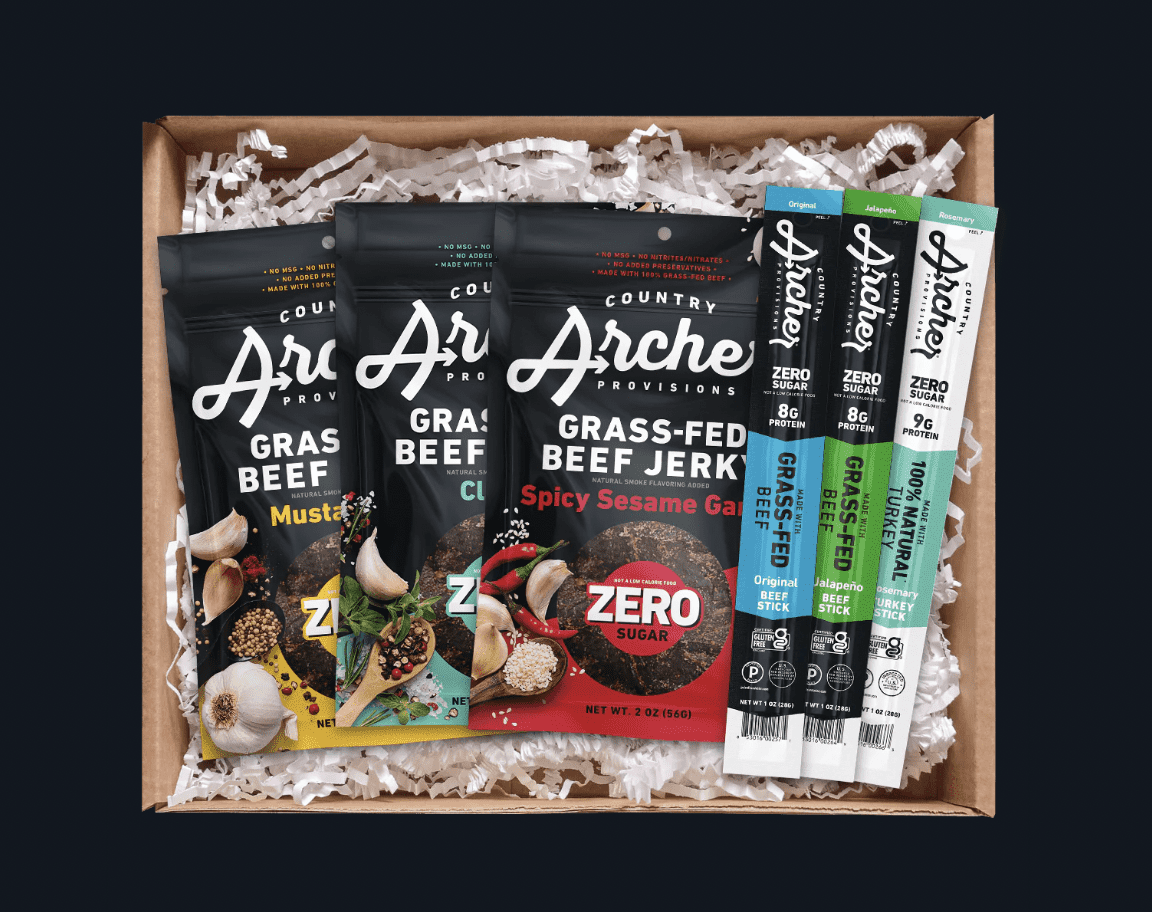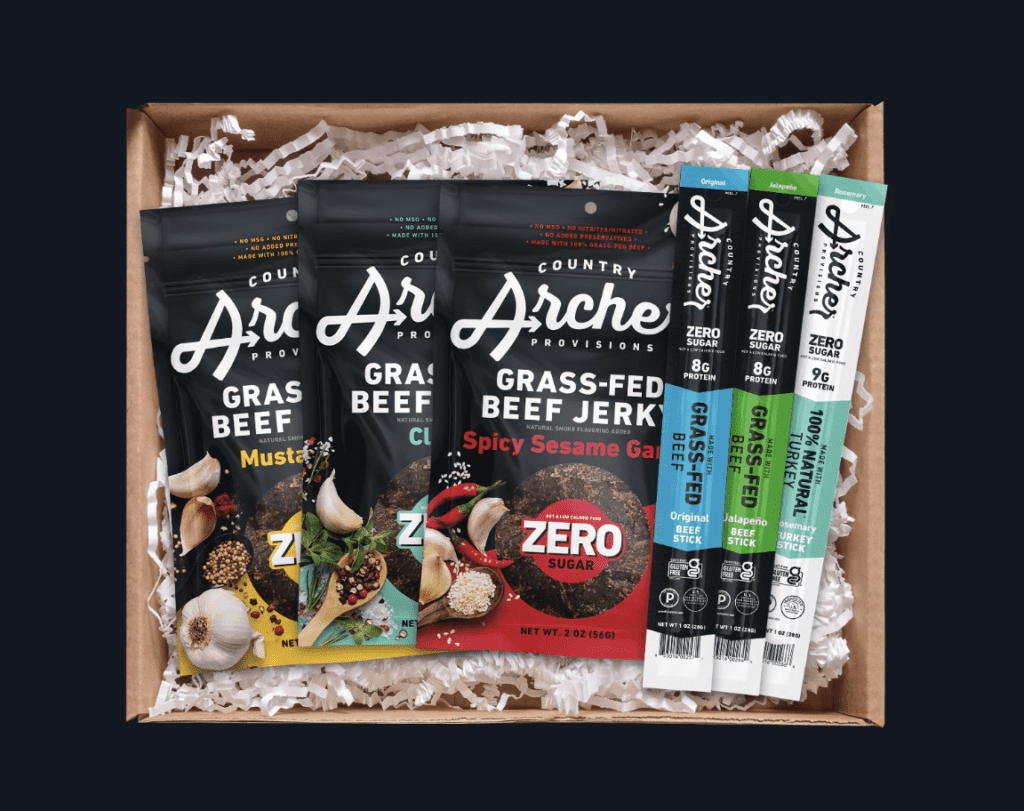 What's better than beer and jerky? Craft Beer Jerky from Jerky's Gourmet of San Diego. This jerky is marinated in domestic pale ale and made with 100% grass-fed beef.
It's not called House of Jerky for nothing. If you're looking for exotic jerky options, like Wild Boar, Mako Shark, or Snapping Turtle, you'll find a plethora of options and flavors. If you like heat, you'll love the Hot Buffalo jerky. It offers just the right amount of heat without overpowering your taste buds, and its the perfect texture, without being too salty. I love that this jerky is preservative free too. House of Jerky has been making jerky in Indiana since 1993.
While I'm not a fan of kimchi, I really like the flavors of Kimchi Jerky from Jerkface. It's not too spicy, and it offers a great texture and with complex flavors.
For the very adventurous eater, try Alligator Jerky from Mountain America. If you're wondering what alligator tastes like, well, you know what they say, it tastes like chicken. Unlike other alligator jerkies, this is not a sausage-like product. It's 100% solid strips of alligator meat and it's never treated with growth hormones or steroids. This jerky is also preservative-free with no MSG, nitrates, or other fillers.
Get added energy from the guarana in Jamaican Style Turkey Jerky from Perky Jerky. This jerky is soft, chewy, and bursting with flavor from the blend of jerky spices.

Pin this list to save it for later!
Image Credit: Captain Jake's Jerky