Are you confused as to what to keep on hand for Whole30 compliant emergency snacking? Save this list of made in USA Whole30 snack ideas for reference! For more information and tips on the Whole30 Challenge, check out my previous post, Whole30 Challenge Tips & Made in USA Foods for Your Whole30 Shopping List.
If you who have done Whole30 in the past, many grain-free, fruit-based bars like Bearded Brothers, Larabars, Thunderbird, and Yawp! were considered Whole30 compliant. From my most recent research online, it does not look like that still is the case. Melissa Hartwig, Whole30 co-founder, says protein is king, so we want to be looking for emergency snacks that are high in protein as well.
While a variety of options are available for Whole 30 compliant emergency foods on which to snack, here are the most convenient, shelf-stable, pre-packaged American made Whole30 snack ideas, all made in the USA, that you'll want to include on your Whole30 grocery list.
Whole30 Snack Ideas, Made in USA
Meat Sticks: CHOMPS
CHOMPS® redefines snacking that's good for you with its signature meat snacks. Chomps meat snacks are made from the highest quality, humanely-raised meats and they contain only natural ingredients. The CHOMPS mission is to make healthy snacks with NO tradeoffs. Chomps meat snacks taste great, offer powerful nutrition, and are fuel for an on-the-go lifestyle. Chomps is the only meat snack that is Grass-Fed & Finished, Whole30 Approved, Certified Gluten-Free, Certified Paleo, Non-GMO Project Verified, and Certified Humane. CHOMPS knows the world is complicated, so snacking shouldn't be. Take 15% off your CHOMPS order now with code USALOVE at checkout.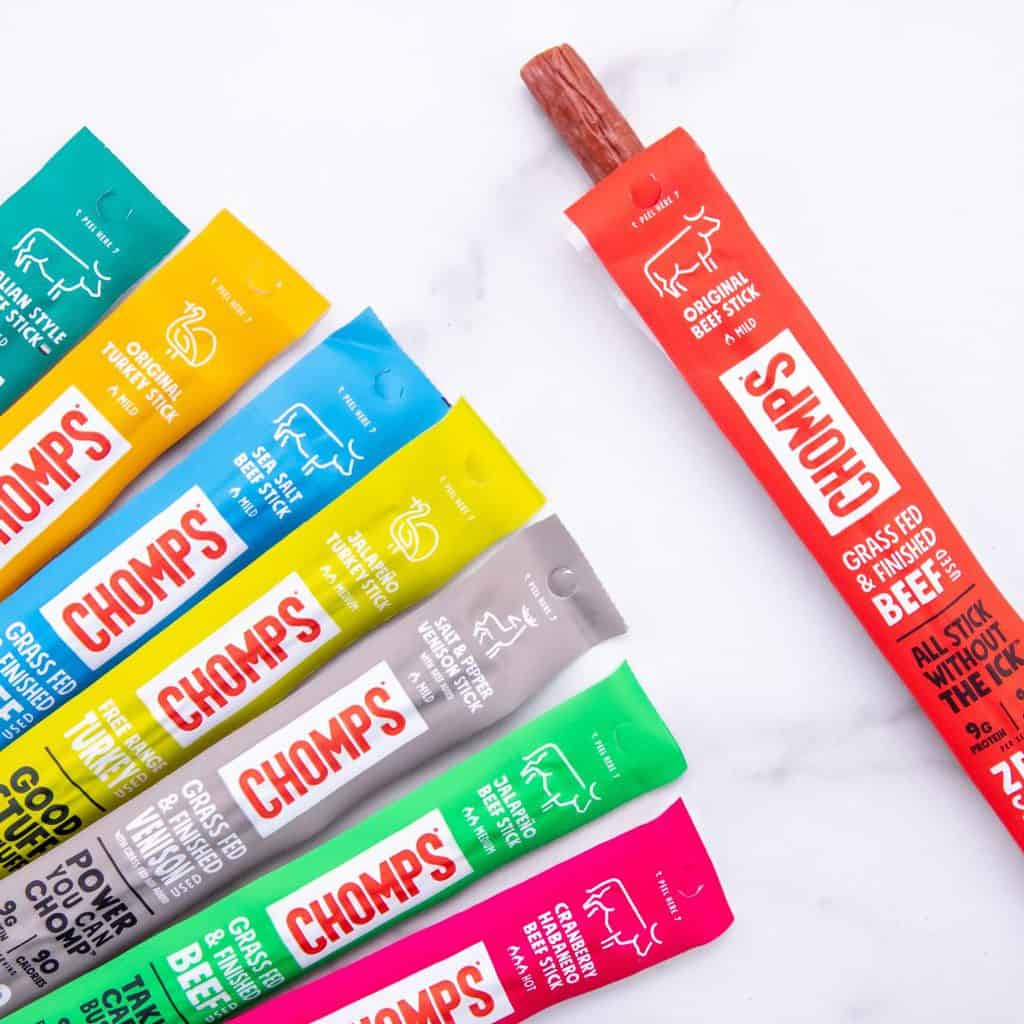 Meals To Go: Wild Zora
Wild Zora Paleo Meals-To Go are the ONLY freeze-dried meals made with meat raised by American farmers without antibiotics or added hormones that don't contain grains or added sugar. Their snacks and meals are Whole30 and Autoimmune Protocol (AIP) compliant. They're filling, satisfying, and delicious (…and we're serious!). You'll absolutely want to have these on hand. 15% off with code USALOVE. One time use per customer with no expiration date.
Made in USA Jerky is high in protein and makes a great Whole30 compliant emergency snack option. We have a HUGE list of made in USA Paleo and Whole 30 compliant jerky brands that we love, check it out!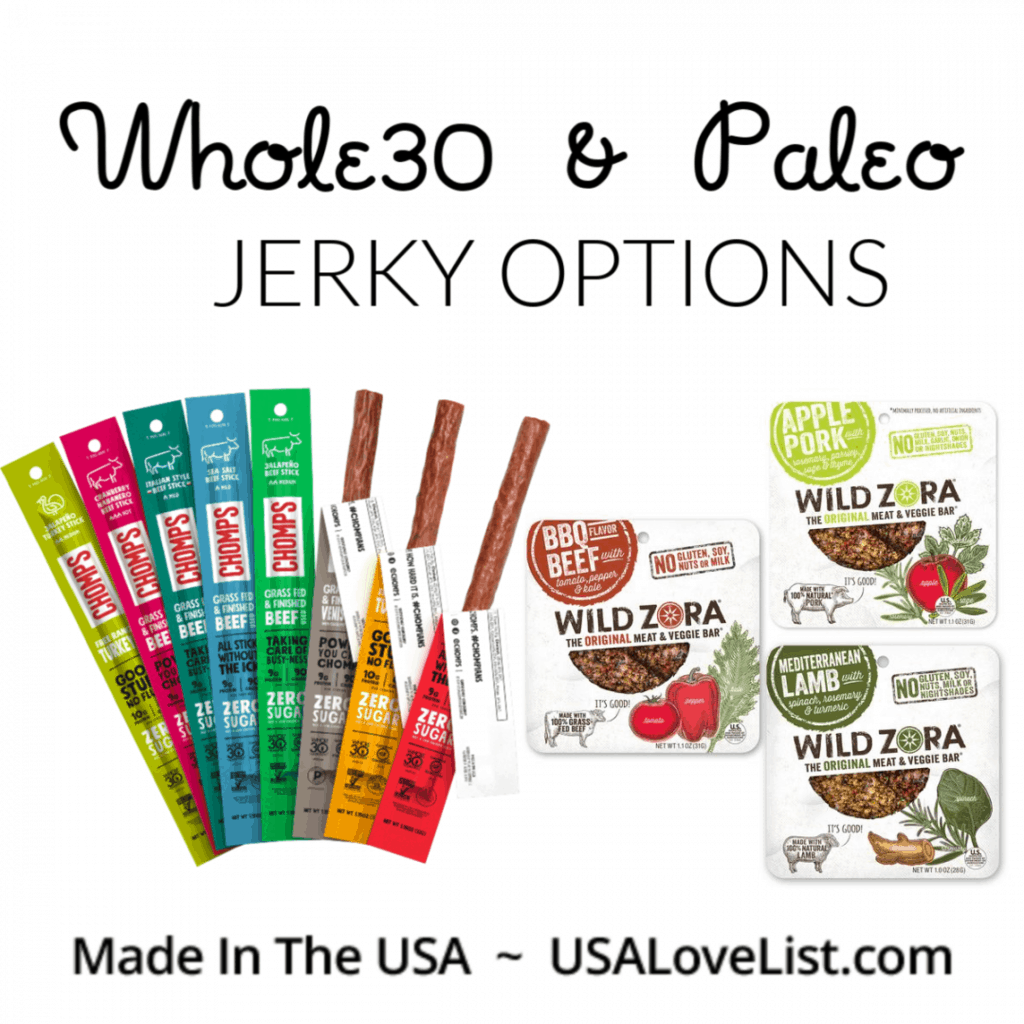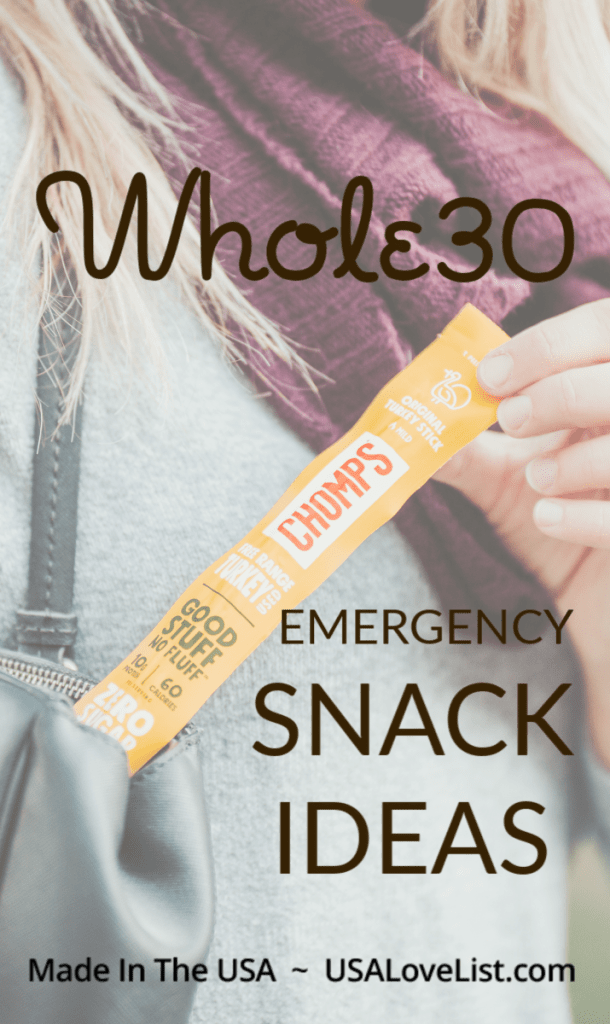 LOVE THIS LIST?
Honestly, we know you will love these lists too!
Whole30 Challenge Tips and Whole 30 Grocery List Ideas
Whole30 Bone Broth: Whole30 Compliant Beef, Chicken, & Turkey Broth and Whole30 Compliant Soups
11 Whole30 and Paleo Jerky Options We Love, All Made in the USA
Our Favorite Whole30 Restaurants, Listed By City
15 American Made Peanut Butter, and Other Unique Seed and Nut Butters We Love
Whole30 Snack Ideas, Made in USA
Cover photo: Chomps