Is the detergent that you are using to clean your laundry, dirtying our environment? Detergents are a common pollutant of our water system due to their chemical ingredients like bleach and phosphates. Change your impact on the environment to the positive. This list of Eco friendly laundry detergents made in the USA will help you pick a detergent that is best for you, and change your impact on the environment to a positive one.
Eco Friendly Laundry Detergents Made in the USA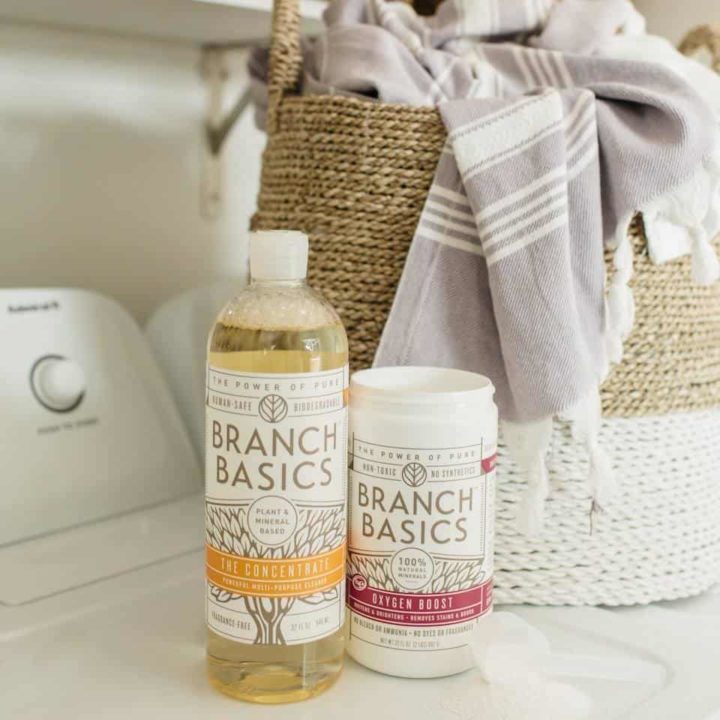 Photo Credit: branchbasics.com
Branch Basics has found another fan in me! The company's mission is to deliver non-toxic products that make living easier. It's no surprise that the Branch Basics Non-Toxic Laundry Kit has numerous 5-star ratings for its effectiveness in removing heavy stains from clothing. Similarly, Branch Basics products carry the MADE SAFE® seal, the most comprehensive safety standard available, which certifies they are made without 5,000+ toxic chemicals known to harm human and environmental health.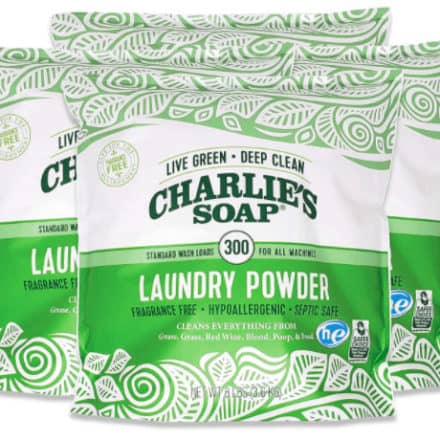 Photo Credit: shop.charliesoap.com
Charlie's Soap has been made in North Carolina since the 1970s. Today Charlie's Soap has grown to include laundry detergent, laundry powder, stain treater, and much more. Charlie's Soap laundry products are EPA Safer Choice Certified which means they are certified safer for the environment and septic systems. When my kiddos were in diapers Charlie's Soap Laundry Powder was my go to for cloth diaper washings.
Photo Credit: www.cleancult.com
Clean Cult HE concentrated laundry formula cleans 64 loads of laundry with one 32oz container- that's only one 1/2 oz per load. This detergent is non-toxic and biodegradable. The cartons are identified as "Recycling Number 2" and are accepted by most recycling centers. Clean Cult Laundry Detergent Refills ingredients are GMO free, paraben free, phthalate free and carbon neutral.
Photo Credit: www.dropps.com
Dropps Stain & Odor Laundry Detergent Pods are made with natural enzymes and plant based ingredients. They come in 5 scents- including Unscented. Dropps is the exclusive home cleaning partner of Oceana, the world's largest ocean conservancy organization.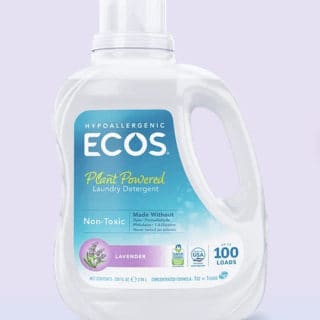 Photo Credit: www.ecos.com
ECOS is a carbon neutral, zero waste, climate positive company. ECOS Plant Powered Laundry Detergent is made with plant based ingredients and is 100% vegan. ECOS laundry detergents are EPA Safer Choice Certified. ECOS also has plant powered laundry detergent packs that are made in USA. NOTE: The ECOS laundry detergent sheets are NOT made in the USA.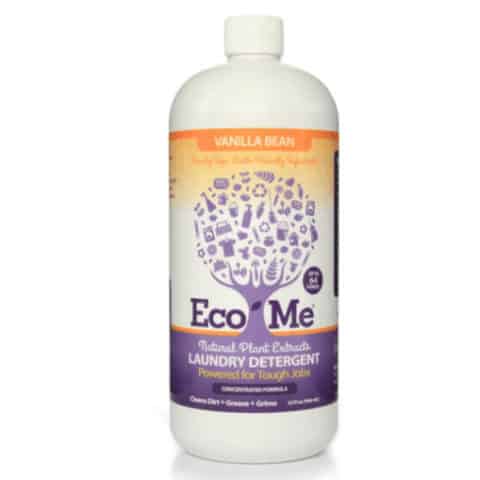 Photo Credit: eco-me.com
All Eco-Me products are made with food safe, plant based ingredients. Eco-Me laundry detergent is available in fragrance-free and Lavender, Vanilla Bean, and Citrus Berry. They are all sulfate free and septic and grey water safe.
Photo Credit: www.goodnaturedbrand.com
Good Natured Brand Laundry Soda is made in small batches in Maine. It is made with simple, naturally derived ingredients and scented with essential oils. Good Natured Brand Laundry Soda is sulfate free and contains no sodium borate and is biodegradable.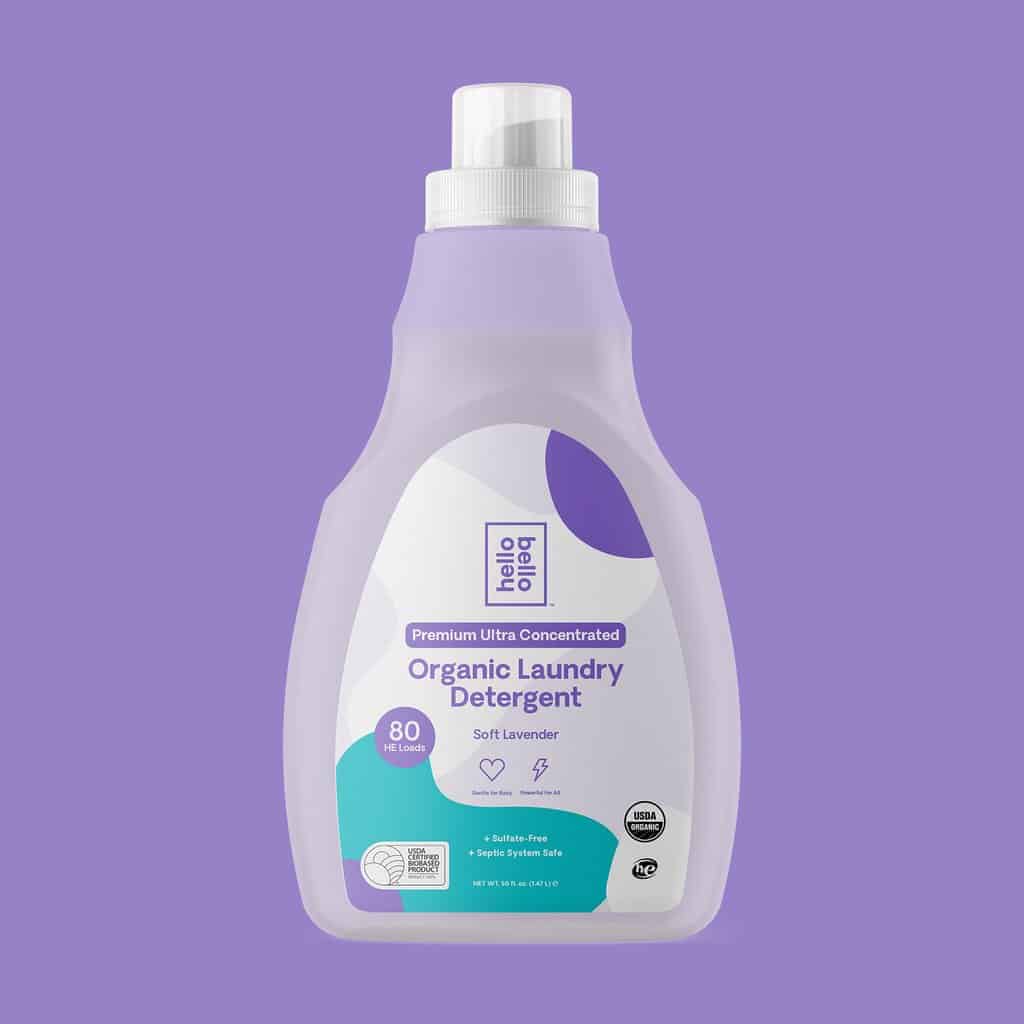 Photo Credit: hellobello.com
Hello Bello Organic Laundry Detergent is plant based and septic system safe. It is made from organic soap berries and botanical extracts. This laundry detergent is sulfate free so it deep cleans with low to no sudsing. The bottle is made with 50% sustainable sugar cane resin so it is 100% recyclable.
Photo Credit: www.mamasuds.com
I really love Mama Suds detergent. It's tough on dirt and stains and I trust the product's ingredients wholeheartedly. The ingredients include water, potassium olivate (saponified olive oil), sodium carbonate, and sodium borate. It's extremely concentrated, so a little goes a long way - a 64 fluid ounce bottle will do up to 128 loads of laundry.
Photo Credit: mollyssuds.com
Molly's Suds was founded by a pediatric nurse and mom who, after extensive research, discovered many of the more common detergent ingredients interfere with the human body in devastating ways. Molly's Suds is made using the purest ingredients while also protecting the environment. Molly's Suds Laundry detergent is available in liquid, powder, and pods. One of our editors uses Molly's Suds on everything she washes and highly recommends it!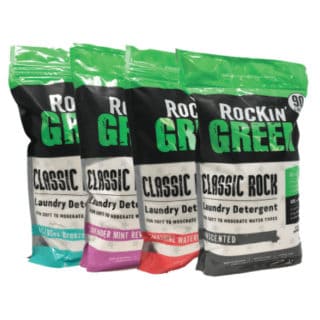 Photo Credit: rockingreen.com
Rockin' Green laundry products are earth friendly and gentle on the skin. All products are plant based, biodegradable, SLS free, and phthalate free. Rockin' Green everyday detergent comes in two types. Classic Rock is formulated for areas with soft or normal water. Hard Rock is for areas with hard water. These powdered detergents are HE machine compatible.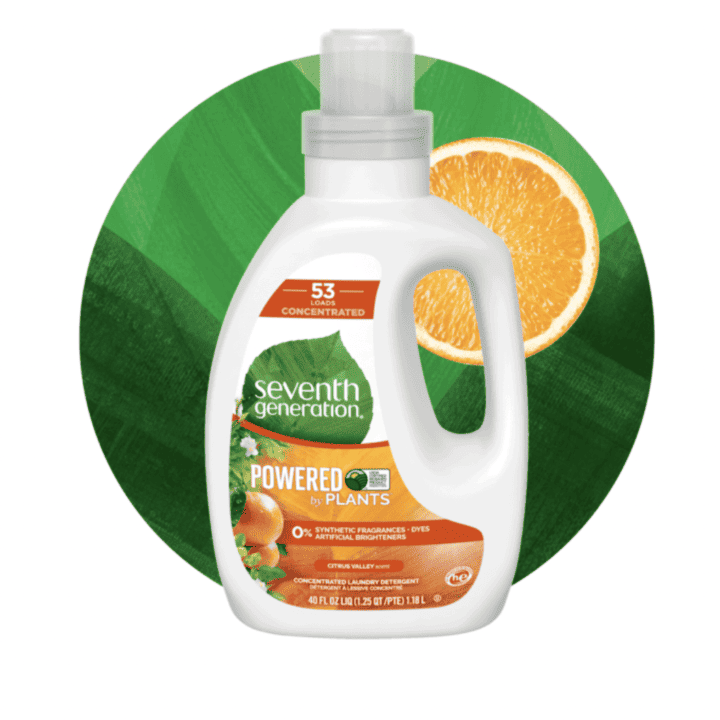 Photo Credit: www.seventhgeneration.com
Seventh Generation laundry detergents are made with plant based ingredients and are 100% biodegradable so they breakdown and leave no lasting impact on our water supply. All formulas are free of dyes, artificial fragrances, and artificial brighteners. Seventh Generation detergents are manufactured in California and Mississippi.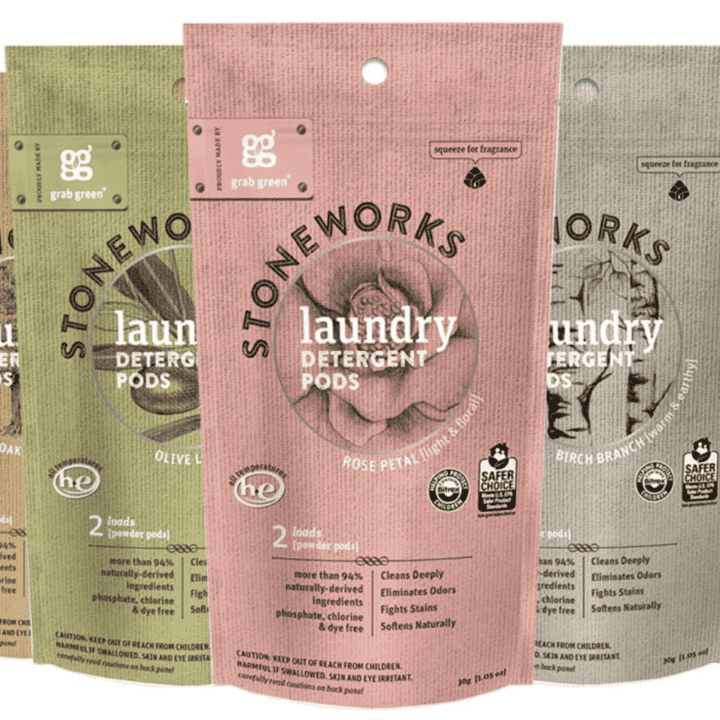 Photo Credit: grabgreenhome.com
I love how clean my laundry feels and smells after using Stoneworks Laundry Detergent Pods. The brand is the first in the industry to offer pod-based detergents and the first to list every ingredient on the label, Grab Green (makers of Stoneworks) offers effective, non-toxic formulas that get down and dirty with the best and worst of the messes. Grab Green has bridged the gap between effective and natural so now you can have the best of both worlds. This laundry detergent is cruelty-free and made in the USA.
Photo Credit: wastefreeproducts.com
Tangie zero waste laundry detergent detergent comes in bar form with cardboard or no packaging. One bar dissolves in water to make one gallon of detergent. Tangie laundry detergent is vegan, Leaping Bunny certified and rated 'A' by Environmental Working Group.
Have you visited our Made in USA Shopping District? It is the place to start your shopping when you want to find the best of American-made.

Pin this list to save it for later!
---
Hey, don't miss this other Eco Friendly lists!
American Made Eco Friendly Gifts
Eco Friendly Jewelry Made in USA That We Love
Eco Friendly Products Made in the USA from Recycled Goods
Reduce, Reuse, Recycle: American Companies Turning Trash Into Treasure
Eco Friendly Wedding Gift Ideas, All American Made
6 Tips for Planning an American Made Eco Friendly Wedding
---
Love this list? We know you will love these lists too!