Invest in a blanket that will last a lifetime and support US manufacturing by purchasing from this list of American made blankets. Blanket aren't just for cold winter nights. This list also contains cotton and linen blankets, cooling blankets, and picnic blankets and more perfect for summer nights and summer adventures.
American Made Blankets
Authenticity50 Heritage Blankets
Authenticity50's highly anticipated Heritage Blankets are woven at the finest blanket mill in Maine, ensuring the highest quality and a beautiful, soft hand feel. Made from 100% American-grown cotton and homespun yarns, this blanket is truly 100% Seed-to-Stitch® made in the USA. With classic, stylish designs such as this Prairie Yellow herringbone, these blankets will add a pop of color and cozy comfort to any room. Perfect all season long, these premium blankets will become staples in your home and will last for years to come.
Mosaic Weighted Blankets
Mosaic Weighted Blankets was cofounded in 2011 by Laura LeMond. Laura discovered that weighted blankets could provide Deep Touch Pressure (DTP), which has been scientifically proven to help the body to release serotonin, which provides a calming effect. Weighted blankets are also known to aid in achieving a long lasting and restful sleep. Deep Touch Pressure can also be found effective for those with anxiety and ADHD.
I never knew there were so many weighted blanket fabrics and products to choose from! These weighted blankets are available in 100% Cotton (the most popular), Minky (perfect for sensory feeling), COOLMAX (for hot sleepers), and waterproof hospital fabric. They also come in a variety of sizes for kids, teens, and adults.
Mosaic Weighted Blankets products also include weighted lap pads, minky weighted shoulder straps, weighted sleep masks, and weighted travel blankets. All products are designed and responsibly manufactured in Austin, Texas, sewn by talented seamstresses in a commercial-grade facility. They support ethical and humane manufacturing and operate in an environmentally responsible facility.
Code USALOVE can be used at checkout for 15% off your purchase. This code can be used one time and has no expiration date.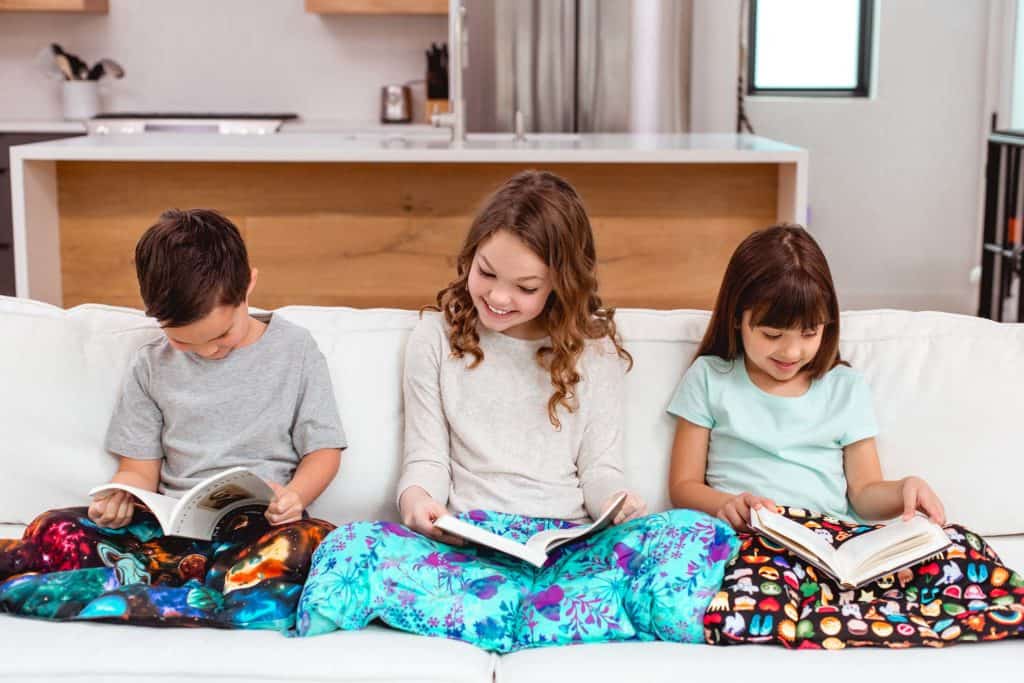 American Made Blankets: A Source List
Did we miss your favorite Made in USA blanket manufacturer? Let us know in the comments below and we will add them to our list. Check back frequently because this list is always being updated.
---
Don't miss our other American made bedding source lists:
---
Have you visited our Made in USA Shopping District? It is the place to start your shopping when you want to find the best of American-made.