Do you know Cabot Cheese? I bet you do. It's in your grocery store. It's good stuff, but maybe you haven't given it much thought. I hate to say it, but I hadn't. Recently though, I became aware that Cabot Cheese awards trips on a "Cabot Community Celebrity Award Cruise" to recognize volunteers who make a difference in their home communities.
Wow.. that's really great! There are so many people who work hard to make their towns, their schools, their communities, and our country great. I was impressed when I heard that a company was going out of their way to recognize these hard-working people. You can read more about it here.
Of course, I nominated our own Green / Family Living Editor, Tracey Hanson. Not only does she work hard for USA Love List but she is also involved in local politics, she holds positions on regional boards and commissions, is involved in the organizing and running of her town's farmers' market, is a Grange member, a supporter of Junior Grange, an election moderator, a Justice of the Peace and a substitute teacher. Whew!
I was surprised and delighted when Cabot thanked me for nominating Tracey and sent me my own box of cheese samples. Gosh thanks! Apparently, good karma comes back around in the form of big chunks of cheese sometimes. When I realized I had a bumper crop of jalapeños hatching in my garden, I decided one of those blocks of cheese would find its fate on the grill. The photo above is the result.
Grilled Cheddar Jalapeños
Slice peppers in half and scrape out all seeds and white pith. Pack peppers with as much Cabot Sharp Cheddar as they will hold. Place peppers on direct heat on grill until pepper is charred and cheese is melted. Allow to cool before trying to eat. I enjoyed them with a Vermont Woodchuck Dry Pear Cider.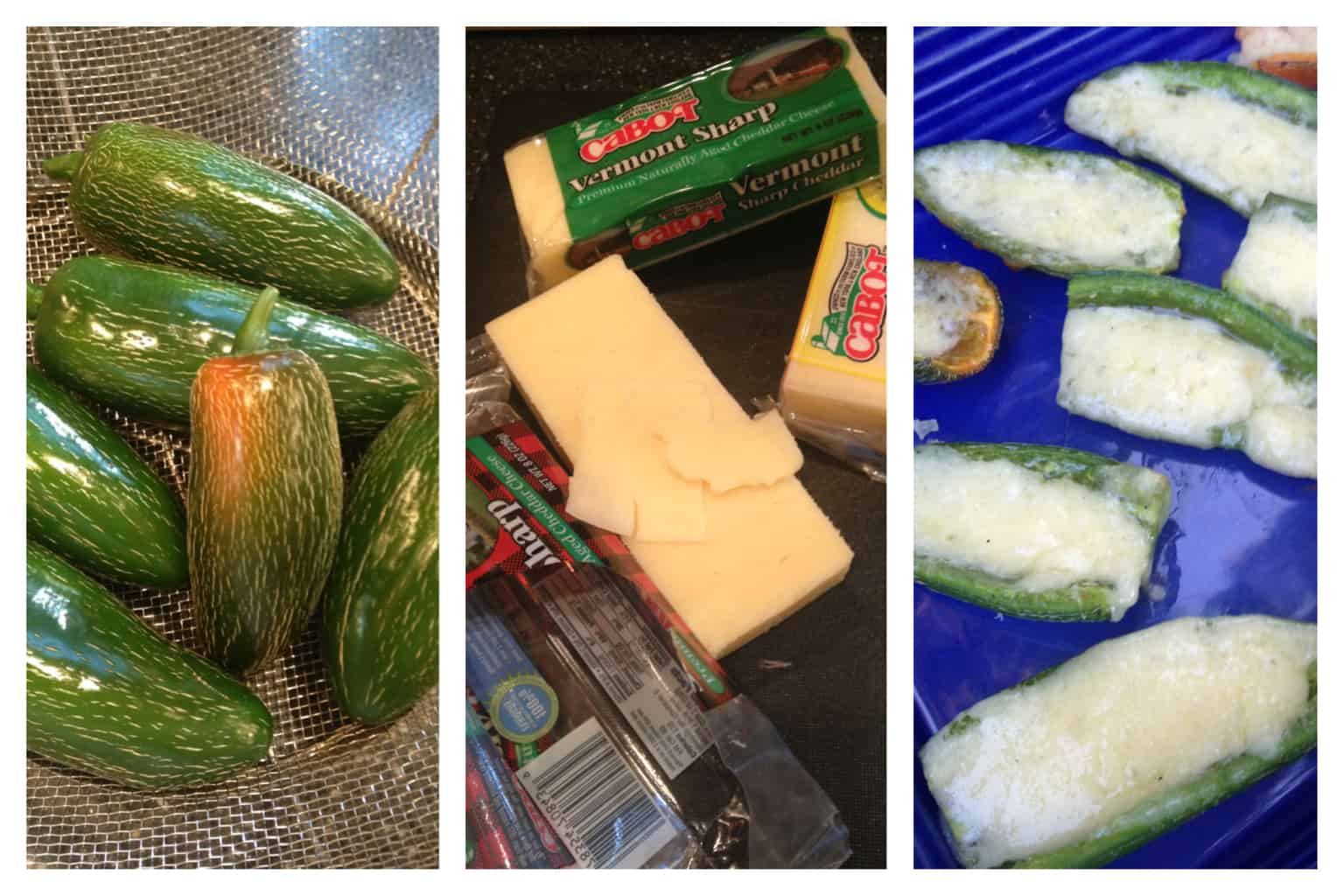 As I'm sure Cabot intended, I was suddenly a lot more interested in cheese than I had been before, so when I paid attention to the materials they sent me, I learned the following facts that officially landed Cabot Cheese in the category of "Stuff I Love, Made in the USA".
Cabot is a cooperative owned by 1,200 farm families in New England & New York.
Because it is owned by the dairy farmers, 100% of the profits go back to the farms.
They have been awarded "World's Best Cheddar"  – all of their Cheddars are naturally Gluten Free and Lactose Free
In addition to cheese, they also make greek yogurt, sour cream, cottage cheese, and butter so if you want to support small family farms, you can keep an eye out for this widely-available brand. (Find your nearest store.)