Bombas socks are popular with men, women, and kids for their comfort, colors, and variety of styles. They are also liked for their charitable giving. Bombas mission has been to support those experiencing homeless, so for every pair of socks purchased they donate a pair to a homeless shelter.
Are Bombas socks made in the USA?
Bombas socks might have everything you are looking for in a sock, but are they made in the USA? According to the Bombas website, their socks are "manufactured in facilities around the world in the US, Taiwan, Peru, and China." However, the socks are made in the US are not labeled as such, so it would be impossible to tell which ones those are. If you are a fan of Bombas, ask them to label the socks that they manufacture in the USA!
American Made Alternatives
It might be impossible to find Bombas socks labeled "Made in USA", but we found American made socks that we love that are very similar in style and mission.
Farm to Feet Socks
Farm to Feet socks are also available in styles for men, women, and kids. Farm to Feet socks are made 100% in the USA from US merino wool, US made Lycra spandex, and US made nylons. They are available in the same styles that Bombas socks are and also have fun colors and patterns. Farm to Feet gives back to the community by partnering with and supporting conservation organizations that preserve and protect or public lands.
Farm to Feet socks are one of my favorite sock brands. The are soft, comfortable, and they last forever. Shop the Farm to Feet Amazon store.
Darn Tough Socks
Darn Tough is another American Made sock brand that is very similar to Bombas. Darn Tough socks are available in fun colors and sizes for men, women, and kids. They also come in a variety of styles. Darn Tough socks are manufactured in Vermont and the company gives back by supporting veteran, youth, homeless, and food scarcity organizations in Vermont.
Darn Tough socks are my husbands absolute favorite socks. He loves the micro crew hiking socks so much he has them in multiple colors/patterns and wears them every day. He is a chef and is on his feet all day. Shop the Darn Tough Amazon store.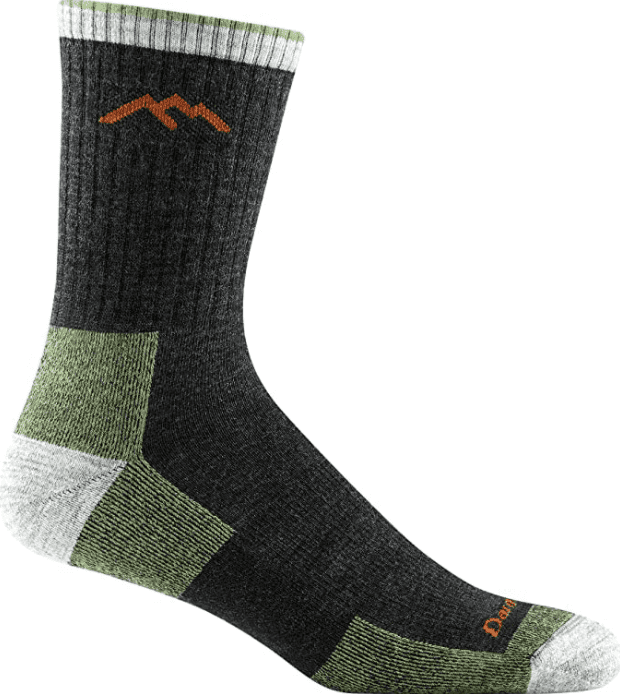 More American Made Socks
There are sooooo many more sock brands that manufacture their socks in the USA! We have a huge source list that you have to check out that includes all types of socks for men, women, and kids. Our Ultimate Source List of Socks Made in the USA includes fashion socks, sports socks, compression socks and more.
Have you visited our Made in USA Shopping District? It is the place to start your shopping when you want to find the best of American-made.
SUPPORT AMERICAN MADE. THESE POSTS HAVE TIPS THAT WILL HELP YOU DO JUST THAT.

What Does the Made in the USA Label Mean? Your Questions Answered.
Trying to Buy American? 3 Rules to Follow EVERY time you go Shopping
Ask your favorite stores to help you Buy American
Let's buy American made gifts. We've got all the good ideas.
How to Avoid Tariffs: Buy American! Start Here



Pin this list to save it for later!