As I sat down to write this post I realized I have A LOT to say about chocolate. And as I did my research for this post I came to two conclusions: (1) my pants are a bit snug and (2) I am proud to say I was born and raised in Pennsylvania. One thing that my childhood did not lack was delicious chocolate, As we all know, giving chocolates is a great way to say… you're sweet or I love you! If you're looking to express your feelings with cocoa this year, may I suggest some of my favorite American made chocolate, made in Pennsylvania?
Is there chocolate made in your home state? Check Our Favorite Hand-Dipped Chocolates by State and let us know if we have your favorite listed.
Chocolate Made in Pennsylvania
Boyer Candy Company
A staple in my hometown of Altoona, PA is the Boyer Candy Company. When I am headed back to Altoona for a visit I officially know I am home, when I pass the factory downtown which is minutes from my parents' home. Boyer Candy is known for the Mallo Cup which is the perfect combination of chocolate, coconut, and marshmallow. The hard chocolate (your choice of milk or dark) exterior has a small hint of coconut that gives the cup a bit of a crunch and is filled with a smooth, whipped marshmallow cream. It is hard to find someone who doesn't enjoy them, but if you aren't a fan of marshmallows, don't worry; Boyer's has plenty more to offer. I sometimes feel bad for the Boyer's Smoothie Cup because it is overshadowed by the Mallo Cup. If you like butterscotch and peanut butter, paradise awaits you. This is my personal Boyer Candy favorite along with the Clark Bar, a chocolate bar with peanut butter crunch.
Gardners Candies
Gardners Candies located in Tyrone, Pennsylvania (about 25 miles from Penn State University) is known for the Original Peanut Butter Meltaway. For me, chocolate and peanut butter are two things that I adore on their own, but when they join forces, a beast within me is unleashed. Given that Gardners is so close to my hometown, a box or tray of Peanut Butter Meltaways is a staple gift around any holiday. My mother knows if she opens her tray of Meltways when I am home visiting, she can count on it disappearing within at least 24 hours. However, I have quite a few nephews, sisters and others in the crowded home to point the blame at for my lack of self-control. I also strongly recommend the Chocolate Covered Popcorn. It will not disappoint!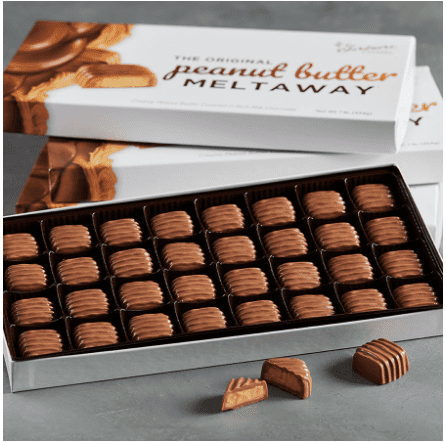 Asher's Chocolate Co.
As someone living with type 1 diabetes, I would fail the diabetes community if I didn't mention one of my favorite sugar-free chocolate manufacturers, Asher's. If you ever tried sugar-free chocolate you probably weren't too impressed, but I have to say Asher's does sugar-free well. They have a wide variety of sugar-free options that coincide with their regular product line. My favorites: Sugar-Free Pretzel Bites, which are a health-conscious alternative to their famous Milk Chocolate Covered Pretzel. I live by the motto of "everything is okay in moderation," whether it be sugar-free or original. Perhaps that is why I have such a strong opinion about my sweets.
Just Born
Have you heard of Peeps? I am talking about the sugar-coated marshmallows that used to just come out around Easter, but now you'll find them shaped appropriately for every holiday. The Just Born candy company out of Bethlehem, PA isn't holding back and started incorporating chocolate into the Peeps phenomenon. You can find a variety of the marshmallow treats dipped or covered in both milk and dark chocolate. They also are responsible for Peanut Chews which remind me of our little league field concession stand.
Wilbur Chocolate
If you're looking for pure tasting, homemade chocolate that could have come from your grandma's kitchen I recommend Wilbur Chocolate. I had my first taste of Wilbur Chocolate from Lititz, PA when my freshman dorm neighbor's mother mailed her a package with some Wilbur Buds. Today you can visit the Wilbur Chocolate Candy Americana Antique Collectibles Showroom and Candy Store in Lititz, PA and pick up tips from the candy makers in the kitchen. You'll find them making their handmade chocolate covered marshmallow which is one of my favorites.
Header Image Credit: Wilbur