OK, so we all know that articles of clothing are the LAST things kids want to receive as gifts! However, I've found some American made clothing items that kids on your list might just actually like, and *gasp* would be happy to receive! I recently wrote about simplifying your gift giving by sticking to the old adage to give kids "Something they WANT, something they NEED, something to WEAR, and something to READ." Here is what to get them to wear…
Clothing Gifts for Kids, Made in the USA
If you need a gift for an early walking baby or toddler, the Castleware Baby Sleeveless Fleece Toddler Sleeper Bag is perfect. I know when my kiddos were little and still in their crib or toddler bed, it was hard to make sure they were warm enough at night. The Sleeper Bag with feet is perfect. It's made in the USA from organic cotton fleece and it is not treated with flame retardant chemicals. Take 10% off your Castleware Baby order with discount code USALOVE. No restrictions, no expiration.
For the kiddo that LOVES vehicles- trucks, trains, plains- Shirts That Go has a shirt that he/she will love! Shirts That Go T's are available in short sleeve and raglan sleeve, in sizes toddler to 12.
Mouthman hoodies for kids (and adults too!) are fun and unique. This hoodie will be a favorite of any kiddo who loves dinosaurs, reptiles, sharks, and more.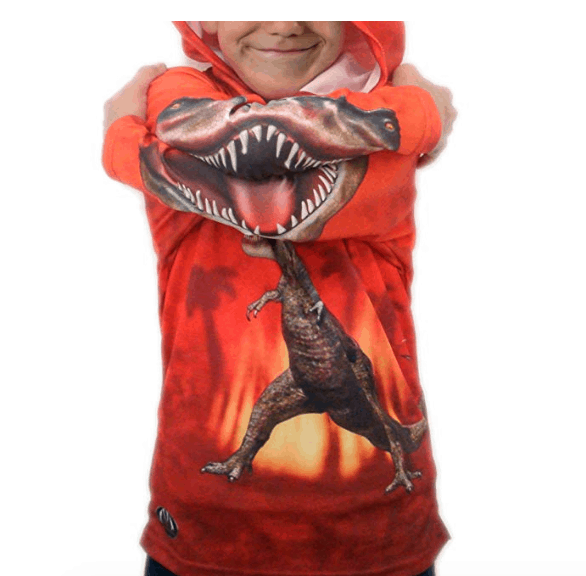 LOVE THIS LIST?
Honestly, you will love these lists too!
The Best Gifts for Kids, Made in USA
Clothing Gifts for Kids, Made in USA
10 American Made Gifts for Kids, Under $10
Made in USA Building Toys for Kids of All Ages
American Made Gifts for Kids Who Love Legos
Personalized Gifts for Kids