It is officially the holiday season. Let the craziness begin! On top of an already busy schedule of work, school, clubs, and meetings, I now have to squeeze in time to shop for gifts, find dress clothes for everyone in the family, search for party food recipes, bake….I'm getting stressed out just thinking about it! DEEP BREATHS…Here are some of the American made products I'm using this year to cut back on stress and save time over the holidays. The first one is from one of our sponsors who sent me some of their products to review and now I am hooked:
1. Use VZ Wraps fabric gift bags, for quick, no stress, earth-friendly gift wrapping.
2. Skip the iron and use the American made ESTEAM personal hand steamer by Jiffy Steamer Co. Not only do I have to get myself ready for holiday parties, but I have to make sure the 2 kiddos and the hubby look presentable as well. Instead of spending the time ironing everyones clothes (and marking them, messing up creases…), I've been using a Jiffy Steamer instead. A steamer comes in handy when sprucing up clothing for the next party as well.
3. Instead of making a dip or spread from scratch, look for Sabra Spreads.  Find products such as hummus and guacamole dips, hummus dips include classic, caramelized onion, jalapeno, lemon twist, roasted garlic, olive tapenade, roasted pine nut, salsa Verde, roasted red pepper, taco-inspired, spicy, spinach and artichoke. Guacamole singles, dark chocolate dessert spread, avocado toast, gluten-free snacks and black, red, white beans are also offered.
4. Make Christmas morning breakfast ahead of time. My favorite breakfast to make for Christmas morning is a slow cooker apple spice oatmeal using Bob's Red Mill steel cut oats, and flaxseed meal. I found the recipe on Pinterest years ago, and it has become a well loved family tradition. I am always up late on Christmas Eve getting things ready, so I just throw it together before I go to bed. Here is the link to the original recipe.
And for tips on saving time while decorating for the holidays, just click on the image below.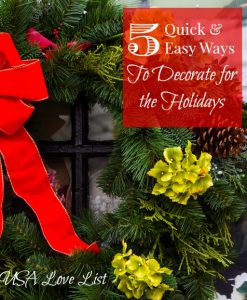 Disclosure: This post is sponsored by VZ Wraps which USA Love List is proud to share with you because, sponsored or not, we only share stuff we love.
We're making it easy to buy American-made gifts this year. Follow and share our American Made Gift Guide.
Have you visited our Made in USA Shopping District? It is the place to start your shopping when you want to find the best of American-made.