One of my family's favorite holiday traditions is making ornaments. The ornaments that we make are not only used to decorate our Christmas tree, but they are also given to grandparents, aunts and uncles as gifts.
This year we made Red, White, & Blue Ornaments with American made supplies
These ornaments are perfect for holiday crafting with kids of all ages, as they are really simple to make!
Here is what you need for supplies, and we found everything we needed made in the USA!
Christmas by Krebs glass ornaments made in Roswell, New Mexico
Plaid Apple Barrel craft paint
Offray ribbon (most styles made in USA)
An empty egg carton
Follow these steps:
1. Carefully remove the metal hanging part from the top of the glass ornament.
2. One by one, squeeze the paint colors into the opening of the glass ornament. You can hit the side for a desired pattern. Don't be afraid to use A LOT of paint!!
3. Slowly rotate the ornament moving the paint around on the inside to create patterns.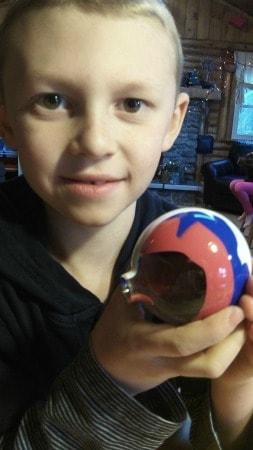 4. When ornament is covered with desired pattern, place in an empty egg carton upside down to drain out excess paint. You can either leave them like this to dry, or flip them around to dry after paint has drained.
5. When paint is dry (usually the next day), carefully place the metal hanging top back on.
6. Tie with ribbon to hang.
And VOILA! A beautifully crafted American made ornament! Merry 'Made in USA' Christmas to you and yours.