Why do I feel like I am always buying new towels?! Oh, right, maybe because I have two teenagers. Enough said. All joking aside, new towels are something everyone can use. Today's giveaway prize is sponsored by Freshee. Keep reading to learn about their new line of American Made luxury towels.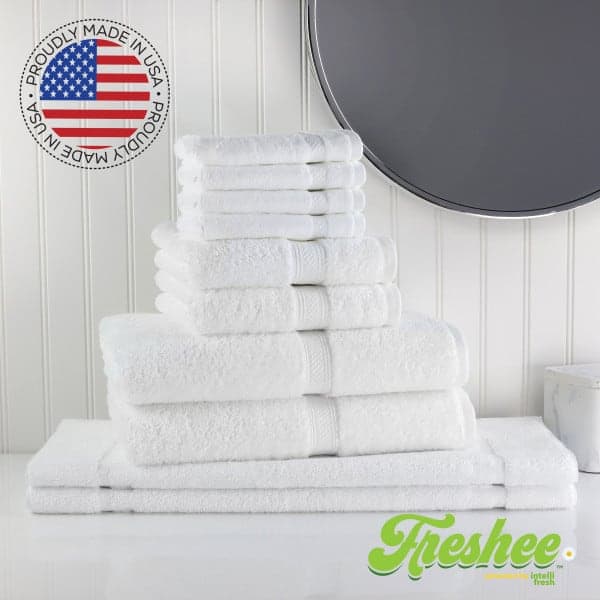 American Made Luxury Towels by Freshee
Freshee is a new brand of home goods items for bed, bath, and kitchen. Not all of these products are American made, but Freshee's 10 Piece Bath Set is. Each piece of this bath set is woven and sewn in the USA from imported 100% Pima cotton yarn. This yarn creates luxurious and soft towels.
This is no ordinary bath set. These bath items are treated with Intellifresh™ technology which offers a built in bacteria control. No stinky towels and bath matts means more uses before needing a wash, so less laundry.
Freshee made in USA towels are made with an exclusive Enduraweave technology which is usually exclusively used for luxury hotel towels. This weave makes towels more durable, shrink less, and last longer than the average towel brand.
Made in America Freshee Luxury 10 Piece Bath Set
I was sent the Freshee 10 Piece Bath Set for my family to try out. These hand towels, wash clothes, bath towels, and bath mats quickly became everyones favorites. Here is why:
They really are like luxury hotel towels. Every item from the wash cloth to the bath mat stays as soft and fluffy as they look in the photo below, even after multiple washes. The thick, soft towels are refreshingly comfortable after a hot shower.
They really don't smell. Remember when I mention that I had two teenagers? When all of the towels in the house mysteriously vanish, where are they found? In a damp pile on the floor in their rooms. I have smelled some gross damp towels in my day, and Freshee towels still remain odor free.
THE GIVEAWAY
The winner will receive the Freshee 10 Piece Bath Set featuring Intellifresh™ technology in White. This set includes 4 wash clothes, 2 hand towels, 2 bath towels, and 2 bath mats.
There are a variety of entry options including opportunities for multiple daily entries. Good luck!
Click the arrows below for further instructions on each entry. This giveaway will close at midnight on Thursday, October 15th. The winner will be randomly selected, verified for correct entry participation, and notified by email.
a Rafflecopter giveaway
If you've already entered one contest on USA Love List, entering another will be even easier. Visit our Giveaways Page to find out about other active offers to join.
Disclosure: This is a sponsored post which USA Love List is proud to share with you because, sponsored or not, we only share stuff we love.
Don't miss these lists. We know you will love them!