We can all support the made in USA movement one item at a time by making a commitment to purchase American made items instead of similar items manufactured overseas when they are available. Recently, many items in my bathroom needed replacing and finding high-quality American made bathroom essentials turned out to be easier than I thought.
Made in USA Bathroom Essentials
Authenticity50 Essential Cotton Towels
Authenticity50 has been a favorite of ours for years for their made in USA bedding. Just in time for the holidays, Authenticity50 is introducing a new line of products, which includes American made luxury towels.
Authenticity50 Essential Cotton Towels are 100% made in the USA from seed-to-stitch® with the finest ring spun Supima cotton loops. These oversized, thick spa feel towels are made to last. The towels are available in 3 sizes (Bath Towel, Hand Towel, Wash Towel) and can be purchased separately or as a bundle. Save 12% when you purchase the bundle.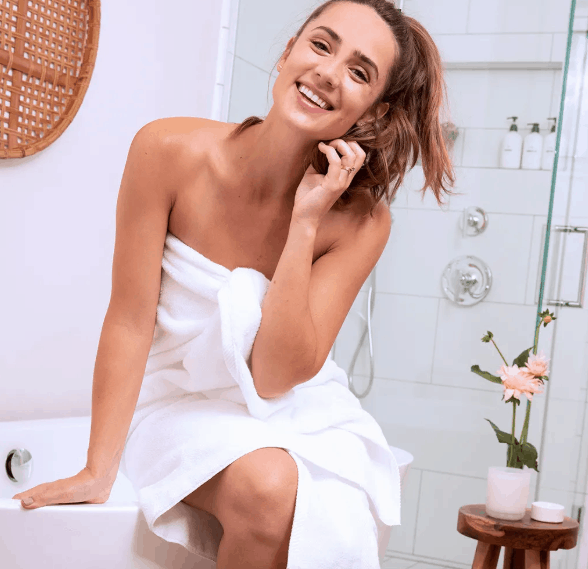 Made in USA Bathroom Essentials: The Source List
Don't see your favorite made in USA bathroom essentials in this list? Let us know in the comments below. This list is updated frequently!
Made in USA Towels
Authenticity 50 Essential Cotton Towels are designed for the spa, but made for your home. Learn more about Authenticity50 Essential Cotton Towels at the top of this post. Save 12% when you purchase the bundle.

1888 Mills Made Here Bath Set is available in multiple colors.
Red Land Cotton towels are made entirely in the southern USA.
Made in USA Bath Fixtures
251 First towel bars and toilet paper holders are made in the USA.
Allied Brass towel bars & racks, mirrors, bathroom shelves, and more are assembled in the USA.
Aquatic bath products- tubs, whirlpool tubs, showers- are American made.
High Sierra Showerheads are not only made in the USA (made in Coarsegold, California ), but they also save water too! High Sierra Showerheads use 40% less water than conventional showerheads. Don't miss 5 Ways to Save Water at Home with American Made Products for more water saving tips!
Mayfair toilet seats are made in the USA from earth-friendly materials.
Mansfield is one of the largest manufacturers of sanitaryware in the USA. Mansfield's Alto toilet, and high-efficiency toilets like the QuantumOne, the Quantum 1.28 and Summit are all made in USA.
Made in USA Bath Rugs
MainStays bathroom rugs are available in Walmart locations across the country. These American made rugs are sold individually, or in a set, and are available in an assortment of colors.
Mohawk Home bath rugs are American made.
Made in USA Shower Curtains
Made in USA Bathroom Accessories
Barr Co scent diffusers are American made.
Candles add a relaxing ambiance to your bathroom as well as help with odors. Check out our source list of made in USA candles.
Colonial Mills woven hampers and storage baskets are made in Rhode Island.

Emerson Creek pottery bath accessories- toothbrush holders, soap/lotion bottles, soap dishes and more- are hand made in Virgina.
Mike + Ally luxury bath accessories- toothbrush holders, lotion holders, trash baskets, counter trays, and more are handmade to order in NYC.
American Made Personal Care Items to Stock Your Bathroom With