Did you know that September is National Honey Month? Today's post is pretty "sweet", so be prepared to indulge. Just like all trends, there is always so much to keep up with in the way of food. Honey is quite a popular "trend" this year, so I decided to team up with editor-in-chief of The Glutton's Digest, Lindsay, to share these wonderful honey recipes fit for every meal and occasion. When it comes to food, Lindsay searches the globe for the best-of-the best, and I am not exaggerating. She's been known to cross state lines for a meal, or even just a cupcake!
We wanted to learn more about honey and all its wonderful properties, so we set out on a "sweet" journey touring Savannah Bee Company's flagship store in Savannah, Georgia. We learned all about bees and honey, while perhaps over indulging in a taste testing of numerous varieties of honey. As Lindsay says in one of her posts, "By comparing the texture and taste of each honey, it becomes clear that honey, like wine and coffee, has its own set of complexities."
Honey Recipes for Every Meal
Once we tried all the different honeys, Lindsay incorporated Savannah Bee Company's honey into everyday cooking with these wonderful honey recipes for every meal and occasion. She also incorporated many other amazing artisan food products made in the USA. Luckily I was there to taste test all of her creations. Click on the title of each of the honey recipes for instructions and ingredients. You can find all of Lindsay's honey recipes for every occasion on The Glutton's Digest.
Breakfast: Prosciutto Breakfast "Beescuits"
Prosciutto Breakfast "Beescuits" featuring Olli prosciutto from Mechanicsville, Virginia and Savannah Bee Company's Tulpelo honey, which is sourced throughout the USA. I cannot tell you enough how much I loved this dish. The sweetness of the honey with the saltiness of the prosciutto make for a satisfying meal. Olli's prosciutto is my new favorite. My family is from Parma, Italy which is where prosciutto is cured in Italy. I've eaten Italian prosciutto during my travels to Italy, but I still have to say Olli's is my favorite, especially since it doesn't taste as salty.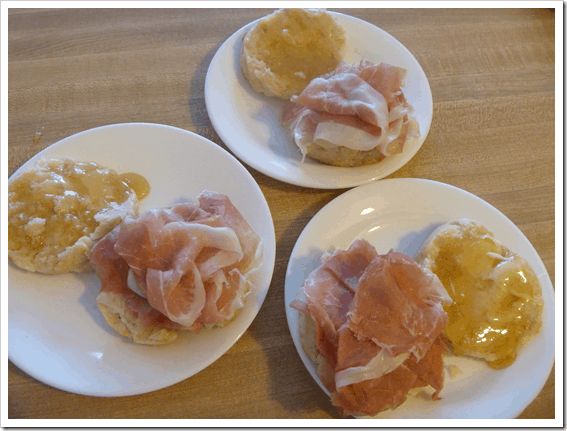 Lunch: Sticky Grilled Cheese with Apple and Sriracha Sauce
Sticky Grilled Cheese with Apple and Sriracha Sauce featuring Savannah Bee Company's Raw Honeycomb, Honey for Cheese, and Tupelo Honey and Kelchner's Spicy Sriracha Sauce, which is made in Dublin, Pennsylvania. I really encourage you to try this recipe. It's so amazing! Note:
Related: Four Brands You Need Right Now to Enjoy the Benefits of American Honey
Appetizers: Savannah Bee Honeytizers
Savannah Bee Honeytizers  featuring Savannah Bee Company's Raw Honeycomb and Chuao's Spicy Maya Chocolate Bar made in Carlsbad, California make for a really sweet decadent treat.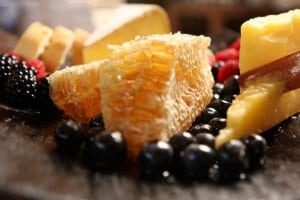 Dinner: Spicy Honey Chicken
Spicy Honey Chicken featuring Savannah Bee Company Honey for the Grill. This is one of the best chicken marinades! The chicken is moist, tender and flavorful. If you have leftovers from it, the chicken tastes like a healthy version of eating sesame chicken from a Chinese takeout, minus the sesame seeds.

Pin this list to save it for later!
Do you have a favorite way to enjoy honey? Do you go out of your way to find American-made or local honey? Tell us in the comments.