Marilyn Monroe had the classic all American girl appeal.  With these Marilyn Monroe makeup tips, focusing on her signature eyebrows and red lips, you can get this vintage
beauty
's look too.
Classic Beauty: Marilyn Monroe Makeup Tips
The Face
Stila Aqua Glow Liquid Foundation is ultra-smooth and will provide an evened-out skin tone and a great base for powder.  It is not sparkling, but it does have multi reflective pigments that make the skin look bright and fresh.
Repechage Natural Finish Powder gives a flawless finish that controls all shine giving that smooth complexion that Ms. Monroe always maintained.  All Repechage products are manufactured in the US and infused with seaweed.
The Eyes
Then come the eyes.  When you think of Marilyn and her made up face the red lips usually come to mind but much of her look comes from her beautifully groomed brows.  Even photos of her with pale lips have those recognizable eyebrows.
Start by applying an all over neutral eyeshadow color to your entire eyelid.  Vapour Organic Beauty has a nourishing formula designed for opaque wear.  It's all organic and Vapour Organic Beauty products are made in New Mexico.  The best thing about this formula is the fact that no beauty tools are required.  It blends easily with your fingertips and since it is a cream formula there is no powdery mess.
Jane Iredale liquid eyeliner helps to create the mod winged liner look.  It's simple but bold.  Using the liquid liner allows more control and a precise line for a finely finished look.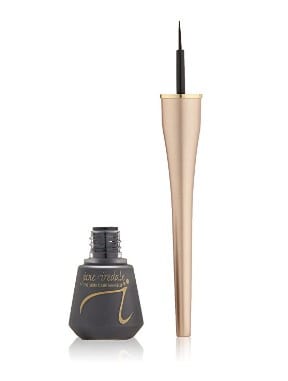 Coat your lashes in Jane Iredale Pure Lash Lengthening Mascara,  a rich black mascara to open up your eyes.  Don't forget the bottom, you don't need the eyeliner there but a few careful coats of mascara will finish the look.  Every product in the Jane Iredale line is manufactured in America.
Benefit's Brow Zings has everything you need all in one kit to keep brows precise.  Eyebrows are the frame of your face so this will come in handy for all the different looks you wear.  The kit contains pigmented wax for holding the shape, natural shaded powder for setting, blending brushes, tweezers, and a complete lesson.  If you aren't already giving attention to your brows and decide to start you will be pleased.  It truly gives your face the most polished appeal.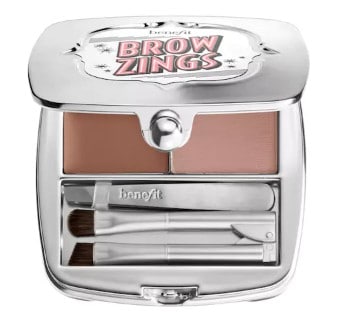 The Lips
Last but not least color your lips with a highly pigmented red lipstick, Loreal makes all their lipstick in New Jersey and they offer several shades of red.  For longer wear of your lip color dust your lips with powder before applying the lipstick.
Don't miss my tips on how to wear red lipstick and my tips for fuller lips .
Style has its timeless elements in fashion and beauty.  The all American look never tires and can be varied and updated in countless ways.  Put your spin on this vintage style using decadent cosmetics all selected for their superior quality, all made in the USA. Don't miss our source list for American made beauty products.
Check your cosmetics case… what do you find that is Made in the USA? Do tell.