This USA Love List Source List is a long one, and I am sure it will be getting longer!
Kitchenware is a category that covers any tools, utensils, appliances, dishes, and cookware, that can be used in the process of preparing and serving food. Everyone has and needs kitchenware items. The next time you are ready to replace your cookware, bakeware or dishes, be sure you check this list first and make that purchase an American made one.
These items also make great gifts! Bookmark this list of made in USA kitchenware so you can easily find it when you need to purchase a wedding, bridal shower, anniversary, birthday or holiday gift.
Made in USA Kitchenware
American Made Cookware & Bakeware: 360 Cookware
Create healthier meals for you and your loved ones using made in America 360 Cookware bakeware & cookware. What makes food cooked in 360 Cookware healthier, you ask? 360 Cookware does not use any harsh chemicals- no non-stick coatings and other harsh chemicals- in the making of their cookware and bakeware, so there is no leaching of toxins into your food.
360 Cookware is innovative waterless cookware, which generates a vapor seal that perfectly distributes temperatures and redirects the natural moisture back into the food. 360 Cookware waterless vapor cookware cooks food faster and at a lower temperature, so flavor and nutrients are locked in. Butter and non stick spray are not needed, so food is free of oils and fats. All 360 Cookware heirloom quality products are made using Surgical grade stainless Steel T-304 and have a lifetime warranty. 360 Cookware cookware and bakeware is handcrafted in a Green E- Certified factory in West Bend, Wisconsin. Save 20% on your 360 Cookware order with promo code USALOVE
American Made Flatware: Liberty Tabletop
Manufactured in New York by Sherrill Manufacturing, Liberty Tabletop is the only silverware made solely in the USA. Liberty Tabletop made in USA stainless steel flatware is made from domestically sourced steel that is 8 to 10 percent nickel and 16 to 18 percent chromium. Unlike stainless steel in foreign flatware manufacturing, Liberty Tabletop guarantees that the metal mix in their stainless steel does NOT contain lead, mercury, or any other toxic metals that we don't want in our mouths. Liberty Tabletop flatware is available in a variety of patterns and is sure to be used for generations.
Made in the USA Baking & Serving Utensils: Beehive Handmade
Beehive Handmade unique made in USA kitchenware items are more than just cooking tools. Beehive Handmade's beautiful kitchen gadgets and utensils are crafted to hold a special meaning to those who give and to those who receive them. These heirloom quality measuring spoons, serving utensils, scoops, cheese markers, and more are sure to be passed down through generations. All Beehive Handmade products are made in Rhode Island from lead free pewter alloy that is tested safe for food. Even their product boxes and packing materials are made in the USA (also in Rhode Island). Made in USA Kitchenware Deal: Save 10% on your Beehive Handmade order with promo code USALOVE. No expiration.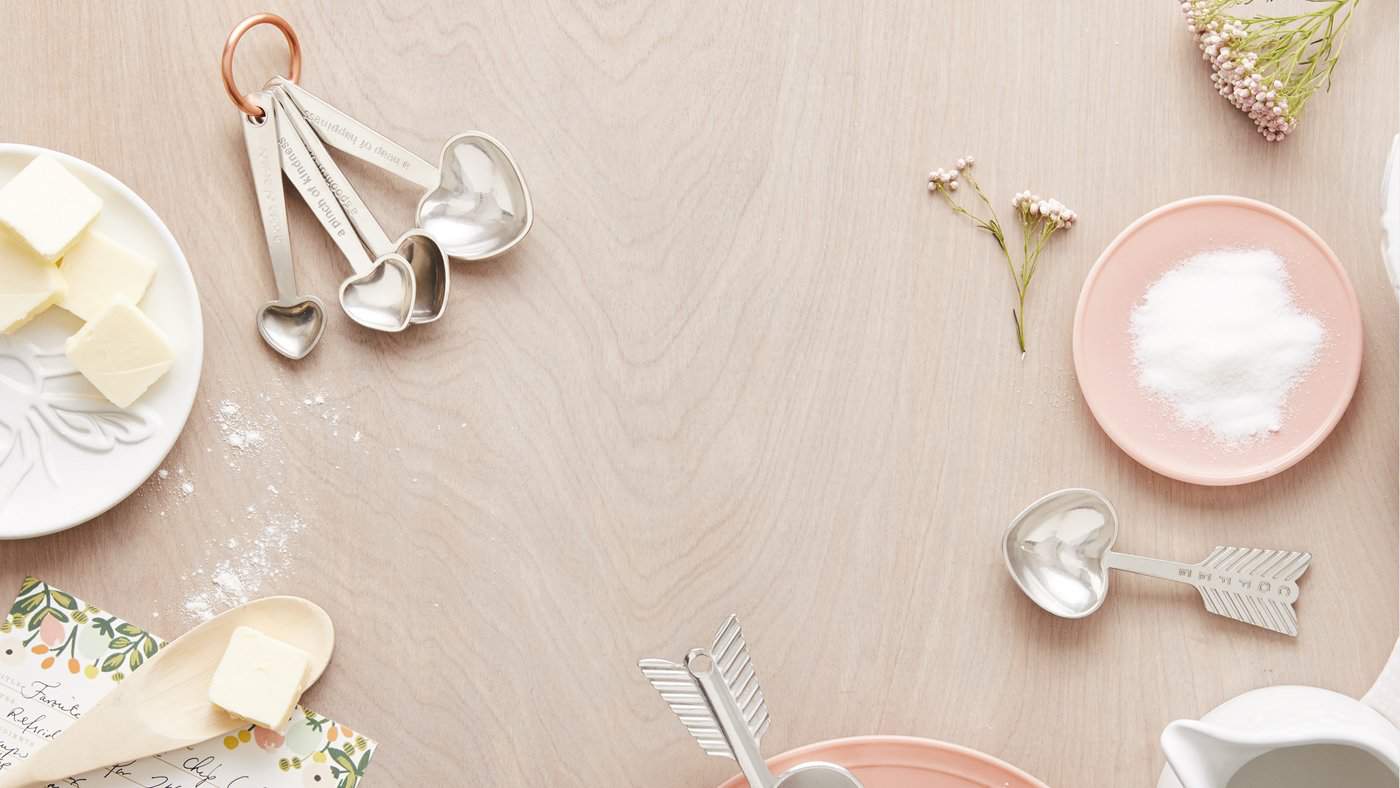 Made in USA Kitchenware: The Ultimate Source List
If we missed your favorite made in USA kitchenware manufacturer, let us know in the comments. This list is frequently updated.
Made in the USA Bakeware & Cookware
1919 Cookware Collection was specially designed for home chefs to have quality kitchens tools on hand to enhance the cooking experience. 1919 Cookware can also be found at Bed, Bath and Beyond. Save 10% off 1919 Cookware with code USALOVE.


All-Clad cookware and ovenware, made in Pennsylvania
American Bakeware colorful bakeware dishes, casserole dishes, pizza stones and more
American Kitchen stainless steel, non stick, and cast iron cookware made in Wisconsin
Anchor Hocking glass bakeware, servingware, and drinkware is made in the USA
Bakers Edge brownie pan, lasagna pan and muffin pan are all American made
Baking Steel stainless steel pizza stone and griddle made in Massachusetts.
Calphalon Unison non stick cookware is made in Ohio
Duparquet Copper Cookware is handmade in Rhode Island
Finex cast iron cookware is handcrafted in Portland, Oregon
G&S Metal Products manufactures metal bakeware lines OvenStuff, EZ Baker, Signature, Preferred and more
Lodge cast iron cookware is made in Tennessee
Nordic Ware bakeware has been made in the USA since 1946
Pyrex manufactures glass bakeware in
USA Pans manufactures cookware and bakeware in the USA
Dishware
Drinkware
Silverware
Servingware
Small Appliances
Don't miss our source list of made in USA kitchen appliances and household appliances.
Utensils/Gadgets
Retailers
Vivaterra offers a selection of American made Eco friendly kitchenware products including dishware, and servingware.
Sur La Table has a large selection of made in USA bakeware, dishware, kitchen gadgets, and more.
Joss & Main has a large selection of made in USA items including dishware, wine and champagne glasses and kitchen gadgets.
Love This List?
We know you will absolutely love these lists too!
Made in USA Cookware: Source List for Pots & Pans
Made in USA Kitchenware: The Ultimate Source List
Kitchen Appliances & Household Appliances: A Made in USA Source List
Made in the USA Grills & Grilling Accessories: The Ultimate Source List
Made in USA Area Rugs, Decor Rugs, Floor Mats, Carpeting: An Ultimate Source List
American Made Lighting: The Ultimate Source List

Disclosure: This is a sponsored post which USA Love List is proud to share with you because, sponsored or not, we only share stuff we love.