Has your shaving routine gotten away from you? It's time to get those legs looking sleek ladies! Shaving is no one's favorite task but smooth, bump-free skin is something everyone wants. Have you wondered how to get smooth legs? Using the proper tools and abiding by a few basic shaving tips you can achieve a fabulous shave.
How to Get Smooth Legs
Avoid regular bar soap – it is a moisture thief. If you are in a pinch, hair conditioner is a better fix in lieu of a specialty shaving product.
Exfoliate often. Don't let your razor get dulled by a bunch of dead skin cells. Take a second to exfoliate with a body mitt, brush or scrub.
Use a good moisturizing shaving cream to soften skin and hair while allowing the razor to glide smoothly.
Apply after shave treatments to soothe any irritation and act as a protectant.
Shave with the direction of the hair growth if bumps are a problem. If this does not get it smooth enough you can always go back against the growth once the hairs are super short. There will be less friction and pulling after doing that.
If bumps still persist try a men's razor for your bikini area – they are designed for coarser hair.
Always use a good quality razor, replacing it often to avoid using a dull blade.
Don't miss my tips on how to prevent ingrown hairs.

Following these tips should help you keep the close shave you desire.
Shopping List for American Made Shaving Supplies
OSEA Undaria Body Polish This body polish gently scrubs dead cells away restoring balance for smoother skin.
Creamo Shaving Cream is foam free for a comfortable and smooth shave using all natural ingredients. Yes, it's in the men's shaving section, but I have snagged this from the hubby and it is awesome!
Tend Skin solution for ingrown hairs and razor bumps reduces redness and soothes freshly shaved skin.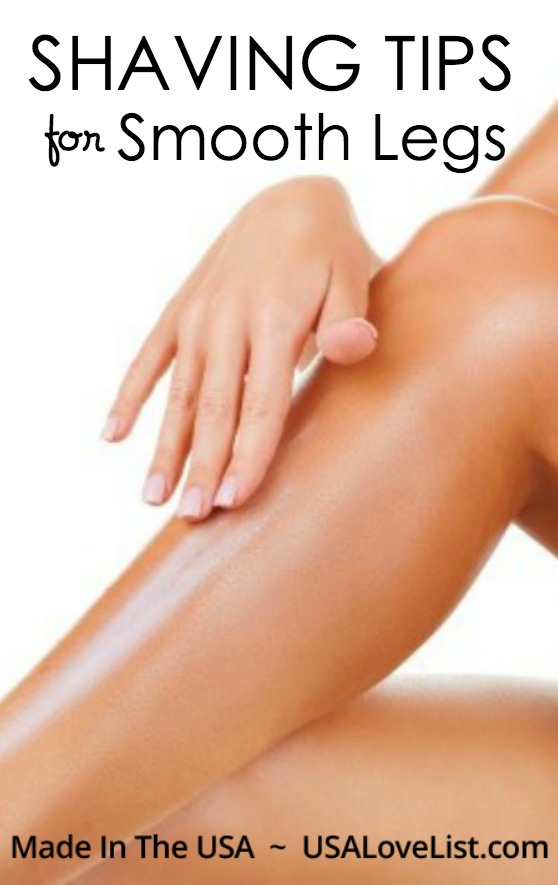 Disclosure: This post is a sponsored post which USA Love List is proud to share with you because, sponsored or not, we only share stuff we love.