A beautiful complexion requires effort on three fronts: proper skin care, excellent nutrition, and quality "beauty sleep". I have some new beauty rest products designed to help you get a handle on one of these critical elements. You'll sleep well knowing they are American made too. Now is the time to build a bedtime routine with beauty in mind.
Beauty Sleep: American Made Products For a Peaceful Bedtime
Morning Glamour Satin Pillow Cases
First up is the tried and true (your grandma told you so) satin pillow cases. Of course Morning Glamour is not dishing out your grandma's pillow case. The fabric is 100% polyester satin charmeuse. Not only does this eliminate frizz causing friction on hair but it assures a gentle place to rest the most delicate skin on our bodies, the face. The cases are beautifully designed with a great pocket closure and vibrant patterns and solids to select from.
I haven't returned to my old pillowcases since slipping this set on my bed. This is not a claim listed by Morning Glamour, but I noted my facial redness was lessened in the morning too. Our regular readers know I am easily hooked on a product that can reduce redness. It is a nagging problem for many and we will take all the beauty sleep help we can get.
Looking for more American made bedding options? We have that covered! Check out the USA Love List Made in USA Bedding Source List.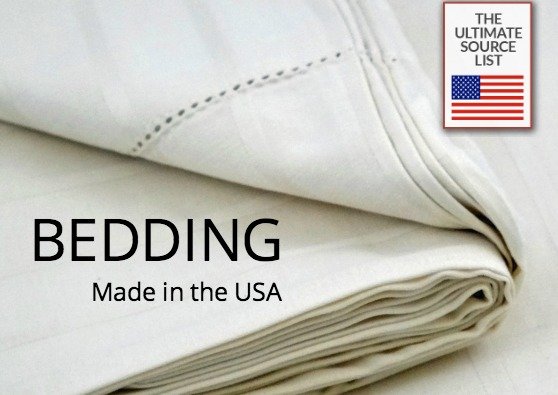 If you are in the market for a new mattress, you won't believe how many American made options there are. This is a great opportunity to buy American. Don't compromise on this one as you'll have your choice of big name brands, new startups, buying in store, shopping online, memory foam, innerspring, and more. Start with our Source List for Mattresses Made in the USA.
Don't forget your pillows. After all, think about how many hours of your life you spend with your face in direct contact with your pillow. Get a good one made under good conditions using materials you can trust. Here is our list of Made in USA Pillows.
Nothing feels (or looks) better than a great night's sleep. Use some or all of these little tokens of bedtime bliss. Do share what worked for you with us!

Pin this list to save it for later!
Disclosure: USA Love List received some products in this post unconditionally for review purposes. Our opinions are always our own, and we aim to write fair and balanced reviews to promote only the very best of American-made products.