If you are on the hunt for made in the USA kid's pajamas, don't get discouraged! Here is our source list for American made PJs. This list includes boys pajamas, girls pajamas, footed pajamas, holiday pajamas and more.
Best Kids Pajamas, All American Made
Is your favorite made in USA children's pajama brand not on our list? Let us know in the comments below and we will add them!
Brian the Pekingese Organic Cotton Children's Pajamas
All Brian the Pekingese children's pajamas and onesies are made in the USA from organic cotton. The fabric is washed prior to cutting and sewing to ensure extra softness and no shrinkage. And chemical flame retardants are never used in any of their products.
Brian the Pekinese even offers a book which will be a favorite bed time story! In this heartwarming story, Brian the Pekingese learns to share and make new friends. The hardcover book, which is printed in the USA, is sold separately or can be paired with a set of pajamas as a gift set. If you want to send Brian the Pekingese products as a gift, you can have your pajamas gift wrapped and include a personalized gift note card when you order on their web site.
Brian the Pekingese was created with sustainability in mind. They chose to use organic cotton to reduce agricultural pesticide use. But the company wanted to do more. So they created Brian the Pekingese Cares. With this unique program, when your child outgrows their PJ's and you can't hand them down, you can hand them back – to Brian the Pekingese. They'll take back the garment postage-paid, and make sure the cotton fabric gets recycled or reused, thus diverting it from the landfill.
The Brain the Pekingese organic cotton infant onesies come in sizes newborn to 12 months. Their boys and girls short sleeve/shorts pajamas and their long sleeve sets range in sizes from18 months to 10 youth. You can find Brian the Pekingese pajamas online and at specialty boutiques across the nation.
Get 20% off your Brian the Pekingese pajama order and free shipping with code USALOVE No expiration date.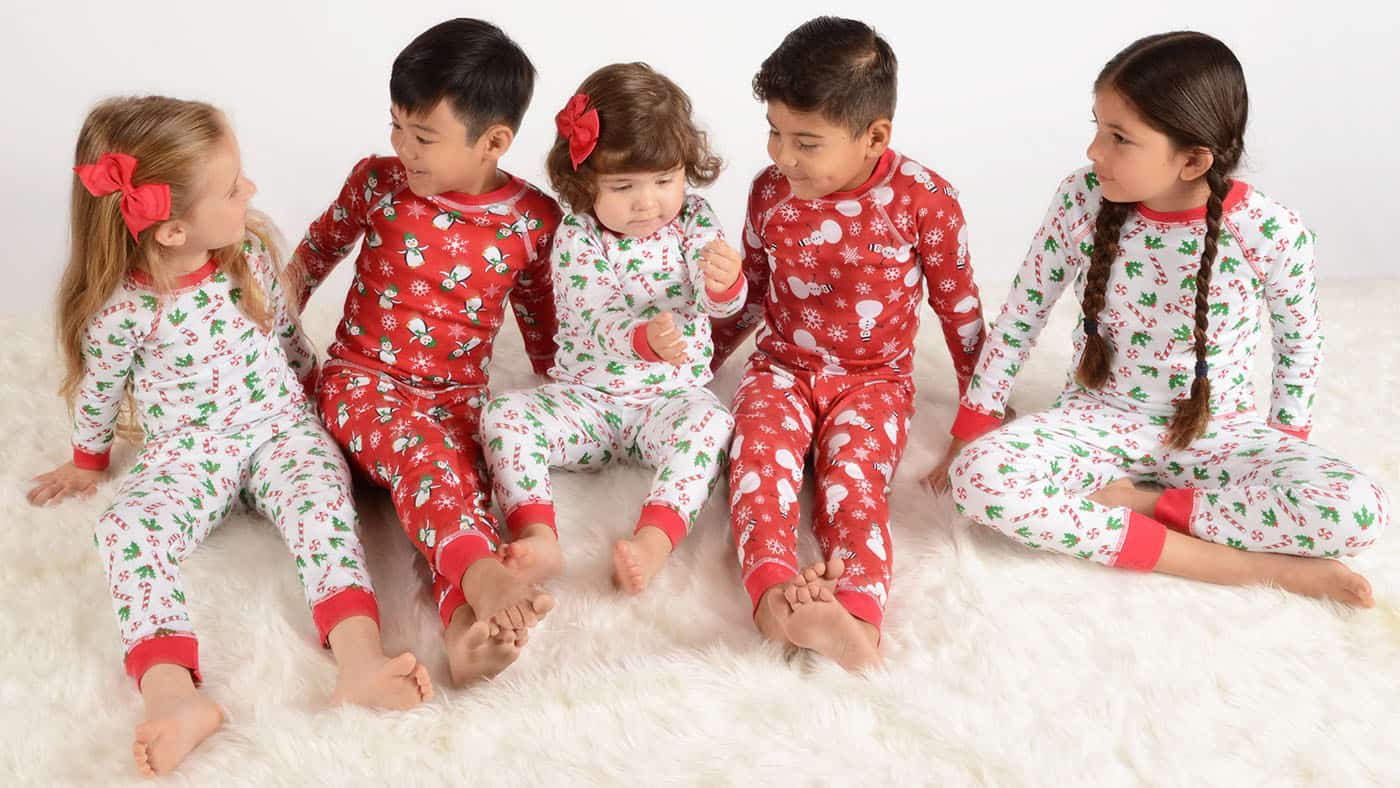 Don't forget to check out the USA Love List's list of American made pj's for adults.
CastleWare Baby: Made in USA Footsie Pajamas and Sleeper Sacks
CastleWare Baby footsies, sleeper bags, and pajama sets are manufactured in Los Angeles, California from the finest fabrics. All Castleware Baby clothing items are made in the USA from start to finish. The cotton is grown without harmful pesticides or chemical fertilizers. Only low impact, fiber reactive dyes are used.
CastleWare Baby pajamas are safe for babies and children to sleep in. Castleware Baby offers a full line of timeless, Eco-friendly sleepwear for babies and kids, up to size 6. Castleware Baby clothing items were designed and created with functionality and durability in mind. Eliminate the need for loose crib blankets, and keep little one safe with the popular Sleeper Bag/ Wearable Blanket. Footsies are the favorite PJ style for the toddlers, and for lighter wear, the two-piece (Tee and Leggings) Pajama Set will keep baby and kids cozy.
Save 10% off CastleWare Baby with discount code USALOVE. No restrictions, no expiration.
Have you visited our Made in USA Shopping District? It is the place to start your shopping when you want to find the best of American-made.
Disclosure: This is a sponsored post which USA Love List is proud to share with you because sponsored or not, we only share stuff we love.