Are you a hiker or backpacker or know someone who is? If so, than this source list of made in USA hiking gear and backpacking gear is one that you can not miss!
Our favorite activity to do as a family is hiking. We are constantly on the hunt for made in the USA hiking gear and have been surprised to come across a vast selection of items during our search. Most of the items on this list are for day hikes. We are working our way up to multi-day backpacking adventures, so this list will be growing as we increase our personal gear stash. Check back often for updates!
Made in USA Hiking Gear & Backpacking Gear
SOM Footwear Minimalist Sneakers
SOM Footwear minimalist sneakers are made to fit around the foot. The wide toe box of all SOM Footwear minimalist sneakers, does not constrict the toes and allows the foot to move as it should. Many of SOM Footwear's minimalist hiking customers appreciate these sneakers for that specific reason.
If you are looking for a shoe that treats your feet right when you are hiking or trial running, the Trailhead has you covered! The Trailhead is SOM Footwear's most technical, sports-driven shoe, using the abrasion-resistant SuperFabric® while keeping out the mud, rain and other elements Mother Nature can throw at you.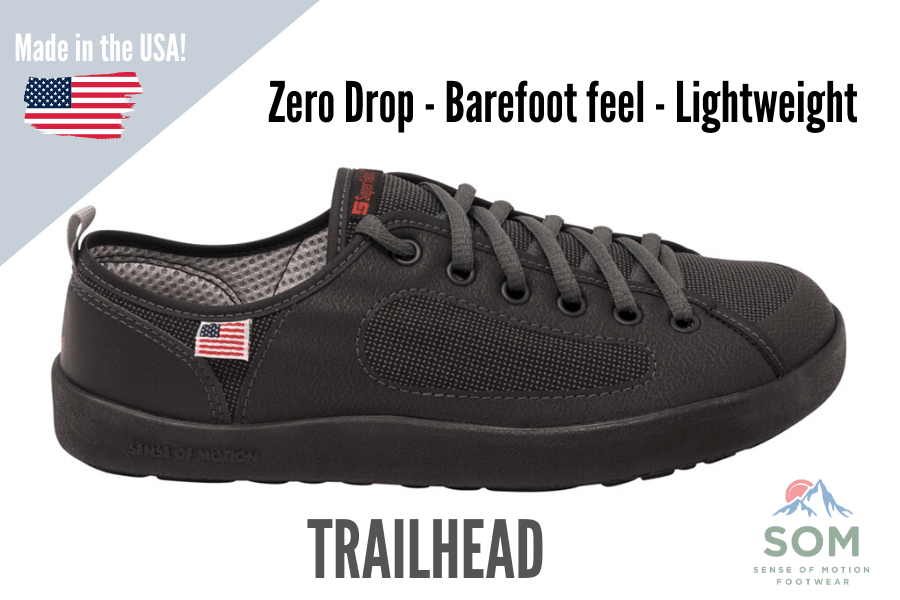 Made in USA Hiking Gear & Backpacking Gear: The Ultimate Source List
This list is constantly being updated. If you have a favorite hiking or backpacking item or know of a company that you don't see on this list, let us know in the comment section below.
Made in USA Hiking Gear: Clothing and Footwear
Don't miss our source lists for American made socks, made in the USA men's boots, made in the USA sneakers and athletic shoes, made in USA leggings, and clothing for women.
Darn Tough Hike/Treck socks, made in Vermont

Experia socks by Thorlos are light, no friction socks
Farm to Feet lightweight and medium weight socks for men, women, and kids are 100% made in the USA. My favorite pairs of hiking socks are Farm to Feet.
Johnson Woolen Mills flannel shirts, made in Vermont
Lily Trotters fashion forward compression socks are made with cushioned heels, reinforced toes, moisture-wicking and antimicrobial nylon. Save 25% off on your Lily Trotters purchase with code USALOVE.

PolarMax base layer clothing for men and women
PrAna outdoor active clothing for men and women, some are made in USA- read labels
Smart Socks merino wool hiking socks and Coolmax socks are made in North Carolina
SmartWool athletic performance merino wool socks are made in America
SockWell therapeutic performance compression socks for men and women are crafted in the USA
SOM Footwear minimalist hiking sneakers are made to shape the feet, not restrict them. Learn more about SOM Footwear at the top of this article.

Wigwam athletic hiking socks are available in men, women, and kids sizes.
Made in USA Hiking Gear: Accessories
Made in USA Hiking Gear: Food and Drink
Don't miss our list of the best jerky made in the USA
Made in USA Hiking Gear: Backpack Necessities
Retailers That Make it Easy to Find American Made
Disclosure: This is a sponsored post which USA Love List is proud to share with you because, sponsored or not, we only share stuff we love.