For many of us, with summer comes at least one family road trip. We have a couple of road trips penciled in our calendar for this summer, and with kids who are too excited to sleep in the car, I have had to come up with ways to keep them busy (and keep the peace!) for long stretches of time.
Road Trip with Kids: 5 Tips To Help Keep the Sanity
1. My kiddos like to draw, color, and write, so they need a stable surface to make this possible in the car. The Dexas Slimcase works perfectly for this. I make sure each child has their Slimcase filled with activities to keep them entertained. My son (age 8) loves word and number puzzles, so I print some for him from websites like puzzlechoice.com. Both my kids LOVE to color so I print some coloring pages for them as well and Delightful Mandala is our favorite site. Don't forget to add some road trip bingo pages and other traditional family car games- Momsminivan.com has them all ready to be printed out.
2. The digital world vanishes when we reach our destination, but screen time is allowed during the journey as a reward for good travel behavior. For every half hour they make it with no fighting, no complaining, and maintaining an overall positive attitude, they earn 10 minutes of screen time on the iPad or Kindle. This does not include reading time (we have actual books for this). Screen time is for games. The made in USA Bamboosa Lap Log is very handy in keeping the Kindle (and any flat-screened device for that matter) in a comfortable viewing position.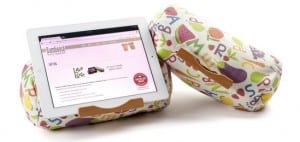 3. Craft projects are a fun way to keep kids of all ages happily occupied. American made Wikki Stix are perfect for car crafting! There is no glue needed, no scissors needed, and NO MESS made with Wikki Stix creating. Wikki Stix are reusable and fun for toddlers AND teens.

4. To stop my kids from asking me for a snack or a drink every 10 minutes, I make sure they have water and healthy snacks on hand. The Polar Bottle insulated water bottle works well for road trips. It keeps water cold, and the mouth is wide enough to add ice if preferred. I like using reusable bottles when traveling to reduce the space in the car that would be taken up by bottled water. For snacks, I individually package single-serving snacks like baby carrots, celery, crackers, granola bars, trail mix, and popcorn, and I keep them in easy reach. To make things even more simplified (and because my kids are ALWAYS ASKING FOR A SNACK), we have "snack time" at 30-minute intervals.

5. Don't forget the sweet indulgences for yourself! Just because the kids are riding sugar-free, doesn't mean you have to too! A chocolate or strawberry flavored Goetze's Caramel Cream (gently warmed on the dashboard) will give you just the perfect amount of caramel goodness to get you to the next rest stop. The only challenge is trying to get that wrapper off without the kids noticing!
Disclosure: This post is sponsored which USA Love List is proud to share with you because, sponsored or not, we only share stuff we love.
Follow USA Love List's board American Road Trip on Pinterest.