It is so tempting to try the many new green products out there, and I have, but I always find myself going back to the basics. Here are the original green cleaners: classics, basics, all time-tested and trusted, made in the USA for over 100 years.
When walking down the cleaning product aisle (or more likely AISLES) of your local department or grocery store, take a look at the products. From bathroom cleaners to kitchen disinfectants, to laundry detergents, it seems like every manufacturer of household products has come out with an eco-friendly line of green cleaners.
But when I open the cupboard under my kitchen sink, I probably see the same made in America cleaning supplies my great-grandmother used: Arm & Hammer Baking Soda, 20 Mule Team Borax, Heinz Vinegar, and Murphy Oil Soap. These made in the USA products have been around for 100 years and have truly stood the test of time.
Don't miss our ultimate source list of the oldest American made products!
Made in the USA Over 100 Years: The Original Green Cleaners
Do you have any favorite "Old School", Eco-friendly cleaning products or tips? Share with us.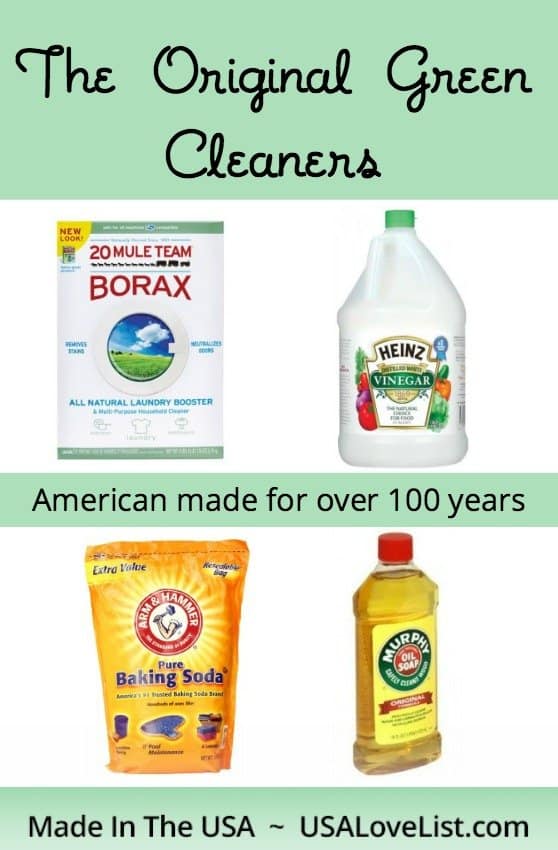 Follow USA Love List's board Cleaning | Organizing on Pinterest.