What could be cooler than slime to my soon to be 6 year old son? Well, GLOW IN THE DARK slime that contains all MADE IN THE USA ingredients of course! Making glow in the dark slime is a great project to do with a group of kids- especially as a Halloween party activity.
Halloween – Prime Time for Slime Time
To make glow in the dark Halloween slime you will need the following ingredients:
Borax
Borax is a naturally occurring mineral found in the Mojave Desert, California.  It is labeled as laundry booster, and can be found in the powdered laundry product section, or the stain remover section of the supermarket.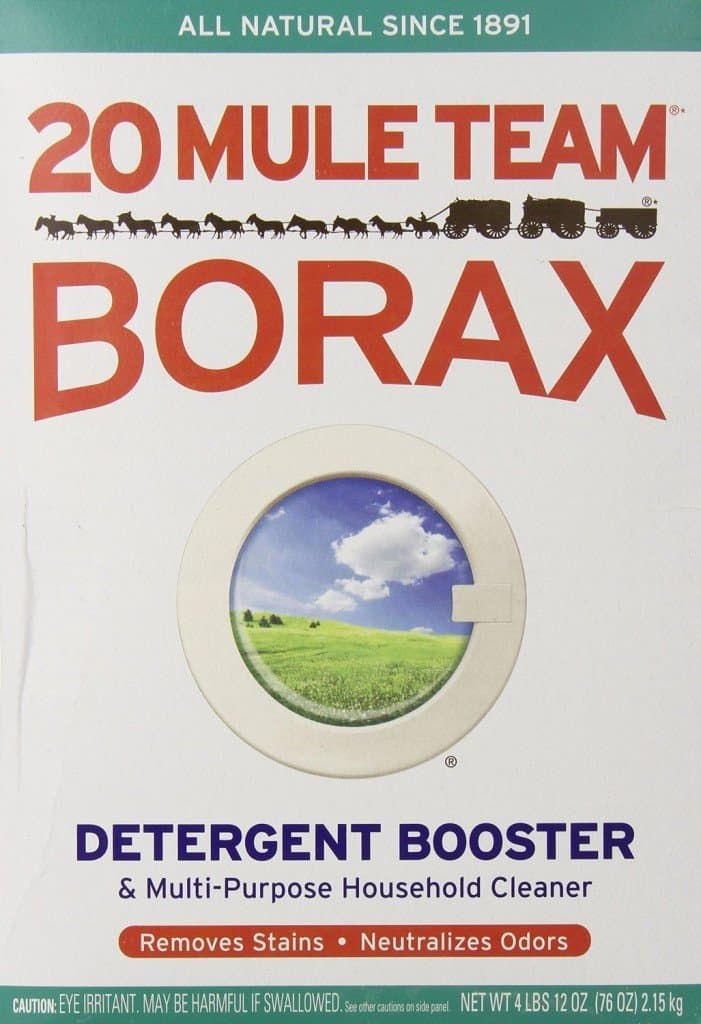 Elmer's School Glue
Founded in 1947, Elmer's is head quartered in Columbus, Ohio. Make sure you use their white School Glue, Elmer's clear and glitter glue is made in China. To save on waste, if making a large amount, purchase the largest container possible.

Plaid glow in the dark paint
Plaid acrylic paints are certified non-toxic and are made at Plaid's manufacturing facility located outside of Atlanta, Georgia.

Tap water
Storage bags/containers
When making slime as a Halloween party activity, made in the USA Target brand snack bags are the perfect size for each kiddo to take some home
Warning: This glow in the dark Halloween slime is very messy to make! Which (obviously!) is why kiddos LOVE to make it!  My kiddos each made their own batch, and it made quite a bit of slime!
Directions:
 In a small bowl or mug, mix one cup of tap water with 1 teaspoon of Borax. Stir until dissolved. Set aside.
In another larger bowl, mix 4 oz (one whole small bottle) of Elmer's School Glue with 1/2 cup of tap water. Stir until well blended.
Add a couple of drops of Plaid Folk Art Glow paint to the glue/water mix. The color will not be dark- if you want more vibrant color, you can also add food coloring- some Betty Crocker varieties are made in the USA, according to my sources.
Slowly add the Borax mixture to the glue mixture and stir with hands. This is the fun part!! The slime will harden as mixed. Some of the "water" can be dumped out if need be- we did not even add the whole amount.
Store glow in the dark Halloween slime in air tight containers or tightly sealed storage bags. It should last for a few days.
Note: This project is recommended for kiddos ages 7 and up. Kids younger need to be closely supervised.  Though all ingredients are safe (we have never had an issue), Borax can be a skin irritant, and hands should stay away from eyes and mouth. If food coloring is added it could stain hands when mixing.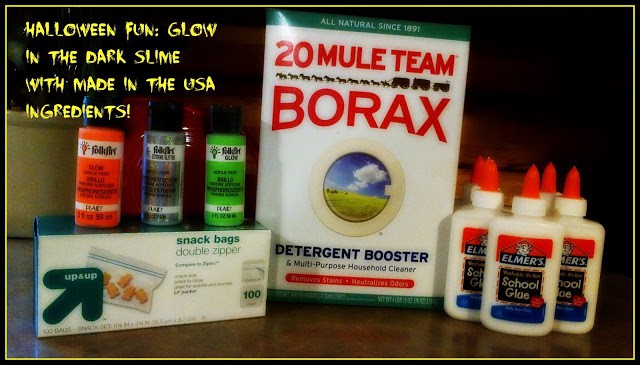 For more fun Halloween activities and projects, check out our Halloween Pinterest board:
Follow USA Love List's board Halloween on Pinterest.
---
More Made in USA Halloween Ideas
Four American Made Halloween Decor and Party Must Haves
American Made Candy & Treats for Your Goblins & Monsters
Halloween Sugar Cookies Made with Love and American Made Supplies
Six Tips for an Eco Friendly Halloween
Five Tradition Worthy Halloween Activities for Families
---