I recently overhauled my entire collection of beauty and personal care products. In the past, I used Secret or Degree as my antiperspirant, and would use Kiss My Face deodorant, if I knew I wasn't going to be doing any serious sweating. I had never considered that there were better alternatives. After using the Think Dirty app to find out how "dirty" my deodorants were, I knew I had to make a switch. That's when I started to look into more natural deodorant options. (Also check out our list of safe sunscreen brands you can trust.)
My previous antiperspirant had aluminum zirconium tetracholorohydrox and talc. These ingredients are linked to organ toxicity and is a possible ovarian cancer carcinogen, respectively. I decided to try deodorants with non-toxic, natural ingredients and I'll never go back to commercial brands again.
I sweat, like, a lot, so I was curious to know how well these options would work. Let me tell you that they really work in terms of keeping me smelling good, and minimizing sweat during daily activity. Since deodorants aren't made to stop you from sweating, you'll still sweat, but not too much. For me, the change in how much I sweat wasn't any different than what I saw while I was using an antiperspirant. In fact, I think these natural deodorants work better than the Secret and Degree that I was used to using, so the switch to one of the best natural deodorant options was an obvious one.
All of these deodorant options work better than any antiperspirants or other deodorants I have tried before. Know that you will sweat some, but you won't smell! Furthermore, I haven't found any of these options to stain my clothes, even when I'm wearing black.
Best Natural Deodorant Brands: Made in the USA
Did we miss your favorite made in USA natural deodorant brand? Let us know in the comments below!
ZAK Detox Deodorant is a natural deodorant that actually works, and that is made of 100% natural and healthy ingredients. That means absolutely no harmful chemicals. All its deodorants are made with 100% plant and earth sourced formula, are cruelty-free, and professionally handmade in small batches in the company's Denver, Colorado facility.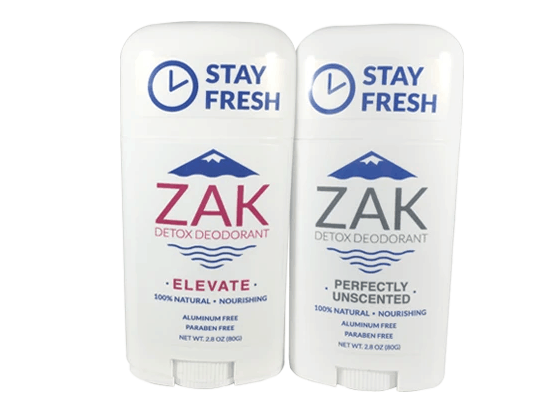 The Zak Deodorant Original is made from coconut oil, baking soda, and beeswax base, so it hydrates and protects your skin. This deodorant is made with coconut oil, baking soda, arrowroot powder, beeswax, bentonite clay, kaolin clay, shea butter, cetyl alcohol, stearic acid, organic aloe vera, organic essential oils (they vary based on the scent) acai oil, chamomile flower extract, cucumber fruit extract, parsley extract, and natural Vitamin E. This option is long lasting and great for those who sweat a lot. Take 20% off your Zak Deodorant purchase now with code USALOVE.
---
---
Love this list? Check out these:
10 Non-toxic Sunscreens We Love
American Made Natural Toothpaste Brands: Six Top Picks
Trash Your "Dirty" Beauty Supplies: Clean, Natural Beauty Products We Love
Teen Beauty Tips – Choose Natural, American Made Beauty Products
Best Natural Face Wash: Non-Toxic Facial Cleansers For All Skin Types. Will you try one?
A DIY All Natural Pedicure – 3 Easy Pedicure Steps with Made in USA Products
Nine Natural Remedies for Summer Ailments
Eye Makeup Tricks with American Made Natural Makeup You Can Trust
Natural Skin Care Routine for Oily Skin