I recently overhauled my entire collection of beauty and personal care products. In the past, I used Secret or Degree as my anti-perspirant, and would use Kiss My Face deodorant, if I knew I wasn't going to be doing any serious sweating.  I had never considered that there were better alternatives. After using the Think Dirty app to find out how "dirty" my deodorants were, I knew I had to make a switch. That's when I started to look into more natural deodorant options.
We sweat because our bodies are pushing out toxins. Since commercial deodorants have toxic ingredients, you might notice that your deodorant doesn't keep you from sweating or smelling. My previous anti-perspirant had aluminum zirconium tetracholorohydrex and talc. These ingredients are linked to organ toxicity and is a possible ovarian cancer carcinogen, respectively. I decided to try deodorants with non-toxic, natural ingredients and I'll never go back to commercial brands again.
I sweat, like, a lot, so I was curious to know how well these options would work. Let me tell you that they really work in terms of keeping me smelling good, and minimizing sweat during daily activity. Since deodorants aren't made to stop you from sweating, you'll still sweat, but not too much. For me, the change in how much I sweat wasn't any different than what I saw while I was using an anti-perspirant. In fact, I think these natural deodorants work better than the Secret and Degree that I was used to using, so the switch to one of the best natural deodorant options was an obvious one.
All of these deodorant options work better than any anti-perspirant or other deodorants I have tried before. Know that you will sweat some, but you won't smell! Furthermore, I haven't found any of these options to stain my clothes, even when I'm wearing black. 
Best Natural Deodorant Brands: Made in the USA
ZAK Body Deodorant
is natural deodorant that actually works, and that is made of 100% natural and healthy ingredients. That means absolutely no harmful chemicals. All its deodorants are made with 100% plant and earth sourced formula, are cruelty free, and professionally handmade in small batches in the company's Denver, Colorado facility.
ZAK Body Deodorant offers three great options depending on our preferences and needs. Get 20% off with code USALOVE.
The Zak Body Deodorant Original deodorant a coconut oil, baking soda, and beeswax base, so it hydrates and protects your skin. This deodorant is made with coconut oil, baking soda, arrowroot powder, beeswax, bentonite clay, kaolin clay, shea butter, cetyl alcohol, stearic acid, organic aloe vera, organic essential oils (they vary based on the scent) acai oil, chamomile flower extract, cucumber fruit extract, parsley extract, and natural Vitamin E. This option is long lasting and great for those who sweat a lot.
Here are other options for non-toxic natural deodorants we love, all made in the USA.
Aluminum and Baking Soda Free Deodorant for Teens
Good for You Girls Aluminum Free Deodorant

is formulated with tweens and teens in mind. Its quick drying roll-on keeps you fresh without aluminum or any other harmful chemicals. It won't burn even clean shaven underarms because it does not contain any alcohol. It contains beneficial botanicals that are soothing and gentle to the skin including aloe, witch hazel, and organic essential oils and extracts. Vegan, petrochemical, baking soda, and gluten-free, you can trust Good for You Girls American made deodorant. 
Spray Deodorant
Organic Natural Deodorant
bubble & bee Organic Super Pit Putty,
a certified organic deodorant made with arrowroot powder, coconut oil, baking soda, and essential oils. I found myself staying dry throughout the day while using bumble & bee. I would start sweating during exercise, when I was taking a walk outdoors. I love that you can really smell the scent throughout the day. If you like citrus, cloves, and patchouli, you'll love the Lemon & Clove & Patchouli scent. bumble & bee is
made in Utah
Organic Cream Deodorant
Chagrin Valley Soap Coconut Cream Mint Mist Deodorant
goes on the smoothly of any I tried and it is great for sensitive skin too. Some natural deodorants irritate my skin, but this one never has. It absorbs quickly and last all day. Silky organic cornstarch soothes skin and absorbs perspiration, while baking soda raises the pH making the underarm less friendly to odor causing bacteria. The coconut mint scent is delicate, yet refreshing too.
Organic and Baking-Soda Free Natural Deodorant
Paleo Friendly Option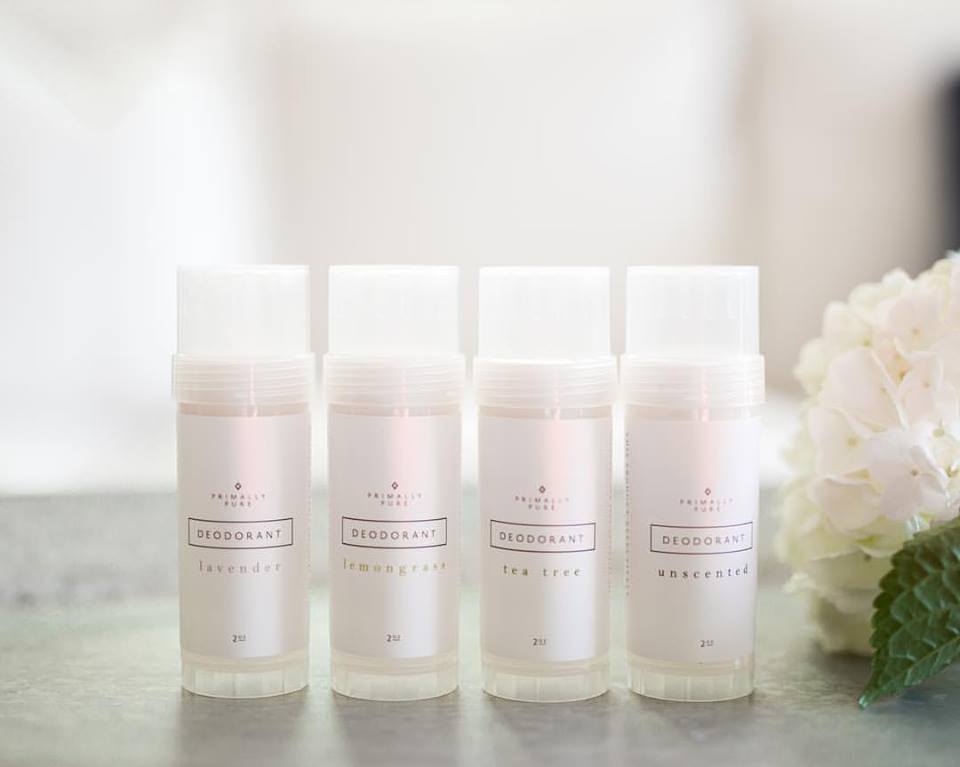 Primally Pure Deodorant
is part of a skincare line made by a grass-fed, little farm operation in Temecula, California. I used the lavender scented one; it smells amazing and works well. I always love the smell of lavender, and this deodorant is exceptionally lovely smelling. This stuff really keeps you dry too. Supporting Primally Pure, means you're supporting Primally Pasture's business. The deodorant's ingredients include organic tallow from the farm's grass-fed cows, along with organic extra virgin coconut oil, organic arrowroot powder, aluminum-free baking soda, organic beeswax, and organic essential oils. 
Vegan Deodorant Options
I was pleasantly surprised at how much I loved 
Green Tidings All Natural Deodorant
. It works really well – I don't smell myself during the day, even after taking an intense 50 minute cycling class. It also keeps my skin hydrated without irritation. It is made with organic coconut oil, organic shea butter, organic lavender essential oil, candelilla wax, baking soda, tapioca starch, and magnesium oil. It is non-toxic, organic, vegan, gluten-free, corn free and soy-free, paraben-free, SLS-free, aluminum-free and is  certified cruelty-free by Leaping Bunny. I love lavender scent because it's not overpowering, but is noticeable when you move your arms. Of the baking soda based deodorants, it also goes on the smoothest for me.  Green Tidings tubes are made in the USA, BPA-free and also recyclable.  They are manufactured in the company's solar-powered facility in Southern California.
Zum Lab Solid Body Deodorant
Made from shea butter, fractionated coconut oil, arrowroot powder, baking soda, salt, beeswax, vitamin E and a blend of pure essential oils, this deodorant goes on smooth, clear, and it smells citrusy, with tea tree undertones. The brand has a great sense of humor too.
As they say, "say no-no to BO"
. All of Zum Lab's products are
made in Kansas
City,
Missouri
.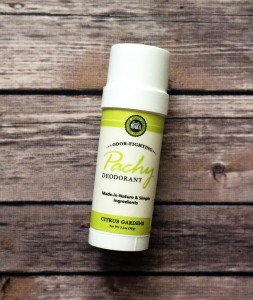 Rustic MAKA deodorants
come in eight different varieties, including a baking soda-free option. The deodorant is made from organic arrowroot, organic shea butter, organic coconut oil,  baking soda, organic candelilla wax, and essential oils. Rustic MAKA is a proud, cruelty-free certified company. 

You've probably seen that
beauty
products with charcoal are all the rage. Schmidt's created a charcoal deodorant which aids to absorb toxins and moisture as soon as you start sweating. 
Schmidt's Charcoal + Magnesium Deodorant Stick
is made of arrowroot powder, coconut oil, candelilla wax, shea butter, baking soda, fractionated coconut oil, jojoba seed oil, magnesium hydroxide, activated charcoal, natural fragrance and sunflower-derived vitamin E. It's made in Portland,
Oregon
and vegan and gluten-free. 
 Vegan and Baking Soda Free Option
Disclosure: This post is a sponsored post which USA Love List is proud to share with you because, sponsored or not, we only share stuff we love.