Whether you are hosting your own Fourth of July cookout this year or attending a friend's, make sure these American-made Fourth of July cookout necessities are on your shopping list. You won't regret it, as you will be sure to use them all summer long!
American Made Fourth of July Cookout Necessities
Switch things up this year and add homemade grilled pizza to your Fourth of July cookout menu! Turn your own kettle grill into an outdoor wood-fired pizza oven with the KettlePizza Pizza Oven Kit. The KettlePizza Oven Kit is manufactured in Massachusetts and contains wooden handles, steel, aluminum, and stone all sourced from the USA. You will be sure to impress everyone this Fourth of July with your gourmet pizza cooking skills (as well as be able to enjoy wood-fired pizza yourself, all summer long)!
Don't miss our source list for American made grills and grilling accessories.
Sweeten your Fourth of July festivities with American-made candy. Need BBQ dessert inspiration? Chop up some caramel vanilla Mini Cow Tales and add them to your favorite brownie recipe. Chopped Mini Cow Tales also make a fabulous ice cream topping!
For more American made candy options check out our Candy Made in the USA: Ultimate Source Guide.
Bring a dish! The Architec Eco Smart Polyflax serving bowl is perfect for cookout salads of all varieties! The Polyflax serving bowl is made in the USA from recycled plastic and flax husk. Flax husk? Flaxseed has risen in popularity over the years as a dietary supplement. The Flax husk is a by-product of flax seed farming that is usually thrown away. Well, now it is recycled into serving bowls!
Outdoor games are an important Fourth of July cookout necessity! The challenge is finding a game that everyone can play together. Murbles is fun for all ages (toddlers to great-grandmas)!
The Mambe outdoor waterproof blanket is perfect to lounge on with friends at a cookout and to watch fireworks with the family. The Mambe blanket is sure to be used all summer long for picnics in the park, and days at the beach.
Don't miss our source list of American made blankets.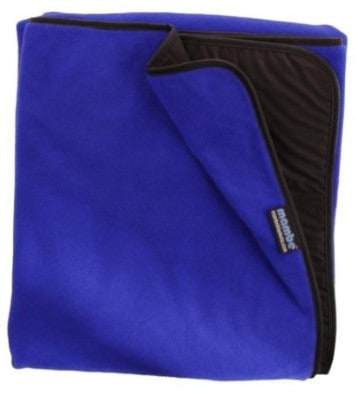 Don't forget to protect yourself and your loved ones from the sun and biting bugs this Fourth of July! Badger products are made in New Hampshire. Badger's Broad Spectrum Sunscreen is a natural mineral ingredient sunscreen that is safe for the body, and the environment as well- it's biodegradable, so it's safe for marine life! Badger's Anti-Bug Shake & Spray is a DEET-free, USDA-certified organic, natural ingredient bug repellant that is safe for everyone in the family to use.
Disclosure: This is a sponsored post that USA Love List is proud to share with you because, sponsored or not, we only share stuff we love.