Check out the best American made tires for your car. These tires are made by American companies in manufacturing plants located throughout the United States.
Quality Tires Made in the USA
I remember well our first argument. It was about tires.
I had been married less than six months when we needed to replace the tires on my 1986 Buick Regal T-Type. If you're old enough to remember this car, you know right away where this story is headed.
If you're not old enough, let me digress. This car, along with the Buick Grand National, was the fastest car to roll off the assembly line at that time. As in faster than Camaro or Corvette when running from 0-60 mph. And a car like this called for very special tires.
Back to my story: while the spouse perused the newspaper for the best bargain, I called the local Goodyear tire shop. Only one style would do: Goodyear Eagle sports tires with white raised letters. The best of the best. They were very expensive, especially for living on a shoestring budget. I understood (sort of) the spouse's desire for finding less expensive options.
To which I understandably countered, "I might as well get a paintbrush and paint 'generic' on the side of the tire."
That car, along with its tires, is long in the past as I traded it in for a sensible car, then a family van, SUV, and now back to a sedan. And even though I gave up my muscle car and its Goodyear white raised letters, I've not given up buying American-made tires. It's just the right thing to do when I want to protect my investment.
Whatever your driving preferences are, whether you're looking for high-performance tires for sports cars, off-road tires for your four-wheel-drive, truck tires, or one of the other vehicle styles I mentioned, consider first and foremost USA tires. As in made in North America, specifically the United States.
Check out this article! Load Your Car with Auto Accessories Made in the USA
Why Buy Tires Made in the USA?
Tires do so much more than hold your car and roll it down the road. They also impact your safety, fuel economy, ride, and drive. Because they're so important to your car's durability and family's safety while riding, American-made tires provide a holistic approach to caring for your vehicle.
Here are several reasons for buying American tires:
American manufacturers don't take production shortcuts. In other words, these companies use the best rubber, steel, and other materials to make their tires. They source as much as possible its two primary components domestically.
In addition to production, the tires are made using the latest design and engineering technology. That means you'll get excellent road performance and long-wearing tread.
Many made-in-the-USA tire companies strive to be environmentally friendly. They continue to look for ways of reducing their carbon footprint. They use sustainable resources while remaining uncompromising in their quality.
They provide world-class customer service and a high standard of excellence. If you have questions about your tires, or if you need help in choosing the best tires, the companies we recommend have well-trained staff to answer your questions.
Additionally, these customer service staffs are ready to help you with any warranty questions and claims. American tire companies often go above and beyond in helping you with tire issues such as defects or recalls.
Finally, buying American-made tires from American companies is a great way to support the domestic economy. By doing so, you're supporting American jobs, and our American dollars stay right here.
How to Find Tires Made in the USA
Because American tire companies manufacture tires throughout the world, the Department of Transportation helps you know whether or not the tires you buy are actually manufactured on domestic soil. When you review the DOT code on the side of your tire, you'll find the first two letters (or 1 number & 2 letters) after "DOT" reflect the manufacturing location of the tire. If you're unsure about how to interpret the code, your professional mechanic can help.
We've listed the codes under each company's name in this list for you to review when you buy tires.
Tire Brands Not American-Owned
Some very well-known tire brands are not owned by American corporations. They might make tires on American soil, but aside from the hard-working American citizens they employ in their manufacturing facilities, their profit returns back to their respective companies.
These foreign companies and their home countries include:
Bridgestone — Japan
Firestone (owned by Bridgestone) — Japan
Michelin Tires — French company
BF Goodrich (owned by Michelin) — France
Continental AG — Germany
General Tire (owned by Continental AG) — Germany
Pirelli Tires — China
Yokohama — Japan
Hoosier Racing Tire—(owned by Continental) — Germany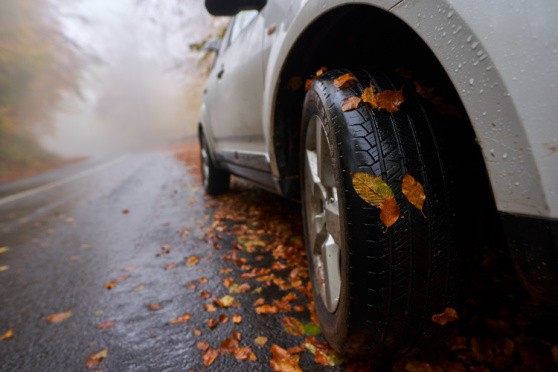 How to Care for Your Tires
Tires require maintenance and a sharp eye for wear or other defects, just like any other part of your car requires.
The National Highway Traffic Safety Administration (NHTSA), a federal agency within the U.S. Department of Transportation, enforces requirements and safety for cars, including tires. This includes tire durability, strength, and resistance to punctures as well as labeling and information.
The NHTSA also maintains a database of consumer reports related to tires and sometimes investigates defects and/or recalls.
Finally, the agency provides consumer education about safety, tire maintenance, and care, along with the importance of checking tire pressure and tread depth.
You can check online with the NHTSA for ways to care for your tires, as well as requirements for tire safety.
Don't miss these popular Made in USA lists!

Pin this list to save it for later!