If you know someone who is expecting, or if you just received a baby shower invite, then this list is for you! In this guide you will find safe, fun, American-made gifts for babies (and moms too!).
Best Baby Gifts Made in USA
If you are looking for a baby gift that will be treasured through generations then Beehive Handmade is sure to have what you are looking for. All Beehive Handmade heirloom quality baby gifts are handcrafted in Rhode Island from lead-free pewter. Beehive Handmade picture frames, tooth boxes, feeding spoons, baby cups, and baby's first ornaments all contain images inspired by vintage children's books.
Take 10% off Beehive Handmade order with discount code USALOVE. No expiration.
Photo Credit: lizandroo.com
Liz and Roo high-quality baby bedding for boys and girls is sewn by hand in Kentucky.  Buy a set or just a few pieces. The crib rail cover is a beautiful bedding choice that protects the crib from teething while adding to the baby's room decor.
Use promo code USALOVE to save 15% on your Liz and Roo purchase.
Photo Credit: castleware.com
CastleWare Baby organic cotton pajamas for baby to age 6 were created with functionality and durability in mind. These cozy pajamas are available in footed sleeper, 2 piece set, or romper style. They are available in fleece, velour or cotton knit. CastleWear Baby products are made in the USA from design to finish in Los Angeles from organic cotton materials.
Save 10% on your entire order with code USALOVE. No restrictions, no expiration.
Photo Credit: nuangel.com
This sweet angel is the perfect gift to welcome any new angel to Earth. The Angel consists of one baby bib, one large contoured burp pad (patented), and one 30" x 30" receiving blanket, all made of the same extra soft 100% cotton flannel as NuAngel's other baby products.
Take 15% off your NuAngel's purchase with discount code USALOVE. One time use only, no expiration date.
Ruby-Blue Bunny™ organic botanical personal care products are richly formulated with high-quality botanicals for baby and children. Unlike any other skin care brand, Ruby-Blue Bunny uses over 18 active beneficial ingredients with a proprietary aloe base to create a truly healthy and nourishing skin care experience for your family.  All Ruby-Blue Bunny products are tested by an independent FDA, EPA approved lab and are proudly certified free of endocrine disruptors (natural and synthetic) and harsh chemical ingredients based on an extensive 'NO LIST" – the most complete list of chemical irritants, carcinogens, hormone disruptors, common food protein allergens, and environmental contaminants, such as heavy metals and pesticides.
Take 15% off all orders at RubyBlueBunny.com with discount code USALOVE. No expiration date.
Two Crows for Joy is an online retailer of organic baby clothes and baby items- all made in the USA. That's right, EVERYTHING available at Two Crows for Joy is made by an American worker. Two Crows for Joy has a wide selection of baby gifts artfully-designed with a focus on sustainability; organic baby clothes (including the Two Crows for Joy's own line, Adooka Organics, made in Philadelphia), organic crib mattresses made in OH, wooden blocks made in MI, baby carriers made in MI,  Nursing pillows, cloth diapers, room decor, and more! Two Crows for Joy offers gift packaging for a beautiful presentation personalized with a hand-written note. If you are expecting a new bundle of joy, there is also a gift registry available.
Photo Credit: shopmilimili.com
Milimili uses a breathable, silky-soft, and hypoallergenic bamboo fabric to make its wearable sleep blankets, bassinet sheets, and crib sheets. This high-quality nursery and baby sleepwear are made in Los Angeles, California with the utmost attention to detail. They come in fun and chic patterns and are ultra-soft and silky.
Photo Credit: www.greentoys.com
Green Toys products are manufactured in the USA from 100% recycled material. All items are safe and non-toxic, are BPA free, and are dishwasher safe. The Green Toys Baby Toy Starter Set includes 3 of Green Toys best seller baby toys- First Keys, Stacking Cups, and Push & Pull Elephant.
Shop the Green Toys Amazon store.
Photo Credit: earthmamaorganics.com
Earth Mama organic skincare products for babies (and mama too!) are made from only natural ingredients that are organic whenever possible. The A Little Something for Mama-To-Be makes a great baby gift.  This five-piece set includes travel size ginger fresh deodorant, morning wellness castle body wash, belly butter, belly oil, and orange ginger lip balm. The brand's balms and lotions are the most luxurious and supple creams I've ever used. I highly recommend these non-toxic baby products for mom and baby.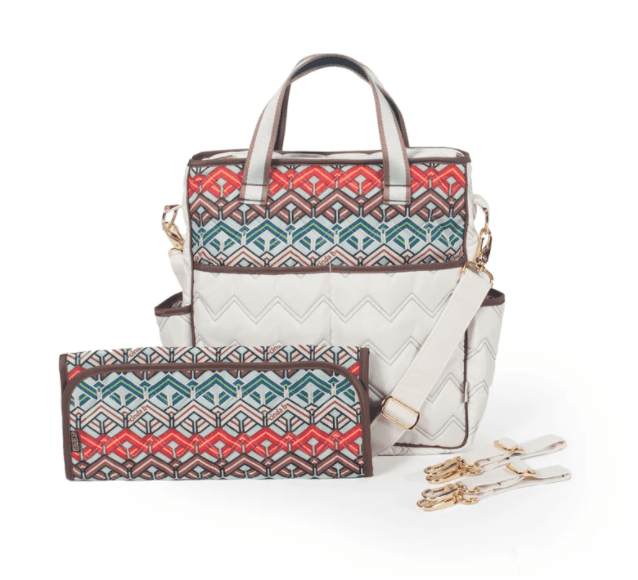 Designed with moms in mind, Cinda b's Out and About Baby Bundle boasts 11 pockets, an adjustable crossbody strap, carrying handles, a matching changing pad, zip top closure, and extra clips so mom can attach it to her stroller when out and about. Simplify your life with a functional, beautiful bag that holds all the things you need, from diapers and snacks to your child's favorite toys.
Photo Credit: www.moonbabeblankets.com
Moon Babe Blankets makes beautiful, soft, & cozy beautiful American made baby blankets crafted from recycled yarns. Founded during the pandemic, this line of comforting knits was created as a way for parents to transfer their positive intentions and energy to their littles. Each blanket is crafted with its own purpose and can be charged with your own energy and dreams for your baby like love, comfort, protection, patience, and more!
Disclosure: This post is sponsored, which USA Love List is proud to share with you because, sponsored or not, we only share stuff we love.
Have you visited our Made in USA Shopping District? It is the place to start your shopping when you want to find the best of American-made.

Pin this list to save it for later!
Follow USA Love List's board Baby Items | Toddler Gifts on Pinterest.