Are you one of those women with 12 different products for your lips in your purse? *Raises hand!* I don't like to only have one option, and luckily I found a lot of really, really great choices for non-toxic lip care products. These are all American Made products I can trust. From tints to gloss and stains, and lipstick to lip balm, there are lots of options for all skin tones.
In case you missed my total beauty overhaul, where I trashed all my beauty and personal care products, you can read more here.
Non-Toxic Lip Care Products: Made in the USA
Non-Toxic Lipstick
Don't miss our tips on how to wear red lipstick! 
Rejuva Minerals Pur' Lips Lipstick in Champagne on Ice semi-matte finish is perfect for day or night. It's a pastel shade with pink undertones. It's a perfect daytime color – slightly flirty, without being seductive. I love layering it with lipgloss at night time for an even bolder look. The lipstick comes in three other shades and is made with hydrating ingredients that are safe to use daily.
It's made with pomegranate, organic sunflower oil, organic jojoba oil, mica, organic coconut oil, organic carnauba oil, candelilla, vitamin E, organic shea butter, organic vanilla, and iron oxides. This lipstick is vegan, soy free, and gluten-free and made with over 60% organic ingredients. 
Axiology Natural Lipstick comes in such vivid, eye-catching colors and it's long lasting too. It's made with organic avocado, coconut, grapeseed and castor seed oil, organic candelilla wax, and mineral powder is used as a color pigment. The brand takes its ingredients seriously, and you can read more about them here. There are 18 colors, so you're sure to find one you love, that compliments your skin tone. 
Ecco Bella FlowerColor Lipstick in Napa Grape is flower wax-infused vegan, gluten-, dye-,  fragrance, and petroleum-free lip color. The formulation goes on creamy to moisturize lips while adding a pop of color. I like to layer the neutral Napa Grape color with a Rejuva Minerals Wild Plum Lip Gloss for two-toned lip color.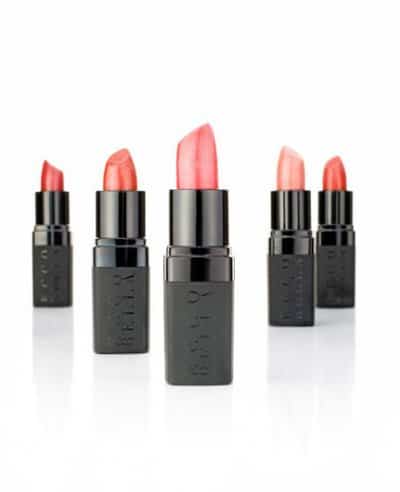 Gabriel Cosmetics Lip Stick in Nude rich in color and smooth, it's the perfect nude color. It's complimentary of most skin tones, from medium to dark skin. I love the way the color goes on. It's not tacky feeling and isn't drying to the lips. It's also vegan, gluten-free and cruelty-free.
Non-Toxic Lip Gloss
Rejuva Minerals Wild Plum Tinted Lip Moisture goes on smooth and hydrates the lips while offering subtle color. This lip moisture is made with organic castor oil, organic coconut oil, organic sunflower seed oil, organic coconut seed butter, lauroyl lysine, candelilla wax, organic jojoba oil, pomegranate,  maltodextrin, organic avocado oil, organic shea butter fruit, organic carnauba wax, pink carrot, tocopherol (sunflower derived), organic vanilla fruit, stevia, citric acid, and manganese violet. It's vegan, soy free, and gluten free and made with over 72% organic ingredients. Fruits and minerals are used for color pigment. 
Cate McNabb Lipgloss in Pink Diamond is formulated with shea butter and jojoba oil Cate McNabb long lasting lip gloss offers day-to-night color with a hydrating, glossy glow. The brand's glosses have more of a sheen to them that other options, so if you're looking for that, this is it. The Pink Diamond shade, shown below, is a great nude option to wear alone, or layered on top of a darker colored lipstick.
Jane Iredale Lip Gloss soothes, hydrates, and nourishes lips while leaving a shine. It can be worn alone, or over lip pencil or lipstick.

Kari Gran Lip Whip in Radiant is divine. This product is really special. It has such a luxurious feel to it, so hydrating and smoothing. It's made of organic ingredients, including beeswax, camellia and castor seed oil, sunflower, olive, and peppermint oil. Their products are non-toxic, formulated with organic, wild harvested, and non-GMO ingredients.
Mineral Fusion Liquid Lip Gloss in Delicate is thicker and more opaque than the Osmia Luster Lip Gloss, so if you're looking for a deeper lip gloss, here it is. Sunflower seed oil and vitamin E nourish your lips. There are non-petroleum by-products in this gloss. It's also vegan and gluten-free and available at Target.
Moody Sisters Lip Love Gloss in Plum Kissed gives a pretty, natural, glossy look that lasts. These richly pigmented mineral gloss tints are all-natural and vegan with 90% certified organic ingredients. They are free from gluten, parabens, and fragrances, and just lightly scented with vanilla.  10% off Moody Sisters full-size items with discount code USALOVE  New email subscribers can choose 4 samples and just pay shipping at MoodySisters.com/tryme. 
Red Apple Lipstick offers vegan and gluten free, paraben free, soy free, and cruelty-free lip gloss and lipstick options. Read more tips on how to apply lipstick here.
Pacifica Plushious Liquid Mineral Lipstick adds full, beautiful color to your lips in a single swipe. This Pacific lipstick also moisturizes your lips with sunflower seed oil, tocopherol (vitamin E), and coconut extract to keep lips looking luscious and feeling soft. This lipgloss is 100% vegan and cruelty-free.
Lip Balm and SPF Lip Protectant
All Good Lip Tints SPF 18 are made with non-nano zinc oxide 10%, organic extra virgin olive oil, organic beeswax, organic calendula, organic comfrey, organic lavender, organic plantain, organic yarrow, organic peppermint essential oil, and non-GMO Vitamin E. I love all All Good products, and these lip tints are no exception. They're great if you're looking for a tinted lip balm that isn't lipstick.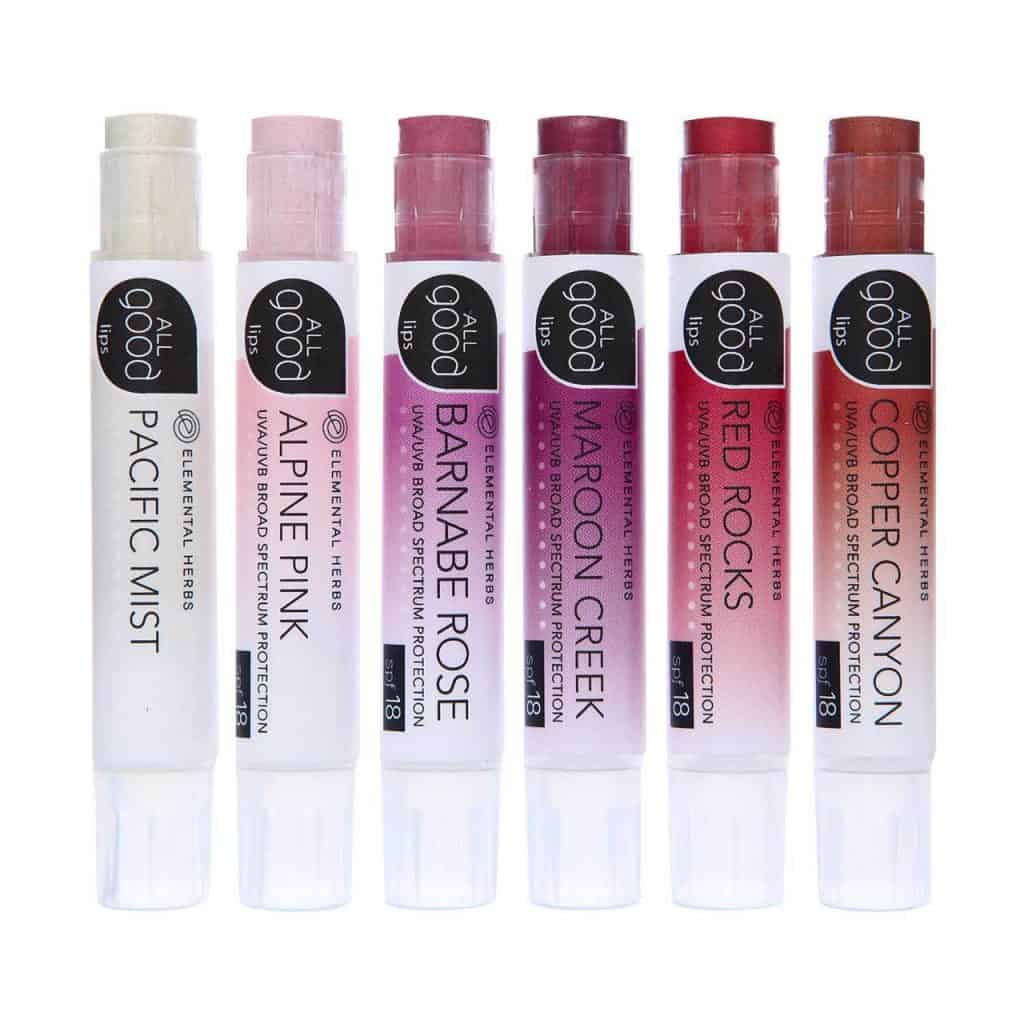 HURRAW, wow, you are wonderful. This is the silkiest SPF lip balm I've ever tried. It goes on smooth and makes your lips feel hydrated too. I highly recommend this lip balm. It is also vegan, gluten free, non-GMO, and cruelty-free.
Lick'er Lips makes all natural, gluten-, petrolatum, paraben- and phthalate-free lip balms. They come in fun flavors like Hurricane Fruit Punch, Snow Cone, Birthday Cake, S'mores, and Pumpkin Cheesecake, just to name a few.
They're made with simple ingredients including beeswax, coconut oil, shea butter, olive oil, sweet almond oil, avocado oil, jojoba oil, castor oil, hemp oil, lanolin oil, vitamin E, and various flavor oils, depending on the flavor you pick. There are no unsafe petroleum by-products here. Ditch your old lip balms and hydrate your lips naturally with Lick'er Lips all-natural lip balm.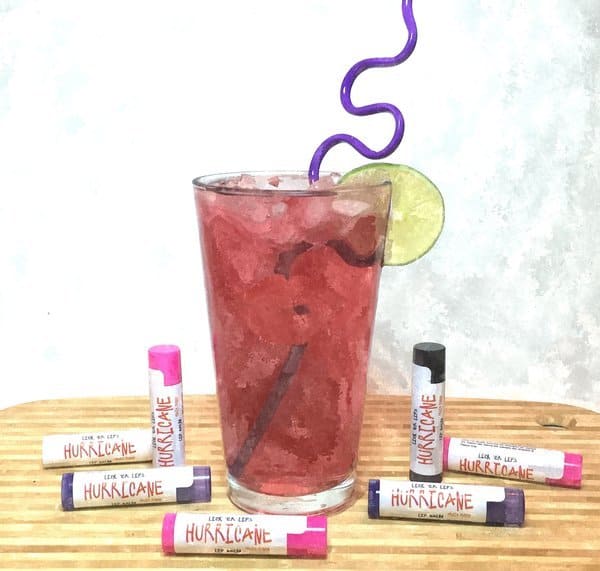 Mi-Me Tangerine Hydrating Lip Butter goes on smooth and makes your lips feel supple. It's made of coconut oil, shea butter, mango butter, avocado butter, tucuma butter, murumuru butter, cupuacu butter, candelilla wax, vitamin e, and tangerine essential oil. This is something I really love; you could say it was love at first use.
Pacifica Color Quench Lip Tint in Sugared Plum is great if you're not one to wear lip gloss or lipstick.  The base of the tint is made from coconut oil and candelilla wax, a vegan alternative to beeswax.  It's vegan, gluten-free and cruelty-free. 
Lip Plumping Tools
Fullips is a tool for fuller, healthier-looking lips without the injections or chemicals.  Simply use the Lip Enhancer before applying your lipstick or lip gloss, and it's small enough to carry in your makeup bag.

Disclosure: This is a sponsored post which USA Love List is proud to share with you because, sponsored or not, we only share stuff we love.