The perfect pajamas are difficult to find. The perfect pajamas MADE IN USA are even MORE difficult to find! Well, search no more. Depending on what type of PJ's you'd like, we've listed a variety of options for men's, women's and kids' PJs, all made in the USA.

The Perfect Pajamas: A Made in USA Source List
For Him & Her
Cozy
Not only is Goodwear's sleepwear for men and women made in the USA, the company's supply chain is from 100% American made products, so everything happens domestically, including the cotton which is grown here. Soft, comfortable and cozy, The Goodnite Shirt is available in sizes for men and women. It is really great and fits well too. It's not too tight, and isn't overly baggy so it's nice for both lounging and sleeping.
Looking for American made bedding? Don't miss our Buy Bedding Made in USA: The Ultimate Bedding Source List!
Smart
Husband and wife team David and Marcia Bacon created the  Goodnighties sleepwear collection made with American "smart fabric" in Huntsville, Alabama.   The fabric has superior moisture-wicking for temperature control and regulation, resulting in a better night's sleep. From women's robes,  sleep shorts and pants, to men's sleep shirts and shorts, available in sizes XS to 3X, Goodnighties offers it all.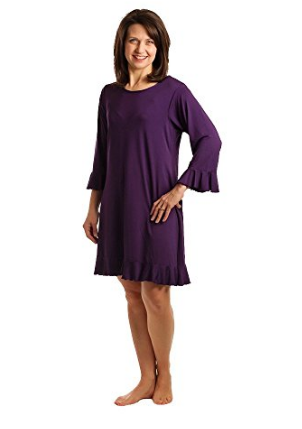 Fun
Lala Land by Brian Nash pajamas are perfect for the adult who is a kid at heart. LaLa Land two piece PJ sets are made from 100% cotton material that features LaLa,  a fun cartoon bunny character created by artist Brian Nash. LaLa Land pajamas are available in both men's and women's sizes. I was sent the "LaLa on the Moon" pajama set, and these PJs are super comfortable. I thought it would be awhile before I could wear them as it was the beginning of summer when I received the long sleeve, and pant set. However, on cool summer nights, the pants are not too hot at all. The 100% cotton material is breathable and soft. These pajamas run on the big side, so if you like your PJs roomy don't order a size up.
For Her
Stylish
Now I know "stylish" isn't usually a word that first comes to mind when picking out pajamas, but every woman needs to have a pair of stylish pajamas! A pair of pajamas that are suitable to be seen in by overnight guests. A pair of pajamas that can be worn ALL DAY. I mean, you can drop the kids off at school in these PJs and still look cool. Love + Grace American made pajamas and loungewear are stylish and comfortable. I received a pair of the Love + Grace Cassie in "Kashmere" Flannel Knit to try out.  I have to say these are the softest pajamas I have ever worn! They are perfect for a cool winter night (and day).
Don't miss our editor's tips for a good night's sleep.
Satiny
If you are on the hunt for PJs that are satiny soft, and comfortable, that PJ Harlow pajamas might be the ones for you. PJ Harlow carries night gowns, bathrobes, and more with many colors to choose from. PJ Harlow pajamas and lounge wear is designed and produced in California.
Flannel or Silk
If you're looking for flannel or silk pajamas, check out Nordstrom's selection of BedHead Pajamas . The price tags are a bit on the higher side, but they are the made in USA sleepwear options I found in silk and flannel.
Luxe
SNOA Sleepwear is the first line of luxury women's sleepwear designed to be sexy AND warm!  SNOA Sleepwear's garments are manufactured  in San Francisco from highly sustainable, Eco friendly fabrics.  The modal jersey fabric, that is sourced from beechwood trees, is the soft secret behind all the pieces in the SNOA Sleepwear collection.  Satin, silk, or organic bamboo is used for the trims.
Sexy
We're so glad we found Real Girls made in USA sleepwear and lingerie. This specialty intimate apparel company with a unique focus on the curvy, buxom figure. What's so great about this line, is that the lingerie is sized by "standard" or "large" cup, so you can order lingerie that fits your figure. The curvy lingerie line is inspired by the desire for intimate apparel to enhance the female form while still being fun, pretty, and sensual. The collection is made in California.
Looking for more American made lingerie? Don't miss our Ultimate Source List for Lingerie Made in the USA.
For Kids
We have a source list for this! We found so many brands of American made pajamas for kids that we loved, so we created the Made in USA Kids' Pajamas Ultimate Source List.
Have you found pajamas made in the USA that you love? Share in the comments!
Disclosure: This is a sponsored post which USA Love List is proud to share with you because, sponsored or not, we only share stuff we love.