In the days before Pinterest was invented, I would HAND WRITE a recipe I wanted to try and add it to my three-ring binder recipe book. More times than not, this would lead to interesting recipe results as 1) I couldn't always read my own handwriting, and 2) I would copy recipes down incorrectly…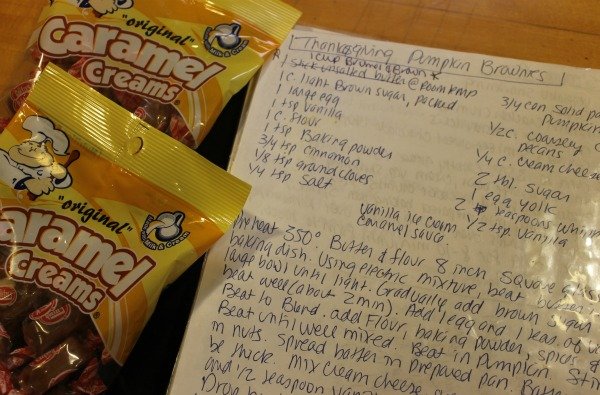 This pumpkin recipe falls into the second category. The first time I followed it, in the hours before bringing it as a dessert for Thanksgiving at the in-law's, I noticed that this recipe did not, in fact, give me brownies. My end result was more the texture of pumpkin pie. I brought my "brownies" anyway, and they were a hit! Now I make them every year for Thanksgiving.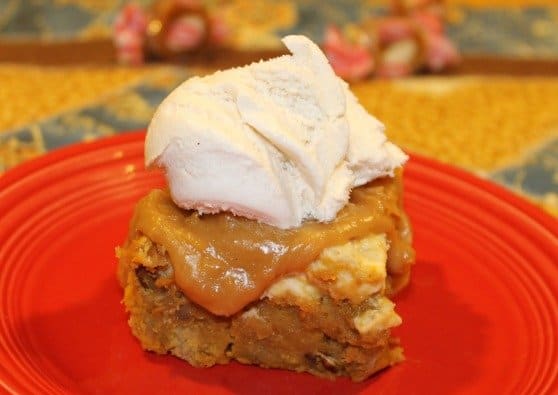 This year, my daughter Sophie is learning how to make them.
She loves being in charge of the speed controls to our assembled in Ohio KitchenAid stand mixer.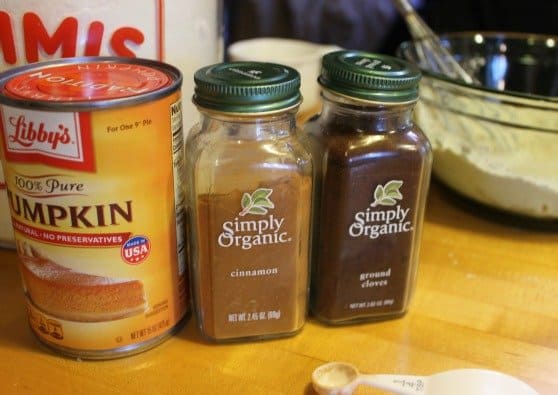 For this pumpkin recipe, we use Libby's 100% pure canned pumpkin. Libby's has been manufacturing canned pumpkin in Illinois for over 40 years. Make sure you are NOT using pumpkin pie canned pumpkin.
My Warther Cutlery chef's knife and Dexas cutting board are used to slightly chop the pecans.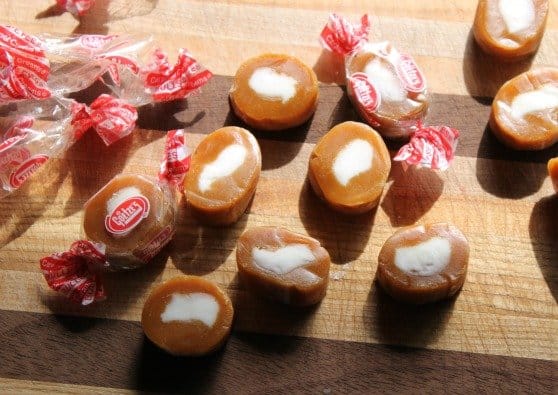 Mmmmm….made in Maryland Caramel Creams… It's so hard not to eat them all up before they turn into the Caramel Creams Caramel Sauce topping! Notice in the previous photo the candy bags are closed. I know better than to open them before they are needed!
Pumpkin Recipe: Thanksgiving Pumpkin Brownies
INGREDIENTS
1 stick of unsalted butter, room temperature
1 cup light brown sugar
1 large egg
1 tsp vanilla
1 cup flour
1 tsp baking powder
3/4 tsp cinnamon
1/8 tsp ground cloves
1/4 tsp salt
3/4 can solid packed pumpkin
1/2 cup coarsely chopped pecans
1/4 cup cream cheese
2 tbsp sugar
1 egg yolk
2 tsp whipping cream
1/2 tsp vanilla
Goetze's Caramel Creams Caramel Sauce recipe (I halved it for this and used all that was made)
DIRECTIONS
Preheat oven to 350. Butter and flour an 8-inch square glass baking dish. Beat butter in a large bowl until light with a stand mixer or hand mixer. Gradually add brown sugar and beat well- about 2 minutes. Add 1 egg and 1 tsp vanilla. Beat to blend. Add flour, baking powder, spices, and salt. Beat until well mixed. Beat in pumpkin. Stir in pecans. Spread batter into a prepared baking dish- batter will be thick.
In a bowl, mix cream cheese, sugar, egg yolk, whipping cream, and 1/2 tsp of vanilla blending well. Drop by heaping teaspoonfuls on top of batter. Using a small knife, gently swirl cream cheese into the batter, making a marble pattern.
Bake for about 35 minutes.
Serve topped with warm Caramel Creams Caramel Sauce and ice cream or whipped topping. We serve ours with Truwhip whipped topping.
Disclosure: This post is sponsored by, Goetze's Candy Company, which USA Love List is proud to share with you because sponsored or not, we only share stuff we love.