I recently was offered the opportunity to review a car built in America, but it was not from a source I expected. I was surprised to learn that Nissan is building cars in Mississippi. I decided I wanted to find out more so they sent me a Nissan Murano. Who knew?
If you are looking to purchase a made in USA car new or used, don't miss USA Love List's Made in USA Cars: A Guide to Buying an American Car, SUV or Truck.
You read that correctly – American built car, the Nissan Murano is made in the USA, in Canton, Mississipi to be exact. Nissan moved some of its production to the States, and while Nissan is not an American owned company, the company has factories in Tennessee and Mississippi.
"Bringing production to the United States is part of Nissan's broader strategy to build where it sells, and it moves Nissan closer to achieving its goal of having 85 percent of the vehicles it sells in the United States produced in North America by 2015. The strategic investments that Nissan has made serve as a testament to the flexibility, efficiency and talent of our workforce and suppliers," said John Martin, Nissan's senior vice president, Manufacturing, Supply Chain Management and Purchasing.
2015 Nissan Murano Reviewed
It's hard to find a car that offers something unique. A moonroof, backup camera, Bluetooth connection, and safety alerts, like Rear Cross Traffic Alert (RCTA), used to be something everyone wanted, but not all could get. These features are now all commonplace when shopping for a new vehicle. If you've recently been in the market for a car, you may have found that the nuances of each vehicle are what hook you.
Here's what really stood out with the Nissan Murano
It's the perfect size – it's not too big to drive. The weight of the vehicle, along with its frame give a sense of security, and that's not something I can say of all newer cars I've riden in before.
It's a comfortable vehicle, and an even more comfortable ride. The way the seats are designed, I felt like they were custom made for me. They're that comfortable.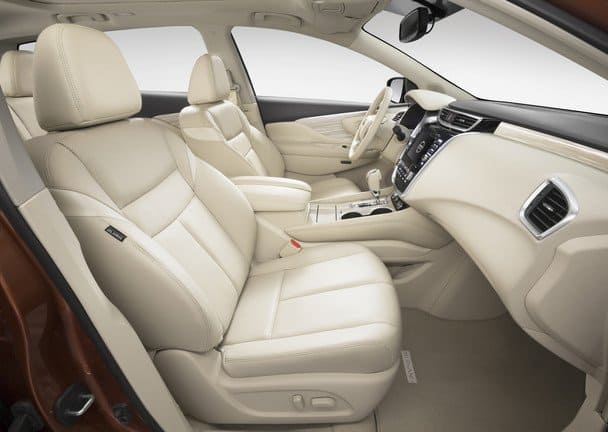 I drove this vehicle almost 400 miles to Massachusetts from Virginia, so I'm glad it got 28 mpg on the highway. I didn't feel like I was a slave to filling up the tank, which is a nice feeling, especially when you're driving a large crossover vehicle.
I really, really love the power panoramic moonroof in the Murano. The size of it lets in a lot of light, and gives the vehicle an extra element of spaciousness too.
Disclosure: USA Love List was loaned  the Nissan Murano to experience it first hand, unconditionally for review purposes. Our opinions are always our own, and we aim to write fair and balanced reviews to promote only the very best of American-made products and experiences.
Image Credit: Nissan